Euro 2012: 50 Biggest Reasons We Can't Wait for the European Championships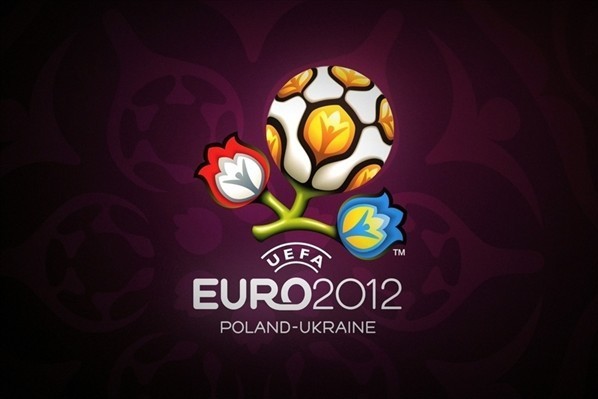 UEFA.com
The opening ceremony is only just a month away, and the anticipation for the summer's biggest European tournament is building.
Stars from yesterday, now and tomorrow will all be involved with making history the one thing on all of the players' minds.
The closer we get to the opening matches, the longer it seems to take to get here, as the build-up to what is going to be a great competition only makes us more excited for it to start.
Begin Slideshow

»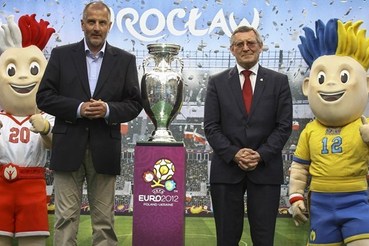 UEFA.com
The UEFA Trophy continues across Poland and the Ukraine and will continue to do so until the opening ceremonies on June 8, 2012.
In the process, we have gotten a good look at the soon to be great mascots of the tournament.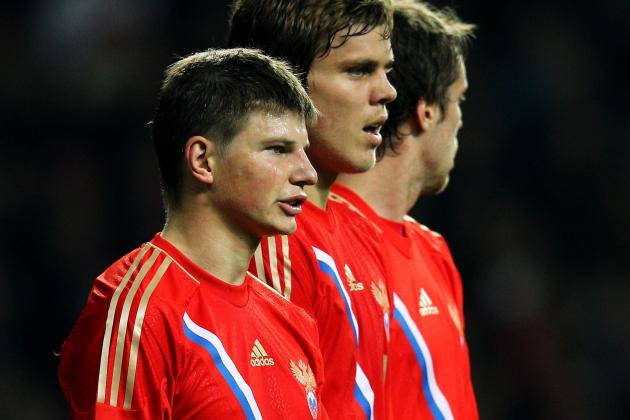 Dean Mouhtaropoulos/Getty Images

While Group B takes the cake as far as competition and top clubs grouped together, Group A is the weakest of the four.
Russia and Greece should knock out both the Czech Republic and tournament hosts Poland.
At least there should still be some decent action between Russia and the Czechs, as they have the two best offenses on offer.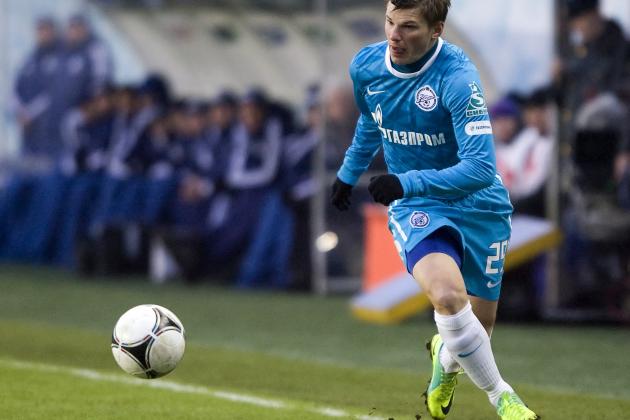 Dmitry Korotayev/Getty Images

Euro 2008 saw Russian winger Andrei Arshavin burst onto the European football scene, earning him a major move to Arsenal that fall.
However, after two great seasons and some major highlights in England, the player started to fall from form.
With the 2012 Euros on the horizon, he sought a loan move back to Russia with Zenit St. Petersburg until the end of the 2011-12 club season to get more time on the pitch before the summer.
Can Arshavin regain his former form to held lead his nation to glory?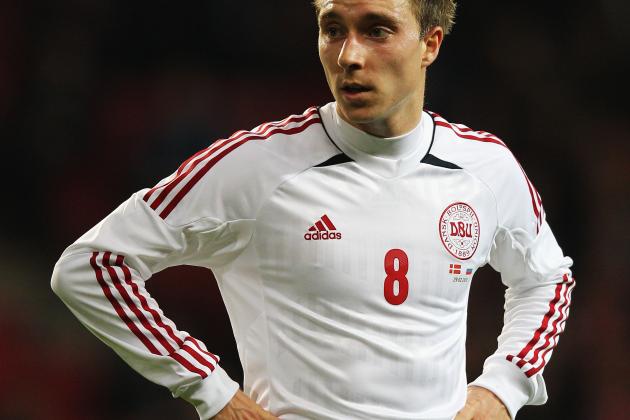 Dean Mouhtaropoulos/Getty Images

Young Ajax and Danish midfielder Christian Eriksen will have his chance to shine when his nation faces off against Holland, Germany and Portugal in the group of death.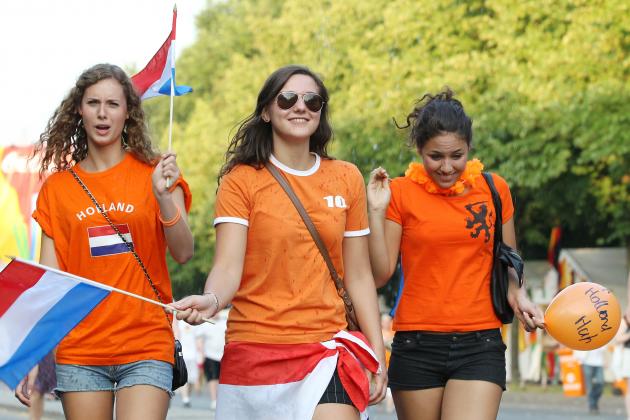 Matthias Kern/Getty Images

The Dutch ladies are sure to catch the eye of many cameramen that are covering the tournament.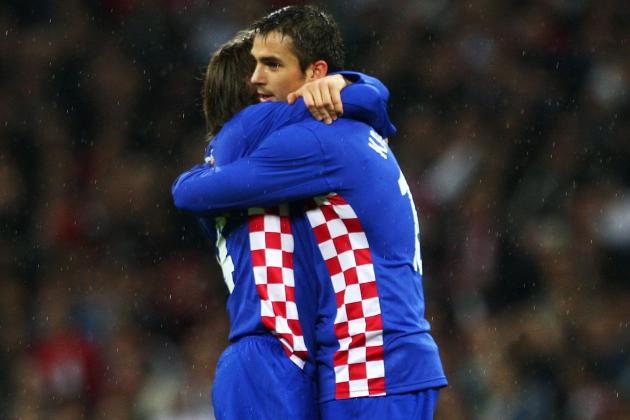 Laurence Griffiths/Getty Images
Modric and Kranjcar in 2008
The Croatian midfield will put two Tottenham Hotspur players on display.
While Kranjcar has largely been pushed to the back burner in England behind Luka Modric, the two were the engine for their nation in Euro 2008 and are certain to be the key to their success once more in 2012.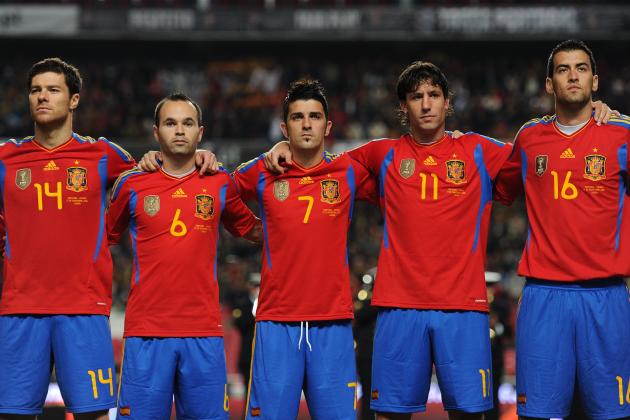 Jasper Juinen/Getty Images

The battle for Group C casts an interesting argument.
With Croatia, Ireland, Italy and Spain all drawn together, it puts two historical powerhouses against two nations that are ripe to provide the upset that could see them through to the quarterfinals.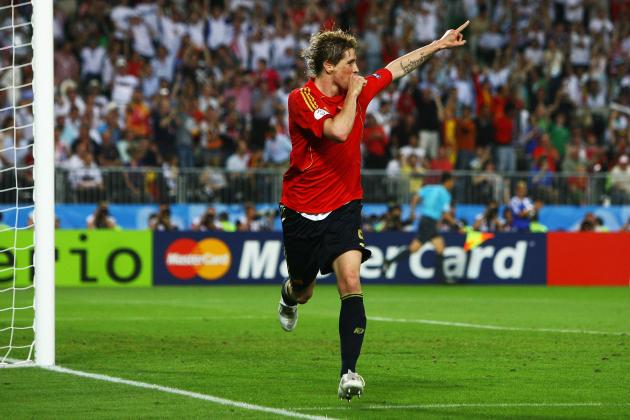 Alex Livesey/Getty Images

Fernando Torres was the man that provided Spain with the one goal they needed to defeat Germany in 2008 to win the European Championship.
While his name has faded from national and club prominence since his move to Chelsea FC from Liverpool in January of 2011 and his frustration at consistency and form have been broadcast globally, there is still a chance he could make an impact.
His recent goal-scoring form for the Blues has seen him book the club a place in the UEFA Champions League final and score a hat trick against Queens Park Rangers.
He could still get his place back in the next few weeks before the final rosters are announced.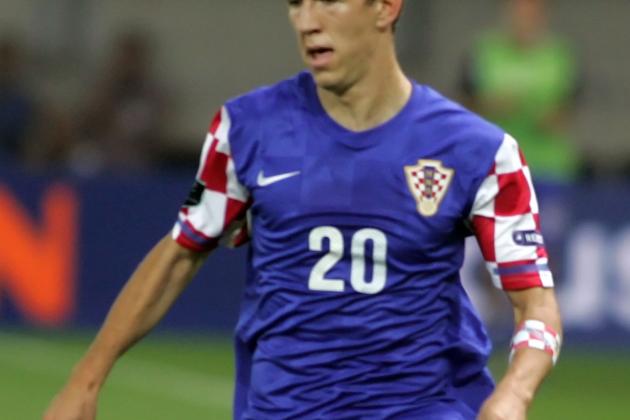 Milos Bicanski/Getty Images

Croatia have a secret weapon in their midfield besides Luka Modric and Niko Kranjcar with young Borussia Dortmund player Ivan Perišić.
He only has seven caps for his country, but this summer could see him prove to be of vital importance.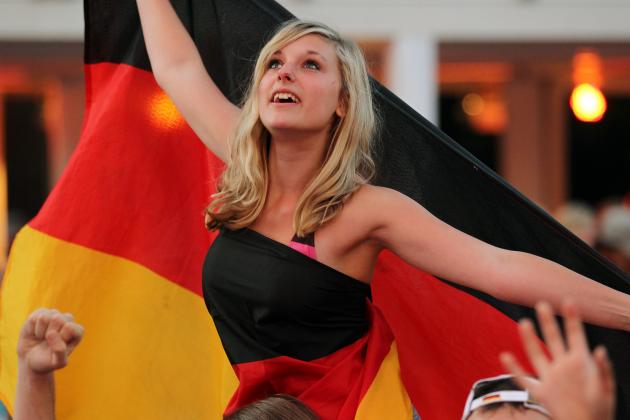 Matthias Kern/Getty Images

The German ladies descended on Austria and Switzerland for the last European tournament, and they are sure to do so again for neighboring Poland and the Ukraine.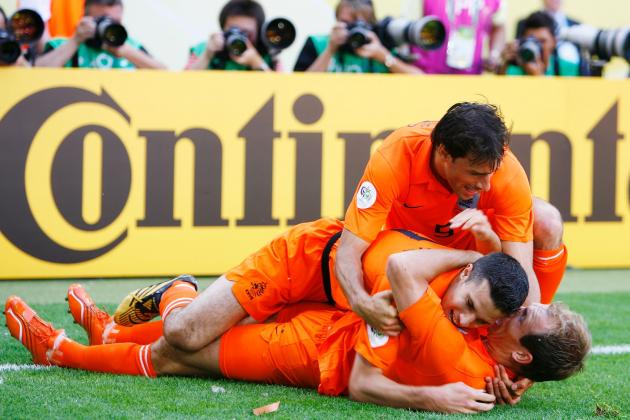 Clive Mason/Getty Images

There are few nations who play funner football to watch than the Netherlands.
A culture of attack courses through their style and will bring from great moments to the tournament for sure.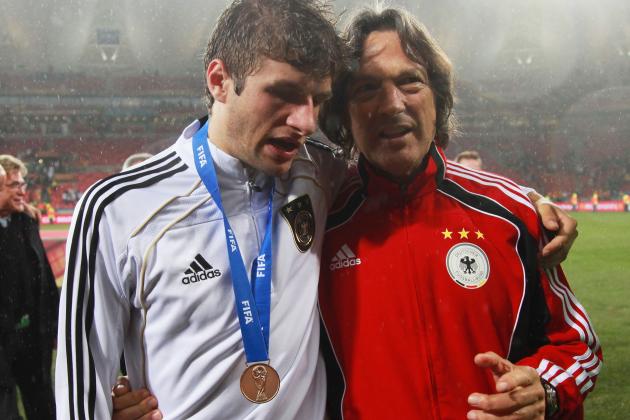 Doug Pensinger/Getty Images

Germany have never lost a European Championship after having been runners-up in the previous tournament.
Having been second to Spain in 2008, is it time that history repeats?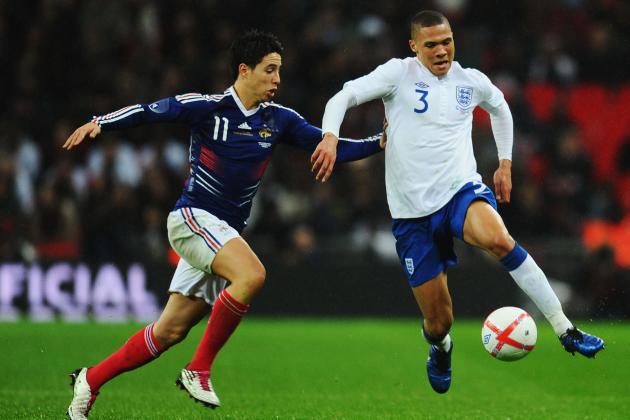 Mike Hewitt/Getty Images

Old world rivals France and England continue their footballing rivalry in the opening match of Group D on June 11.
It will be a great opening match for their group and will set the tone for the following five matches to come.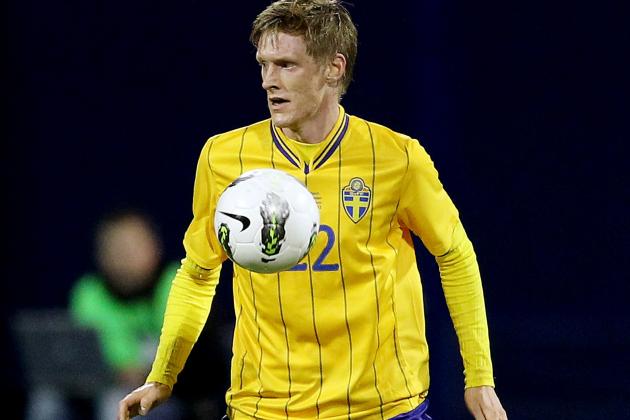 Scott Heavey/Getty Images

While Zlatan Ibrahimovic will be the goal scoring muscle up front from Sweden in Group D, young 24-year-old Rasmus Elm is likely to emerge as the catalyst from the midfield that could see the Swedes find their way into the quarterfinals.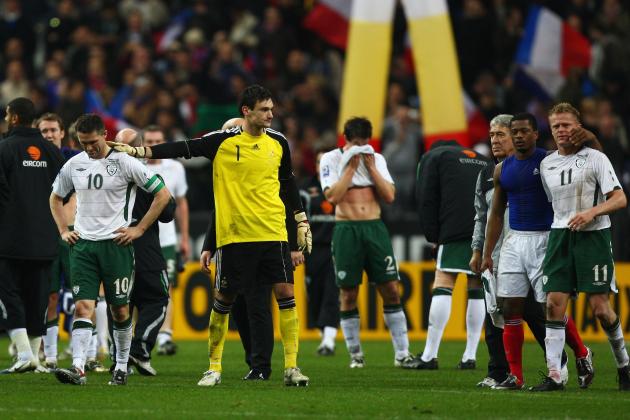 Michael Steele/Getty Images

If Ireland manage to finish second in group C and France makes a miraculous group winning performance in Group D, we could see the Irish and the French in a massive quarterfinal showdown.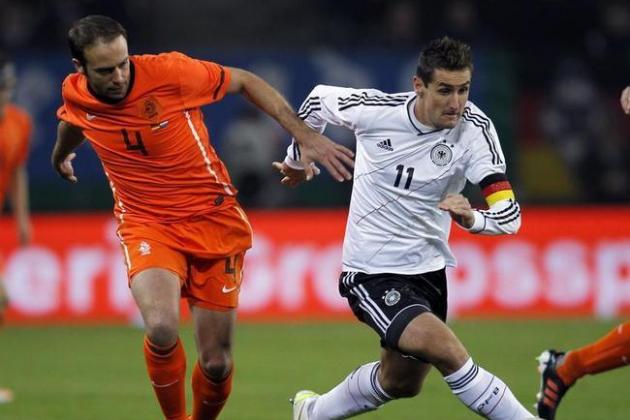 The match between Germany and the Netherlands will be one that perhaps decides the course of Group B, and the two European neighbors' rivalry will undoubtedly get more heated on the pitch.
It is the second match of the tournament for both clubs, and if they draw, it could mean they both have a chance of progressing.
However, if there is a victor and a loser, there is a good chance the one that comes away the loser will see their dreams ended.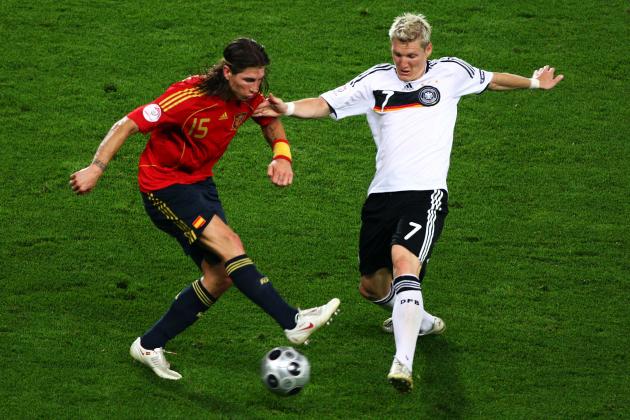 Jamie McDonald/Getty Images

There is a chance the 2008 Euro finalists could be facing a rematch in the semifinals in order to chase European glory in the final.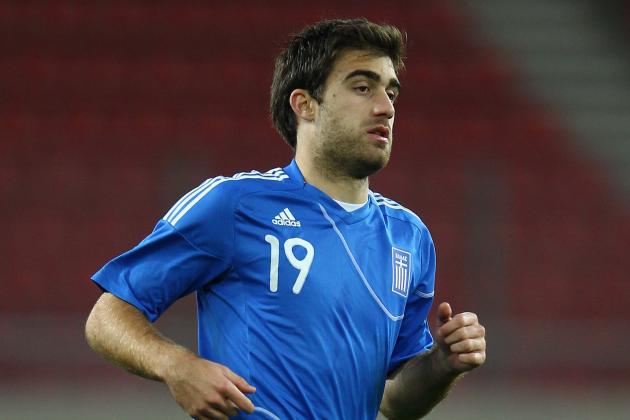 Julian Finney/Getty Images

Young Grecian defender Sokratis Papastathopoulos is the future of the Aegian's defense.
At 23 years old, he has already made a name for himself in Italy and now Germany on loan to Werder Bremen.
He will be key to dealing with the strike forces of all the Greek's opposition, as a strong defensive performance, like the one that eventually won them Euro 2004, is going to help them get out of Group A.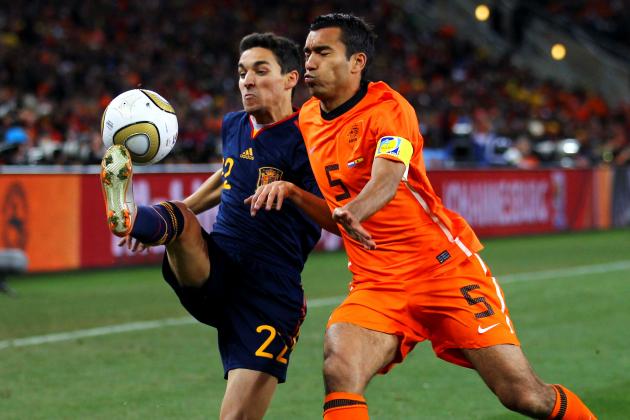 Lars Baron/Getty Images

There is a high likelihood that Spain and the Netherlands could once again be contesting a major title amongst themselves.
After a great match in the World Cup 2010 final, there is no doubt that they could once again put on a great show in another final.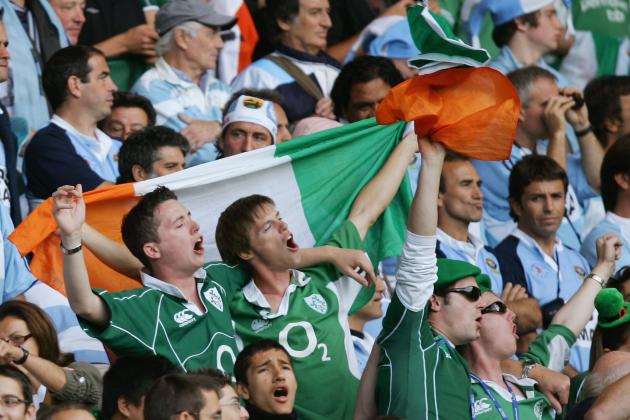 Warren Little/Getty Images

Ireland is a nation that deserved a place in the 2012 European Championship after being "handed" their departure from the 2010 World Cup before it started by Thierry Henry and the French.
If anything, they are sure to make it a great time for those in the stands around them.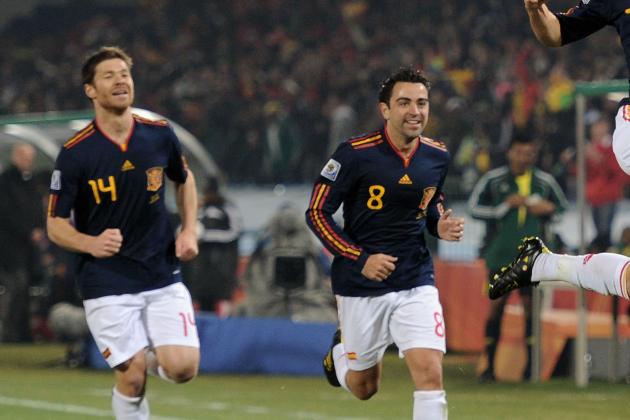 Jasper Juinen/Getty Images

FC Barcelona midfielders Andres Iniesta, Cesc Fabregas and Xavi Hernandez will be the midfield engine of the Spanish national team alongside of Real Madrid's Xabi Alonso.
The four of them all have some of the best vision in the footballing world and will be maestros for the Iberian nation throughout the tournament.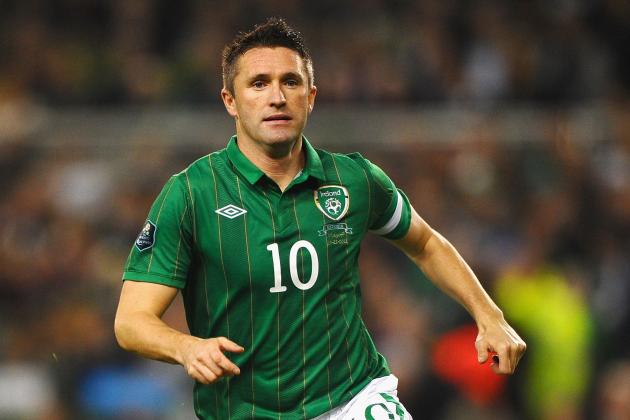 Laurence Griffiths/Getty Images

The Irishman has written the record book as a striker for his nation.
With 115 appearances and 53 goals for his nation, he has only been out-capped by Aston Villa goalkeeper Shay Given.
This is certain to be a moment of glory for Keane.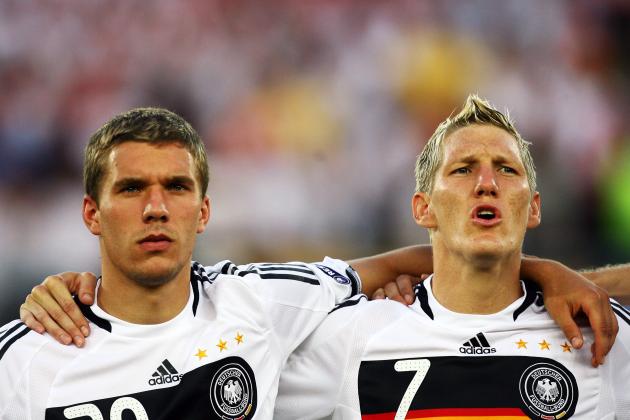 Alex Livesey/Getty Images

Two of Germany's best stars will earn their century of caps at the age of 27 (Schweinsteiger) and 26 (Podolski).
Both will be hugely important to their nation's summer campaign.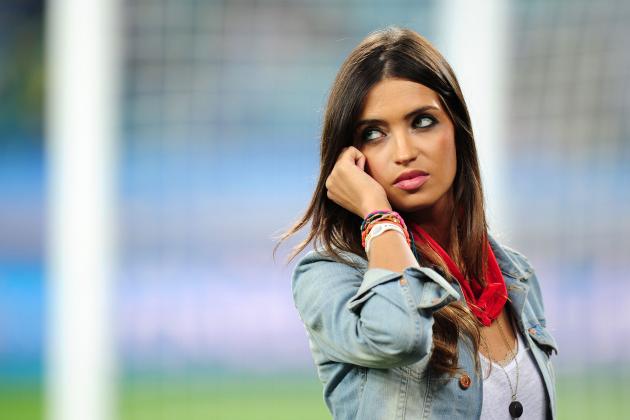 Clive Mason/Getty Images

Spain have some of the best looking fans in the stands, and while we enjoy the action on the pitch, there is also time for a great view during an intermission.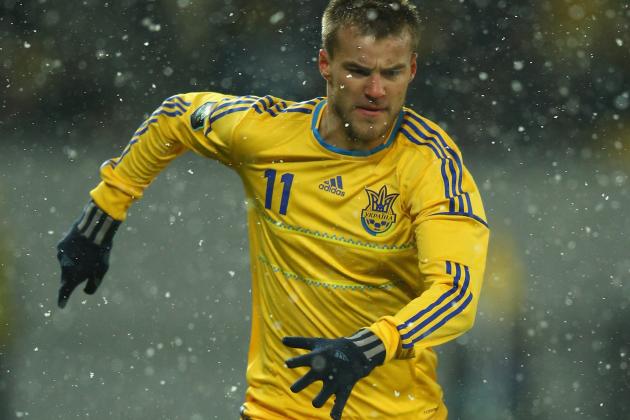 Richard Heathcote/Getty Images

Ukrainian midfielder Andriy Yarmolenko is likely to have a major coming-out party this summer.
While he has been a regular fixture for Dynamo Kiev for the last three seasons, the 22-year-old is destined for a move abroad, and this summer will see him shine.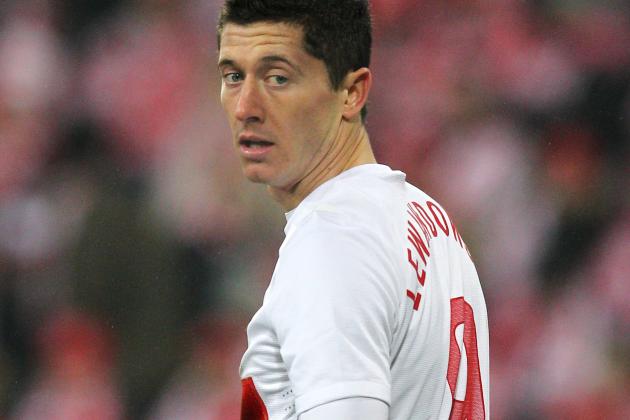 Dean Mouhtaropoulos/Getty Images

Borussia Dortmund striker Robert Lewandowski will be the leader of the Polish attack when they head to battle in group A.
The Polish national side is a youthful one that could well take an upset or two with goals from Lewandowski.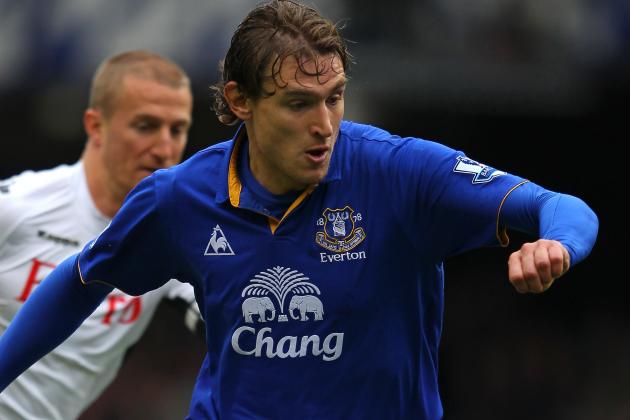 Alex Livesey/Getty Images

Since leaving Glasgow Rangers and joining Everton, Nikica Jelavić has flourished under David Moyes in the English Premier League.
The Croatian has scored 10 goals in 15 games across all competitions with the Toffees and is working towards having a huge summer with his national team.
With Luka Modric and Niko Kranjcar in support of him, there is no telling what he can pull off.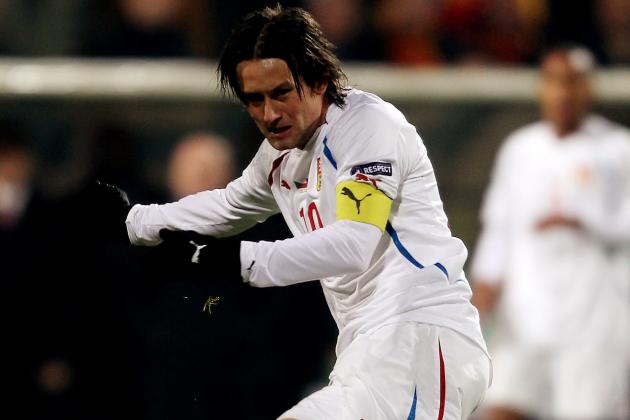 Scott Heavey/Getty Images

Out of nowhere, Arsenal's Tomas Rosicky has come back to life for the Gunners ahead of this summer's Euros.
The Czech Republic captain looks to be reaching top form just in time to help his nation's chances of getting out of Group A and into the quarterfinals.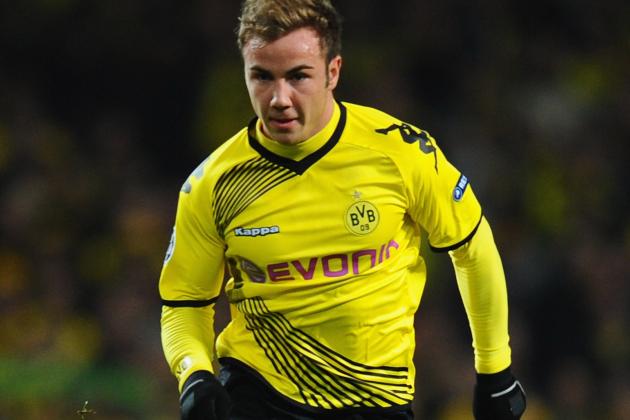 Mike Hewitt/Getty Images

Germany have a hugely talented squad with their seasoned veterans.
However, the Germans also posses some of the best young talents in the world of football.
Mario Goetze is one of those talented youngsters that have a chance at making their name for themselves in the Euros.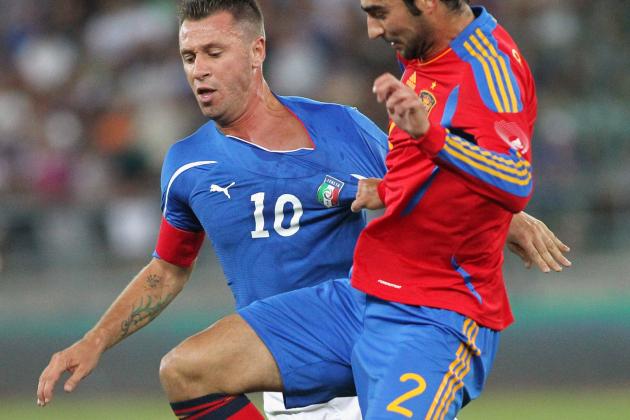 Maurizio Lagana/Getty Images

Group C is likely to be determined by Spain and Italy.
As two of world football's most historical powers, neither can be counted out for contention for the title.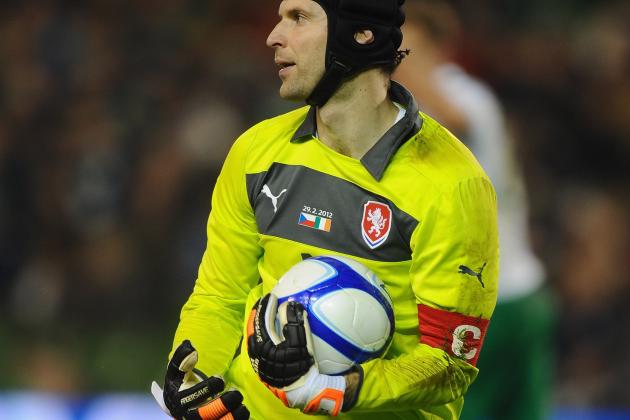 Mike Hewitt/Getty Images

Chelsea and Czech Republic goalkeeper Petr Cech is the key to his national team's success this summer.
If he can keep the offenses of Russia, Greece and Poland at bay, then he will give his nation a high chance of success.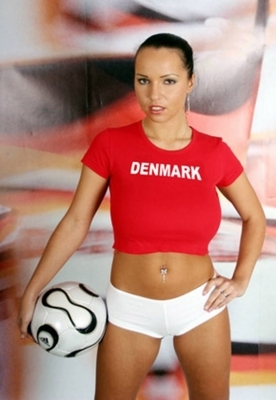 Denmark are another nation from Group B that will be sure to delight with their play on the pitch and their fans in the stands.
Claudio Villa/Getty Images

Italy and AS Roma's 21-year-old sensational forward, Fabio Borini, is one of the wild cards of the tournament.
If given the chance, he could make a huge impact for his nation, and thus greatly rise his stock in the transfer market in the summer if he has any desire of leaving Roma.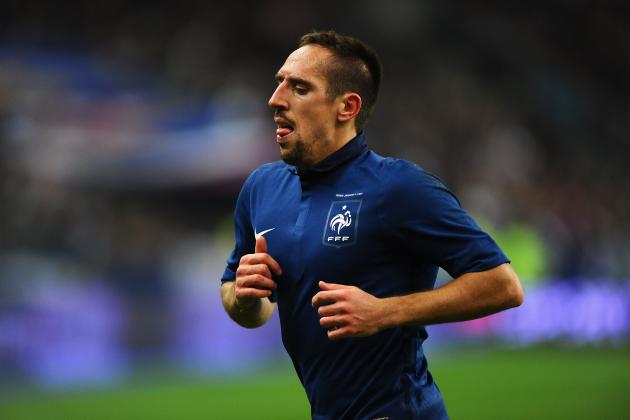 Mike Hewitt/Getty Images

FC Bayern Munich and France wide player Franck Ribery will have to be an inspiration for France this summer.
The nation has some great attacking talent in Karim Benzema, Olivier Giroud, Jeremy Menez and Kevin Gameiro.
However, Ribery is the key to unlocking all of them from the wide areas.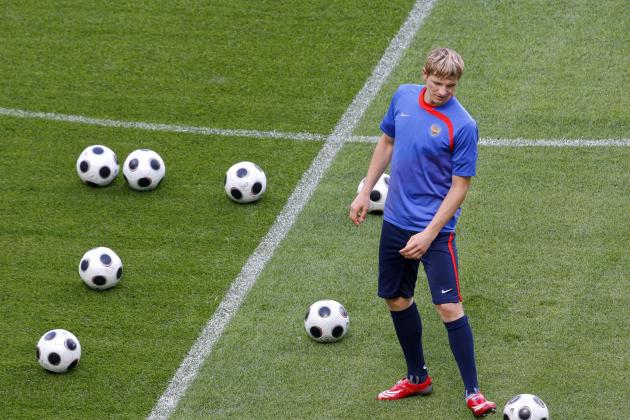 Jasper Juinen/Getty Images
Roman Pavlyuchenko
Roman Pavlyuchenko was another Russian player alongside Andrei Arshavin that made a big enough name for themselves at Euro 2008 to warrant a move to England.
However, his move to Tottenham never truly panned out, and he was sent back to Russia for Lokomotiv Moscow in hopes to staying fit for the summer.
Fulham FC loaned in Russian forward Pavel Pogrebnyak, and he has been an ever-present threat for the Cottagers as he gets primed and ready for the summer as well.
The two attackers should be an interesting pair to watch.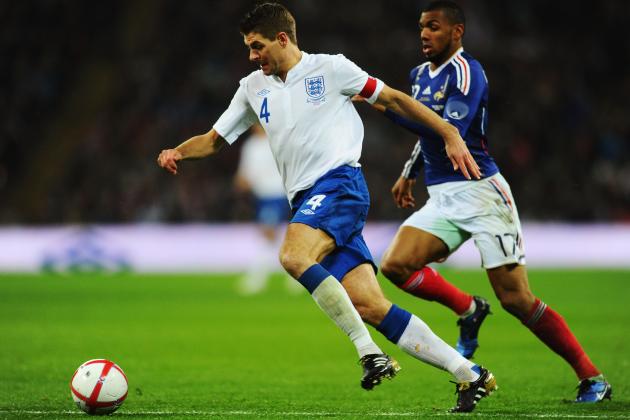 Mike Hewitt/Getty Images

Roy Hodgson will once again be naming an England national team captain.
While Scott Parker was the last to wear the armband for a game, it is highly likely that Liverpool's Steven Gerrard will be named the captain under his former boss.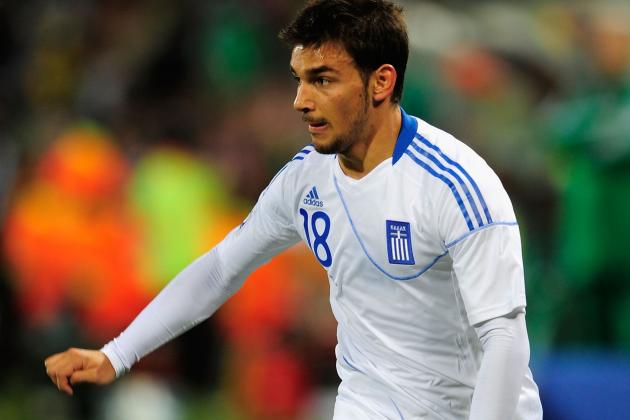 Stuart Franklin/Getty Images

Albanian-born Greek international Sotiris Ninis from Panathinaikos is poised for a breakout summer if he is given the chance at the Euros.
He has over 100 appearances for his club, and with 18 national caps already at the age of 22, he is just enough blooded to make an impact this summer.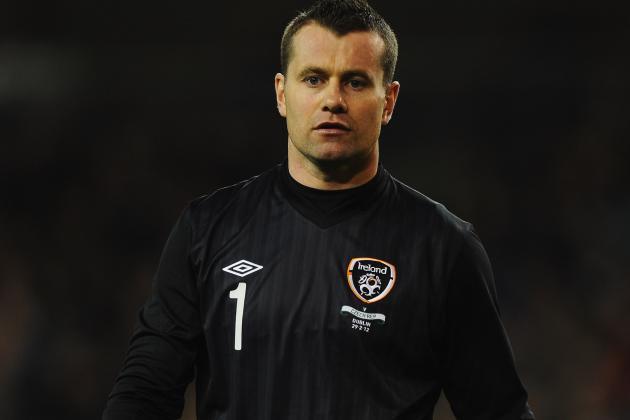 Mike Hewitt/Getty Images

The long-standing Irish keeper will have to have a tournament of his life to help his country make history.
However, if there is a 34-year-old keeper that can turn back the clock, it is Given.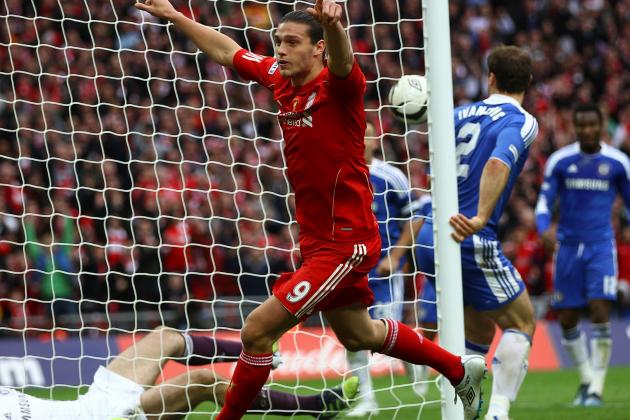 Clive Brunskill/Getty Images

With Roy Hodgson now in the hot seat, it will be interesting to see if Andy Carroll makes the cut for the final England squad.
After his recent displays for Liverpool in their cup finals, he looks more a man for the occasion than he ever did before, and this could be his moment to come good for his country.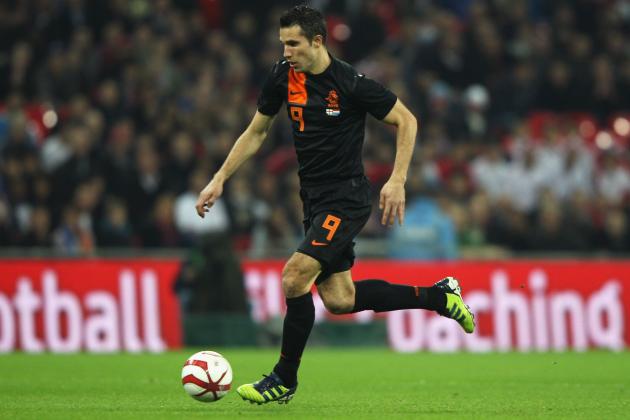 David Rogers/Getty Images

After the club season that Robin Van Persie has had with Arsenal, it will be great to see what he can do with his national team in a chase for European glory.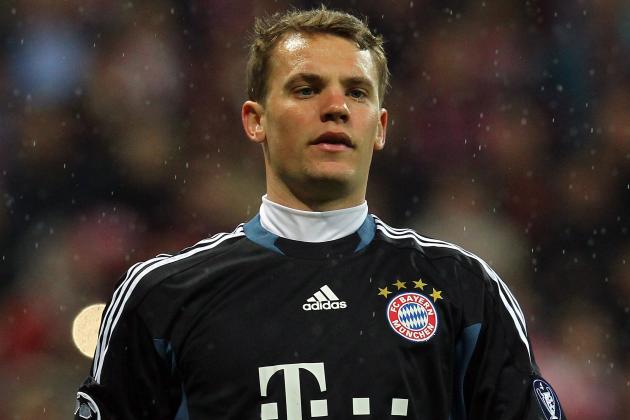 Martin Rose/Getty Images

Germany and FC Bayern Munich keeper Manuel Neuer proved his worth to his country in the 2010 World Cup and again just recently in the UEFA Champions League semifinal penalty shootout against Real Madrid.
This will be his time to shine as he looks to be the next great shot stopper for his nation.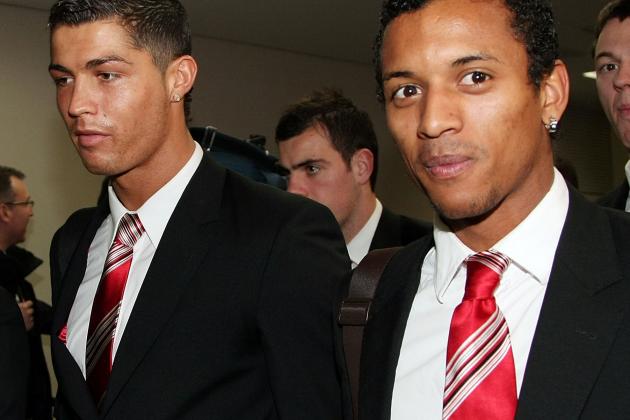 Junko Kimura/Getty Images

Portugal has not played great football in the run-up to the Euros, but they still did well enough to make it there.
Both Nani and Cristiano Ronaldo have had great seasons, but can they be the two to help lift their country from the wide areas to glory is the real question.
They will definitely be exciting to watch, to say the least.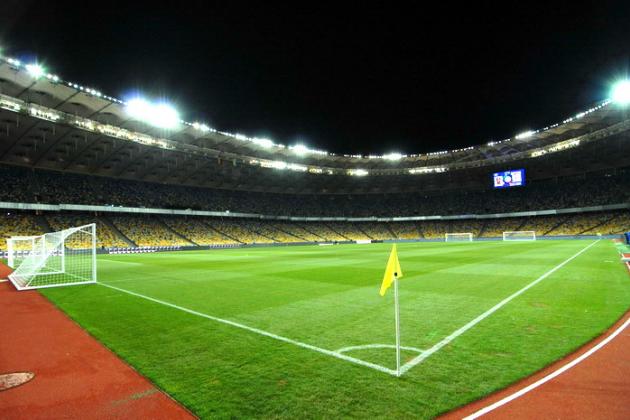 The Ukraine spent millions revitalizing the Olimpiysky National Sports Complex and the National Olympic Stadium.
It will be a great site to see when the Ukraine face off against Sweden in the opening match of Group D.
The Final of the tournament will also be held in Kiev at the largest stadium of the eight to be used with a capacity of just over 70,000.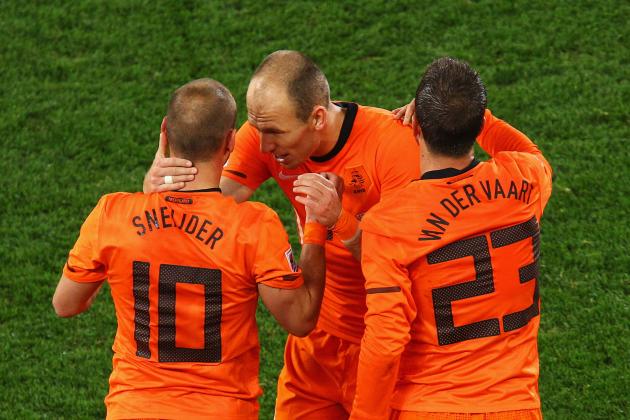 Richard Heathcote/Getty Images

With the Dutch midfield trifecta of Arjen Robber, Wesley Sneijder and Rafael van der Vaart, there is recipe for major excitement.
The hard working midfielders can create all over the pitch and will be the engine that drives Clockwork Orange to success.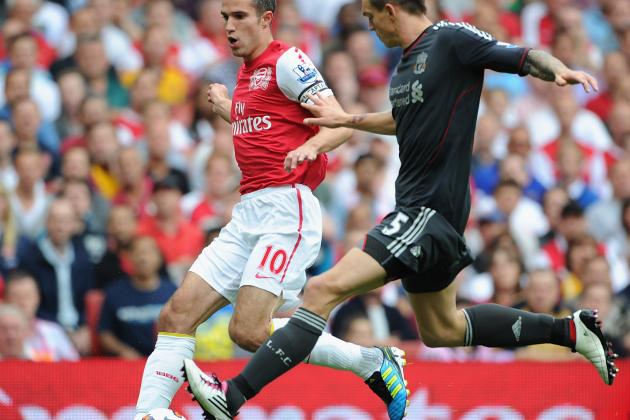 Michael Regan/Getty Images

Liverpool and Denmark defender Daniel Agger has had a great season at the back for Liverpool.
Likewise, Netherlands forward Robin Van Persie is England's PFA Player of the year, and the two of them going head-to-head will be a great matchup when their nations meet in Group B.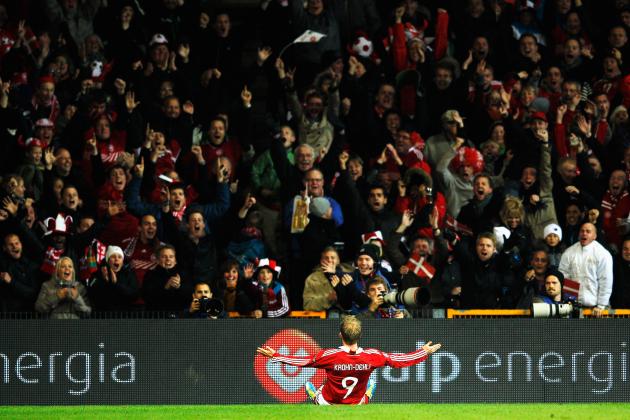 Paul Gilham/Getty Images

There is nothing like a major competition to bring out that little bit of magic in the hearts and minds of both players and fans.
There is truly no way to explain it, but when those moments of magic happen, you will know it.
Mark Kolbe/Getty Images

The Group of Death will one for the ages this summer.
With Holland, Germany, Denmark and Portugal all drawn together, the two smallest stadiums in the tournament, Kharkiv's Metalist Stadium (35,000) and Lviv's Arena Lviv (30,000), will be rocking for six matches during the opening round.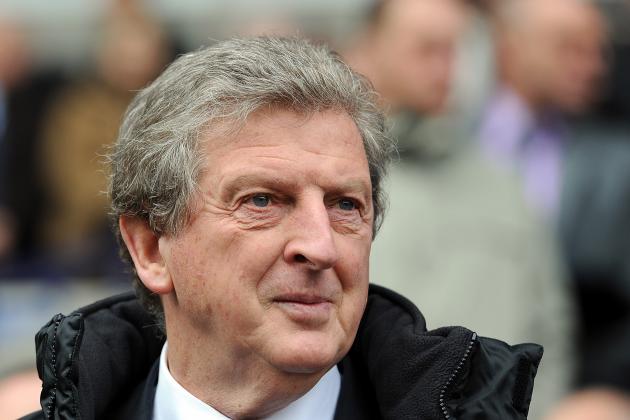 Chris Brunskill/Getty Images

The English FA named West Bromwich Albion boss Roy Hodgson the new national team manager just this past week.
With only a month until the kickoff of the Euros, Hodgson has a trial by fire that few else, save for Harry Redknapp, were willing to take on for their country.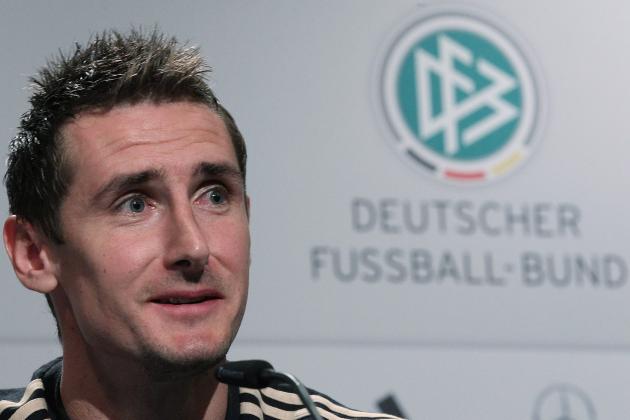 Joern Pollex/Getty Images

Gerd Muller holds Germany's all-time record for national team goals scored with 68.
Miroslav Klose is eying the last chance he could have at breaking his national legend's record.
Klose sits at 63 and, if given the chance, could find a way to score six goals during the Euros.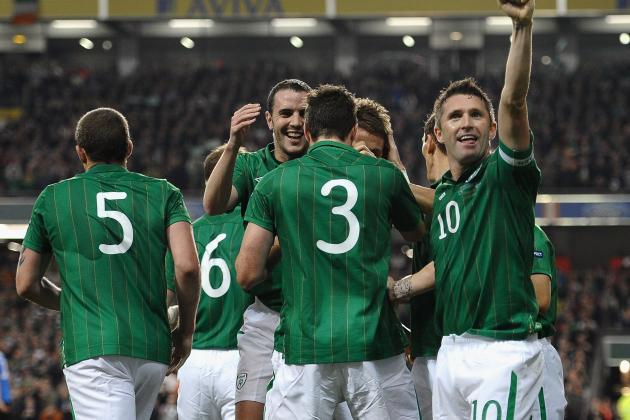 Laurence Griffiths/Getty Images

It would be unprecedented, pure football magic and absolutely out of this world.
But, crazy as it sounds, could Ireland win it all?
With their scrappy style of play, anything is possible.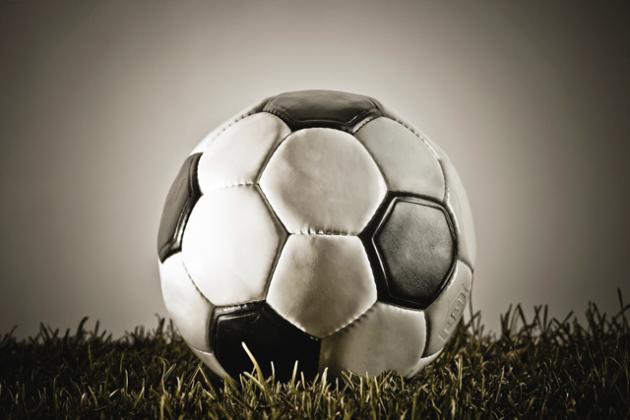 What is your biggest reason why you can't wait for the Euros?
Thanks for reading, and be sure to check out more on Bleacher Report and at the links below. You can follow me on Twitter @thedailyatz and Facebook, or visit my website.