Inter Milan vs. AC Milan: Live Score, Analysis, Recap for Derby Della Madonnina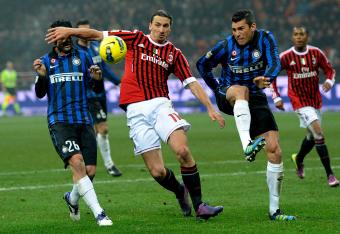 Claudio Villa/Getty Images
If you thought that the English Premier League was the only league with any excitement left in it, think again. Today, Milan's two giants will square off in one of the world's biggest derbies, the Derby della Madonnina.
Both teams go into this match with much at stake.
Having narrowed the gap at the top of the table back to a single point, AC Milan will be looking to push Juventus to the edge in hopes of overcoming the Bianconeri at the top of the table and claiming the league title.
To do so, they'll need to take the full six points from their last two games, and hope Juventus slip up one more time.
As for Inter Milan, Andrea Stramaccioni has initiated a revival at Inter since joining the club, but the Nerazzurri revival may just be too little too late.
A loss away to Parma looks likely to have put the nail in the coffin of Inter's quest to finish in third place, but they remain only three points behind Napoli with two games to go.
Anything is possible, and Inter's players will be looking to secure six points from their last two games so to at least do their part, and help Stramaccioni be appointed on a permanent basis as well.
This is one match you won't want to miss. Join me here at 1:15 p.m. for live commentary and analysis on the game.
FULL TIME! THAT'S IT!
Ironic that in the season Inter Milan win both derbies, they're on course not to even finish among the top three.
Juventus are confirmed as the 2011-12 Serie A Champions, thanks to Milan's loss.
Plenty of post-match analysis to come, check back in 1-2 hours at my profile for all of that. And feel free to hit me up @Mo_Hendy on Twitter with your post-game thoughts!
Thank you for following, see you next time!
90th minute
Free kick to Inter Milan, goes out for a corner.
From the corner, Inter play it short, trying to kill time, but AC Milan regain the ball. With only three minutes of extra time though, this game is over.
Inter Milan get another shot on goal, but it goes just wide. AC Milan have had almost no opportunities to score in the last 10 minutes.
OH MY GOD!
At this point, I really don't know what to do with myself. This has been spectacular. Amazing. Mindblowing...possibly the best game I've seen this year.
Maicon is given space out wide on the right, and he unleashes an absolute missile from out wide. That seals the game and the points for Inter Milan, AC Milan's title hopes are all but gone at this point.
87th minute
AC Milan are trying to attack, but Inter Milan won't give them a chance!
AND MAICON SCORES A BEAUTY!
84th minute
Wesley Sneijder taken off for Ivan Cordoba, playing his final home game for Inter Milan. Good move by Stramaccioni, gives Cordoba a chance to get a standing ovation and also tightens Inter's defense.
82nd minute
Milan are all attack now. Appeal for handball on Cambiasso, but waived away.
And on the counter, Javier Zanetti makes a cross-court run, getting a corner for Inter in the process. Nothing comes from it though.
3-2 INTER! DIEGO MILITO HAT-TRICK!
Moratti, you'd have to be a fool not to sign up Stramaccioni on a permanent basis at this point. This Inter team has so much heart. So much.
PENALTY! IMMEDIATE IMPACT FOR PAZZINI!
Pazzini's header hits Nesta's arm, the ref immediately points to the spot!
76th minute
Mark van Bommel is the latest name to go into the book.
Alvarez comes off for Giampiero Pazzini
Muntari comes off for Cassano. Good thing Allegri waited to bring Cassano on; Muntari looked injured and wouldn've had to stay on if Cassano had been brought on earlier.
74th minute
Another shot from outside by Sneijder, another comfortable grab for Amelia. Sneijder getting frustrated, but Inter Milan aren't giving up. The teams may need a substitution at this point...the game is very open but the players are clearly tired.
Ricardo Alvarez is down, might be injured. Time for Zarate?
72nd minute
On the other end of the pitch, Sneijder unleashes a venomous shot from deep, but Marco Amelia is in the perfect position to grab it with ease.
70th minute
Abate takes a great shot on goal after a good pass from Kevin Price Boateng. Out for a corner.
Fox Soccer just called Sulley Muntari "the destoyer." Isn't every AC Milan midfielder a destroyer? Ambrosini, Nocerino, Gattuso, Van Bommel...
66th minute
First time I've heard Nesta's name all game long. Where has he been?
64th minute
And another corner for Inter. You really feel like Inter Milan deserve to be leading in this game, but Milan have taken advantage of their chances and luck to still have a very good chance of winning this.
62nd minute
Freddy Guarin appears to be down injured...he's taken out for Obi.
The starting lineup shown earlier appears to have been wrong...Zanetti started in midfield, with Nagatomo in defense, while Obi was on the bench.
Corner for Inter Milan.
Just a reminder, a draw is not a result either of these sides want. It would mean that Inter would be mathematically ruled out of contention for the Champions League, while AC Milan would pretty much concede the title as Juventus are currently leading in their game against Calgiari.
58th minute
Maicon tries a volley off a corner, but it goes wide.
Cassano is warming up...
FIGHTS! YELLOW CARDS! EVERYTHING!
To get you up to date with the yellow card situation, Zanetti, Abate and Alvarez all have yellow cards now.
54th minute
Ignazio Abate puts in a cross for Zlatan Ibrahimovic, but it goes out on a deflection.
JUST BARELY! Ibrahimovic gets to the ball with his head, but Muntari gets in the way and puts it out! Ibrahimovic is visibly upset.
Milito scores the penalty! We're level once again!
Classic in the making guys, as I said, if you're not watching this, you're most definitely missing out.
FINALLY! PENALTY FOR INTER!
Stupid foul for Ignazio Abate, who has had a pretty solid game till now.
Wesley Sneijder tries an audacious shot from distance, but it hits the bar!
And on a corner, Samuel is brought to ground. Inter appeal for a penalty, which would be fair considering how weak KPB's penalty appeal was, but it isn't given.
Smoke bombs and flares being set off all over the stadium, you can see it fogging up the screen. Just the usual atmosphere of a Milan derby.
46th minute
WHAT A SUCKER PUNCH!
I honestly don't think I've seen a better start to a half than that. Milan play it out to the left of the field, Robinho crosses, KPB dummies, Ibrahimovic takes an amazing first touch, and then lifts the ball over Julio Cesar.
World-class from Ibrahimovic.
This article is
What is the duplicate article?
Why is this article offensive?
Where is this article plagiarized from?
Why is this article poorly edited?

AC Milan: Like this team?