College Basketball: Does the NCAA See Players as Students or Commodities?
May 5, 2012

Andy Lyons/Getty Images
By the end of the day on April 19, Wisconsin coach Bo Ryan stood knee deep in the smoldering ashes of a PR firestorm.
After a contentious interview with Mike and Mike and a social media backlash, the Wisconsin athletic department gave in and granted redshirt freshman Jared Uthoff his release to transfer to any school outside the Big Ten after previously restricting the player from 26 other schools.
The story drew national attention from both sports and non-sports related media outlets with headlines like "Bo (Ryan) Don't Know PR" from Forbes.com. Amid the overwhelming public outcry, numerous stories of players in similar positions to Uthoff surfaced, shedding light on the twisted and hypocritical abuse of rules intended to protect both student athletes and universities.
Protection of the University
Originally written to prevent coaches from poaching players from another program (and thus creating a college version of free agency), NCAA Bylaw 14.5.5.2.10 states an athlete in baseball, football, basketball or men's ice hockey must receive approval from his current university before he can transfer his scholarship. If the current school believes the student has been lured away before permission is given, that school can block the student from the university in question.
This rationale, however, has progressed from a tool used to prevent tampering to one that prevents a transferring player any opportunity to face his old team in the regular season. During his interview with Mike and Mike, Ryan referenced contacting several coaches for advice on how to handle Uthoff's transfer request. These coaches, Ryan said, advised him to block the entire Big Ten and any school on Wisconsin's schedule for the next two years. He took this a step further and blocked Iowa State (Uthoff's an Iowa native) for apparent recruiting purposes.
Ryan, however, contends that he never intended to block Uthoff from the possibility of playing his former school (as cited in an April 20 article from SI.com), but instead force the student to go through what he called "the process". According to Ryan, it was his intention to force Uthoff to bring his request before university administration and allow the coach an opportunity to speak with him about this decision.
Herein lies the apparent contradiction.
Protection of the Student
Despite blocking Uthoff from any school who could possibly be on Wisconsin's schedule (an act of self-interest), Ryan presented his actions as simply wanting to confront a player about leaving the team. Like a father to his family, Ryan explained himself as a man in leadership concerned with the well being of a young man under his care.
This "in loco parentis" attitude is common among coaches and universities in their explanations for placing harsh restrictions on transferring players. Shortly after Wisconsin cleared Uthoff's transfer request, former Florida International player Dominique Ferguson announced he was entering the NBA draft after Pete Garcia, FIU's executive director of sports and entertainment, denied his request to transfer closer to his home in Indiana.
Garcia's reason? Despite having never met Ferguson, he believed it was in the student athlete's best interest to remain at FIU.
In a recent article from ESPN.com, Minnesota coach Tubby Smith expressed this same, caregiver sentiment when comparing the rise in transfers to coaches leaving for other positions.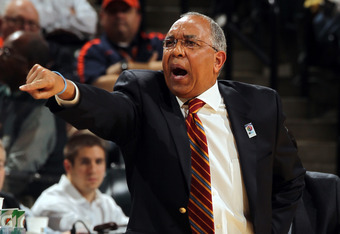 Jonathan Daniel/Getty Images
"They're kids. They're there to get an education. We're here to make a living. We clothe them, we feed them, we house them, we educate them. It's apples and oranges," Smith said, describing what sounds more like a homeless shelter than a college basketball program.
The NCAA has long romanticized the mentor role coaches have with players, and the power given to coaches over an athlete's playing career reflects this confidence in their ability to act in a player's best interest.
The problem, however, is college coaches are hired to win. High profile programs demand to win immediately. If players become upstanding, responsible men, then it adds to the greatness of college athletics as a pillar of higher education. If they don't, then winning titles can cover a multitude of problems.
Nowhere has this contradiction been more apparent recently than at SMU, where newly hired coach Larry Brown immediately cut four returning players because they "weren't good enough to play for him".
They weren't awarded a conversation about their future (i.e. Bo Ryan) or a decision about what's in their best interest (i.e. FIU). And the food, clothing, housing and education provided by SMU just got much more expensive.
The transferring athlete question is just part of the tidal wave headed for the NCAA in the coming years regarding the compensation of athletes, but it goes to the heart of how college athletes are viewed by those in charge of their lives. With all the money, support, history and tradition at stake, the NCAA must decide whether athletes are students or commodities. The way it goes about implementing its rules will reveal its choice.