UFC on Fox 3: Nate Diaz vs. Jim Miller Highlights Weak Card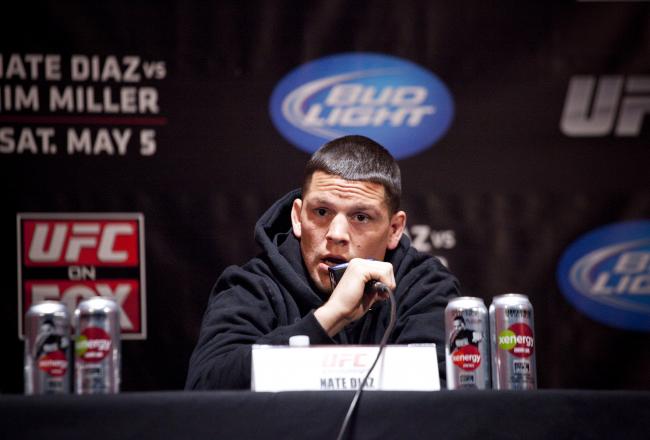 Michael Nagle/Getty Images
Nate Diaz and Jim Miller are solid Mixed Martial Artists, but when they are headlining a UFC event, you know it's a not a major card.
The two could produce a solid bout, but how many people will bother to check it out. It does help that it's free on Fox, but it's jam-packed into a huge sports day. Think about it, how many people have you heard say: "Man, I'm stoked for that Diaz-Miller bout tonight." Yeah, none on my side either.
On Saturday night, here is what UFC on Fox 3 has to contend with: Floyd Mayweather, Jr and Miguel Cotto will battle, there is the Kentucky Derby and both the NBA and NHL have playoff games scheduled.
A card like this may not bring anyone besides the hardcore UFC fan.
That said—here are the bouts the UFC and Fox will bring us in their third installment of MMA on network TV:
(card info from ufc.com)
Main Card
Nate Diaz vs. Jim Miller
Josh Koscheck vs. Johny Hendricks
Which of the secondary bouts has the most appeal?
Rousimar Palhares vs. Alan Belcher
Pat Barry vs. Lavar Johnson
Prelims
Tony Ferguson vs. Michael Johnson
John Dodson vs. Tim Elliott
John Hathaway vs. Pascal Krauss
Louis Gaudinot vs. John Lineker
Danny Castillo vs. John Cholish
Dennis Bermudez vs. Pablo Garza
Roland Delorme vs. Nick Denis
Mike Massenzio vs. Karlos Vemola
The 27-year-old Diaz is known for his tremendous heart, so his presence could always create memorable moments in the Octagon. But he would be more marketable matched with a fighter with more notoriety.
He has won Fight of the Night five times in his UFC career. Diaz always brings the passion, but what good is that if nobody tunes in?
Miller is another solid fighter who has been rolling as of late. His only defeats in the UFC have come at the hands of established stars of the sport. He dropped a decision to Benson Henderson in August and one to Gray Maynard in 2009.
Even with his impressive 21-3 MMA record, Miller is most appealing when battling a top name. He doesn't possess explosive KO power, and that hurts his commercial appeal. How many people that aren't hardcore UFC fans know who Jim Miller is?
The answer to that is, not many.
One of the main reasons for bringing the UFC to FOX was to expand its commercial appeal. I contend events like this one won't bring the company closer to that goal.
I'll certainly check out UFC on Fox 3, but it'll be on DVR, sometime on Sunday afternoon. There just isn't a lot here to compel me to watch it live.
Follow Brian Mazique and Franchiseplay.net for reactions, analysis and news from the world of Sports and Sports Video Games
Brian Mazique
Franchiseplay
This article is
What is the duplicate article?
Why is this article offensive?
Where is this article plagiarized from?
Why is this article poorly edited?