FA Cup Final 2012: Roberto Di Matteo Will Prove He Should Run Blues with Big Win
May 5, 2012

Shaun Botterill/Getty Images
Chelsea interim manager Roberto Di Matteo doesn't need to prove much, considering he's gotten the Blues to the 2012 FA Cup Final, but a win against Liverpool would go a long ways towards cementing his future.
It's safe to say that Di Matteo has done a great job at the helm of this team in an interim role. Since taking over for fired manager Andre Villas-Boas, Di Matteo has turned the Blues season around and now has them on the brink of a huge FA Cup Final win.
According to John Carr of ESPN Stats and Information, Chelsea has gone 11-2-4 and have outscored their opponents 37-16 since Di Matteo took over, and this was after starting 5-4-7.
Considering their turnaround, a loss in the final wouldn't necessarily hurt Di Matteo's chances of getting the full time position, but a win would certainly be a huge feather in his cap.
Blues' star John Terry feels that a win would put the manager in a very good position, according to the London Associated Press via SI.
"To win it will put himself in a very good position,'' Terry said of Di Matteo's chances of becoming full-time coach. "He's not thinking of that at the moment, he's not letting the players get distracted by anything."

"He's very passionate, he's Chelsea through and through, and that's certainly rubbed off on the players. If we can do it with the added bonus that Robbie can get the job at the end, that'd be great."
Di Matteo is the right guy for the Chelsea job, and he'll prove that by leading his side to a win over Liverpool.
Terry's comments regarding him say it all. He's passionate about the game and he's passionate about his club. Not only that, but he obviously is able to get something out of this team that Villas-Boas just could not, and if you need any proof of that just look at the contrast in record.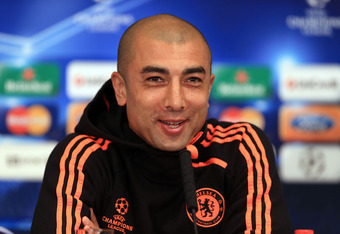 Clive Rose/Getty Images
Chelsea wins with Di Matteo at the helm.
There may not be a better endorsement for a manager or coach in any sport. In the landscape of professional sports, winning speaks louder than anything else.
If that is indeed true, which it certainly is, I expect Di Matteo's case for the full time managerial position will be screaming from the rooftops after the 2012 FA Cup Final.