Pac-12: Which Division Is Stronger in 2012?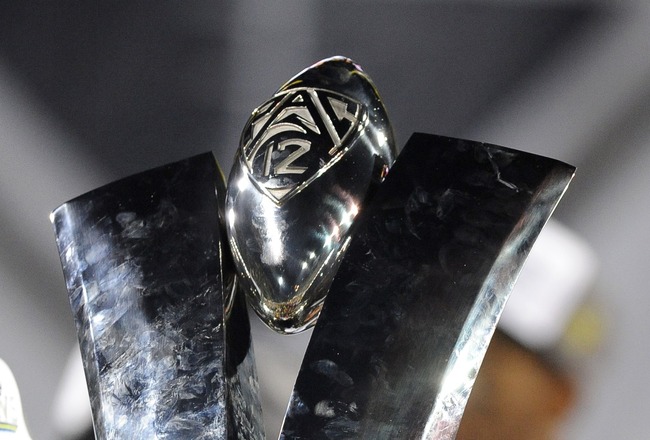 Steve Dykes/Getty Images
In last year's comparison of the Pac-12 North and South divisions, I came to the conclusion that the North division was the stronger of the two.
I believe the season confirmed that. Oregon and Stanford both made BCS bowls while Washington and Cal took the next two highest bowl spots for the conference, all out of the North.
USC should have represented the South and had the best record along with a high AP ranking to finish the season, but the rest of the division was lackluster. When the division representative to the conference championship game has to file for a waiver to be able to play in a bowl game with a losing record, it doesn't look good.
Even if USC had been eligible, the rest of the division just looked poor.
Last year I had to guess where Utah and Colorado would fall in terms of their position in the conference. This season I am going based off of where they finished last season. I know things have changed for a number of teams, but I still feel this is the best way to go.
Arizona vs. Washington State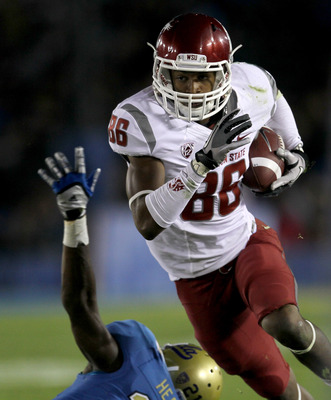 Stephen Dunn/Getty Images
Both teams have new coaches this season, and they look like good ones.
Arizona has brought in Rich Rodriguez, who had success at West Virginia but was never embraced at Michigan.
With Matt Scott at quarterback, that is one position that sets up well for a Rodriguez offense. Unfortunately, that's about it. The returning running backs weren't really productive last season and they lost their top three wide receivers and four of their top six.
The Wildcats were last in the conference in total defense. Rodriguez was better known for his offenses and even if there is some improvement, I would still expect their offense to be at or near the bottom again.
Washington State has had one of the most prolific passing attacks in both the conference and the country, and now they have brought in a coach who is known for airing it out.
Mike Leach of Texas Tech fame has taken over the Cougars and they are set up nicely. Returning their starting quarterback, well a quarterback who was the starter until he suffered a rash of injuries. Retuning the teams and conferences leading receiver is nice too.
The defense was in the middle of the conference but only loses a couple of players. They should set well with another year of experience.
Advantage: Washington State
Both offenses should do well under their new coaches but I think Washington State has a few more pieces in place. Along with this the defense looks better for the Cougars as well.
Colorado vs. Oregon State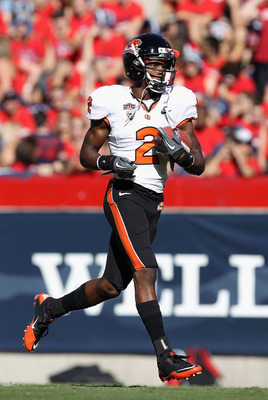 Christian Petersen/Getty Images
I'll be honest—I started with Arizona and Washington state because they are on the bottom from last season but these are the two teams I actually expect to see there at the end of the 2012.
Colorado's first season in the conference wasn't really pretty and I can't see 2012 going too differently for them. There is a lot to figure out for this team at a lot of key positions. I really don't have much to say about Colorado other than "good luck."
Oregon State doesn't really leave me very inspired either other than return of Sean Mannion and Markus Wheaton. The running game was lacking last year but Malcom Agnew came in as a true freshman and led the team. He should improve next season.
Neither team's defense was very good last year.
Advantage: Oregon State
Colorado is just rebuilding too much and the Beavers have just enough for me to give them the edge.
Utah vs. Cal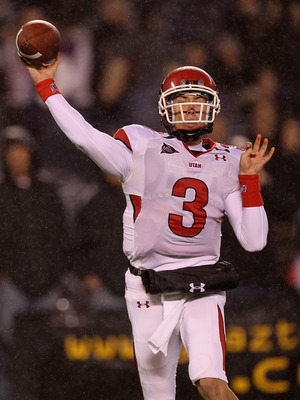 Stephen Dunn/Getty Images
Utah's Jordan Wynn was having a solid season until he got hurt and was unable to finish. He is back and looks ready to play. John White IV was second in the conference in rushing behind only LaMichael James.
Utah's interior line returns solidly and should be able to open lanes again.
The Utes' defense was a solid unit all around and one of the top rush defenses. They lost a bit but they should still be solid.
Cal head coach Jeff Tedford had the team at new heights just a few years ago but recently the Bears have looked mediocre.
Zach Maynard is back behind center but with less than a 60% completion percentage and a 17-12 TD to INT ratio. I don't know if that is something to be excited about. But I suppose having your leading passer, rusher and receiver back are good things.
Cal also boasts a strong defense nearly every year and with a top 25 finish last season I would expect another strong showing in 2012. They lost a handful of starters but the defense is more of a reload than rebuild for Cal.
Advantage: Utah
I have to hand it to the Utes here. They have just a touch more returning that has me seeing them in competition for the South division while I really only see Cal competing for a bowl spot.
Arizona State vs. Washington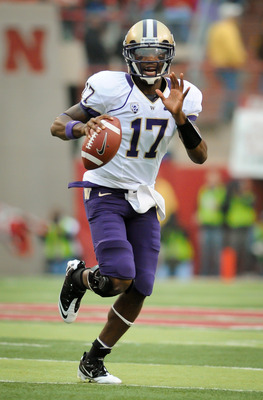 Eric Francis/Getty Images
I don't see the point of even making an argument here.
Arizona State fired their head coach after going 6-6, then hired a new head coach that at his previous job finished 6-6. Maybe they felt former head coach Dennis Erickson was past his prime and new head coach Todd Graham had more upside.
Graham will have a rebuilding project ahead of him in the desert.
Washington, on the other hand, is only rebuilding one side of the ball. Okay, so there is some combo of rebuild and reload on offense but they have some good stuff going on.
The defense is where they need work, at least based on last season and the last look we got of them, where Baylor made the defense look like a middle school team.
Advantage: Washington
While Arizona State has a bit of work to do I feel like Washington could already be set to contend for the division if things went just right for them.
UCLA vs. Stanford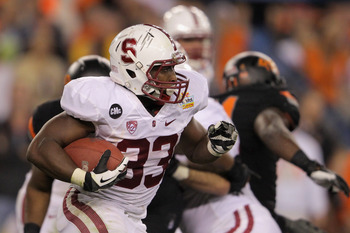 Doug Pensinger/Getty Images
This is another one that shouldn't need arguing.
UCLA hired a head coach with no college experience. They won the division last season with just the right wins and losses by both them and the other teams in the division, while having USC serve a postseason ban.
I don't know what new head coach Jim Mora has planned for UCLA, but I think it will take a few years for the Bruins to really be competitive.
Even with the loss of Luck and players like Fleener and Owusu, Stanford is still built to contend for the division. No, I don't believe they will be as strong as they were last year, but they will still be one of the top teams in the conference.
Advantage: Stanford
Stanford has gotten to a reloading rather than rebuilding state. They have endured the loss of a top running back only to get better. Loss of a head coach who took them to new heights only to get better. They lost a quarterback who was the number one draft pick to the NFL, but I feel that Stanford will endure.
USC vs. Oregon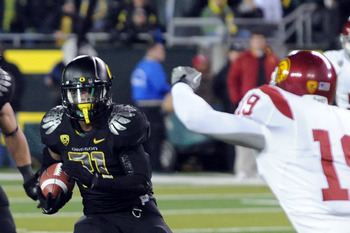 Steve Dykes/Getty Images
USC was the team to beat over the last decade, right up until the end, when it was Oregon. Both teams look poised to start in the top 5. Both will have prolific offenses. Both should have defenses capable of being top-25 units.
I am sure most of you have heard it already, but I am going to put it out there again: the depth of USC is a question mark. They have returned to a high level of competition while having to deal with sanctions, loss of scholarships and postseason bans.
This is believed to be the first year the loss of scholarships could be felt. From the looks of things, what they are not getting in quantity they are making up in quality. The Trojans are still pulling in highly ranked recruits.
Matt Barkley has a chance to be the best quarterback in the country this year. And with receivers like Robert Woods and Marquis Lee, USC could be throwing all over the field. The defense didn't lose a whole lot and because of that they will be a defense to be feared.
Oregon has won the last three conference titles. They are the last ever Pac-10 champions and the first ever Pac-12 champions. They lost their starting quarterback, who is one of the winningest quarterbacks to play at Oregon, though Darron Thomas had a controversial final year.
When injury struck, Bryan Bennett stepped up very well. The spring game gave way to more competition with the emergence of Marcus Mariota. Oregon will be in good hands with whoever wins the position.
Also gone is one of the conference's all-time best rushers. Yes, some will say he did it because of the system, but to deny that LaMichael James was one of Oregon's best players would just be wrong.
They will miss him, but Oregon will still be in good hands with Kenjon Barner and DeAnthony Thomas toting the rock.
The defense is an enigma because they appear to be average, but they also face more plays than the average team. When you break things down they actually stack up alongside some of the top defenses in the country in many categories. Rumors out of the spring are that this could be one of the best defenses Oregon has ever had.
Advantage: Push
Call it a cop out if you want, but both teams have too much going for them along with just enough questions to where even I, an admitted Duck homer, really have to sit back and look at USC and be impressed.
Other Factors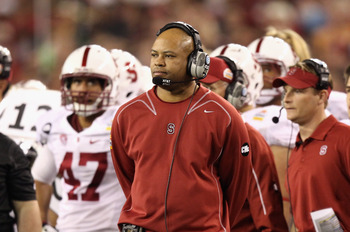 Christian Petersen/Getty Images
Returning Award Winners
Coach of the Year: Shaw, Stanford
Offensive Freshman of the year: Thomas, Oregon; Lee, USC
Defensive Freshman of the year: Bailey, USC
Returning All Pac-12 First or Second team
North: 11
South: 13
Early Heisman Watch List
Barkley, USC
Price, Washington
Thomas, Oregon
Top 25 recruiting classes (Rivals/Scout)
Stanford: 5/7
USC: 8/20
UCLA: 13/12
Oregon: 16/15
Washington: 21/22
Cal: 23/NA
Conclusion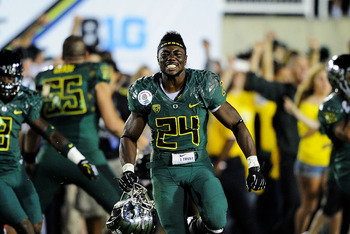 Kevork Djansezian/Getty Images
North takes the head-to-head at 4-1-1.
Looking at the other factors, it is hard to tell if either side truly has an advantage. Each has two awards. The South has more returning all-conference players but the North has one more on the early Heisman list.
Adding in the recruiting actually pushes the North for the win, having more teams in the top 25.
It looks like the North will be going for the title of the stronger division for a second year in a row.
Keep Reading

USC Football: Like this team?