Ziggler vs. Ryder Title Match Announced for WrestleMania 29?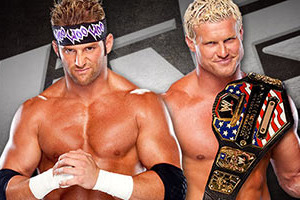 Photo courtesy of WWEHunks.com

On the most recent edition of Zack Ryder's Z! True Long Island Story, shown below, Ryder reminded his fans why he started the show to begin with, saying, "Last year I started Z! True Long Island Story because I was sick and tired of being on WWE Superstars every week. Yeah, I wanted to be on the main show, Monday Night RAW."
This week, Ryder pointed out, he was not on RAW, but found himself once again on Superstars in a winning effort against Michael McGillicutty.
He wasn't the only high profile performer relegated to the internet-only broadcast, as Dolph Ziggler "stole the show" against Mason Ryan.
The episode then cut to Ryder and Ziggler bumping into each other in the gym and taunting each other. Ziggler called Ryder a coward for refusing to accept his challenge: an Internet Championship match at WrestleMania 29 in Ryder's backyard, MetLife Stadium in East Rutherford, New Jersey.
Ryder insisted that he had "nothing left to prove" to Ziggler, but added that, as two of the most underrated Superstars in the company, they both had something to prove to the WWE Universe.
The final straw came when Ziggler assured Ryder that by backing out of the match and making up excuses, "all [he'd] ever be is a mark."
The promo had everything a great promo should have. The heat felt real, the tension was palpable, and the logic was sound.
Ziggler, the consummate heel, goaded Ryder into accepting the challenge with an intense, "You know it," and the two shook on it before staring each other down.
The back and forth between the two was better than half the stuff that did make it to RAW last week, and proof that WWE could create compelling angles if they put forth the effort.
Ziggler and Ryder have built this feud, which stretches all the way back to September of last year, using almost nothing except for social media. Ziggler's weekly "hacks" of Ryder's show are routinely entertaining and feature fantastic promo work that is currently being overlooked in favor of jobber matches to Brodus Clay and nails-on-a-chalkboard Vickie Guerrero introductions.
While I wish it could happen sooner than next year's WrestleMania, the time between now and then gives the two plenty of time to let the tension build and let the angle simmer on the back burner before getting serious later in the year.
It's not out of the realm of possibility that, should these two tangle before 'Mania, they end up stealing the show.
But to do that, they need WWE to get on board. Ziggler and Ryder have laid the groundwork for the continuation of a great feud between two guys who could very well be the future of the company.
With some high-profile promos on RAW and time to put together a quality match, along with the added benefit of being two full-time performers, unlike The Rock in his year-long build to the clash with John Cena, this could be the spark that both men have been waiting for.
This article is
What is the duplicate article?
Why is this article offensive?
Where is this article plagiarized from?
Why is this article poorly edited?