Big Ten Football Morning Coffee: Will Gholston Gets in Car Wreck
May 3, 2012

Al Messerschmidt/Getty Images
Rise and shine, friends. Here's what's going down in the Big Ten today.
Michigan State dodged a major bullet when star DE Will Gholston and redshirt freshman LB Lawrence Thomas were involved in a serious road accident on I-96 in the Detroit area, per the Detroit Free Press. Gholston, who was driving, was impacted by another driver who was swerving after being cut off. Both cars ended up in the ditch, with Gholston's SUV rolling before coming to rest upside-down.
Both Gholston and Thomas were wearing seat belts and had their airbags deploy properly, per the report, and were treated for minor injuries at the scene. Those two facts are not merely coincidental. As such, this should have basically zero bearing on the 2012 season for Michigan State.
- Georgia fan-site Get The Picture posts what it calls "the essence of Urban Meyer, in two tweets," and it's a pretty stiff punch: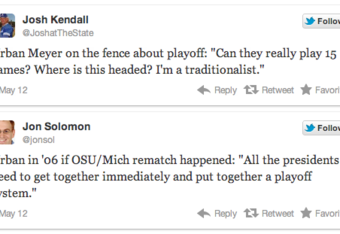 - Bill O'Brien won't say who his starting quarterback is, but he says he's got one, per PennLive.com. We're not going to make any assumptions as to who that quarterback might be, but if the guy's name doesn't rhyme with Schmatt SchmcSchmoin, we might be surprised.
- Good stuff in this video from former Michigan DT Mike Martin's draft party, posted by AnnArbor.com. Martin was selected in the third round by the Tennessee Titans. The speech he gives to his small party of friends is wonderfully humble and sincere. The Titans got a good one here.