Alabama Football: Phillip Sims' High School Coach Unfairly Calls out Nick Saban
May 2, 2012

Kevin C. Cox/Getty Images
The news that former Alabama backup quarterback Phillip Sims has transferred out of the program shouldn't come as a shock, but apparently it is becoming messy.
In an interview with the Virginian-Pilot, Sims' former high school coach, Richard Morgan, defended his former player and said loyalty to in-state players is what cost Sims the job.
"If it's a close competition between an in-state guy and an out-of-state guy, the in-state guy is getting the job," Morgan said. "Phillip was in a situation where I thought he was the better quarterback, but he was the out-of-state guy. That's just the way it works in college."
Drop cup.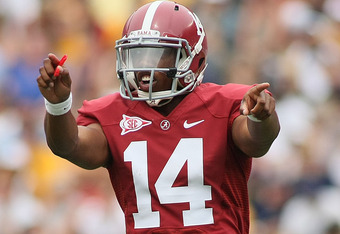 Greg McWilliams/Getty Images
Is that a shot at Alabama head coach Nick Saban? You bet it is.
An unfair shot, at that.
Sims and A.J. McCarron entered the 2011 season locked in a quarterback battle. Sims completed 7-of-14 passes for 73 yards and two interceptions in the Crimson Tide's season-opening win over Kent State.
The next week, Alabama went on the road to Penn State where McCarron got all of the snaps. At that point, the battle was over. Sims only attempted 14 more passes for the rest of the season and didn't see the field as a quarterback after Week 8.
Oh, and McCarron went on to lead Alabama to a 12-1 record, the BCS National Championship and won BCS Championship Game offensive MVP honors. 
I guess those are just minor details.
You can call Nick Saban a lot of things. You may not like his methods of roster management, his demeanor on the sidelines or his abrasive attitude toward the media when he's asked seemingly legitimate questions. However, saying that he's going to remain loyal to in-state players at the risk of keeping more talented players off the field is simply naive. 
That's not his style. As a matter of fact, his style is the complete opposite.
He's there to win, and sometimes those wins come in the wake of what some people perceive as disloyalty to players.
Morgan made a clean breakup very messy, and he has himself to blame.