Marking Out: John Cena vs. John Laurinaitis, the New Austin vs. McMahon?
March 17, 2017
Hello again and welcome to the latest edition of Marking Out. If you read last week's edition of Marking Out, you saw a very different take on what has happened in the WWE. Last week, I lamented about how it seemed that the WWE was falling back into its old ways of making John Cena seem like the hero of the company rather than try something new with the return of Brock Lesnar. Readers were split on their feelings of what was happening, some saying that I was looking too much into it, while others agreed that changes were needed.
Yet the WWE threw a curveball after Extreme Rules, with the announcement of two major matches for the coming pay-per-view, Over the Limit. After beating Lesnar on Sunday, it seemed like John Cena was going to be taking a break from WWE TV, which makes sense since he hasn't had any real time off from the WWE since he returned from injury in 2008. Yet it was announced last night that Cena would face off against John Laurinaitis at Over the Limit. Laurinaitis had tricked the fans by originally saying that Cena would face Lord Tensai.
It was an interesting swerve on the part of the WWE, one that I think could work very well. Rather than have Cena continue to go over Lesnar, he will be taking on Laurinaitis, the only other person who gets as much heat. The GMs breakdown was sold well last night as well with Laurinaitis fan, Michael Cole, even calling his actions into question. It also appears that Lesnar will be facing a different authority figure as the rumors are that he will face Triple H at Summerslam after his attack last night against the COO of the company.
In essence, a boss vs. employee fight could work well for the WWE right now. One of their biggest feuds in the company's history was Steve Austin vs. Mr. McMahon, which led to numerous memorable matches. WCW also had some decent boss vs. employee matches between Eric Bischoff and Ric Flair, though those ended up being used as ways to embarrass Flair, and recently, there have been similar angles with Bret Hart and Hulk Hogan having brief feuds with Mr. McMahon.
Point being, this could be a decent angle if done properly. The story has been brewing for almost a year now since John Cena knocked out Laurinaitis when he faced off against CM Punk at Money in the Bank PPV last year, and the tension has been building ever since. The wrestling aspect of the angle shouldn't be a problem since both men can carry themselves in a match, each earning awards for match of the year at some point in their careers.
The only wrinkle is how long they let this angle run. If Cena really is going to take a break, then the WWE may want to send him off on a high note while at the same time making the fans really happy by having him trounce Laurinaitis. If they want it to go on longer, it may end up being a back and forth affair with each man picking up a win until Johnny ends up being removed similar to what happened with Triple H. Either way, it will be interesting to see where this goes for this story as well as what is going to happen between Lesnar and Triple H in the coming months.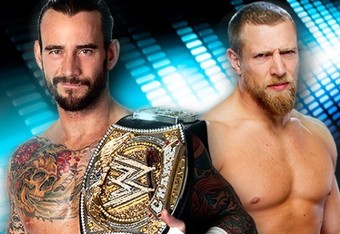 The other big announcement was that Daniel Bryan will be challenging CM Punk for the WWE Championship at the PPV after winning the beat the clock challenge last night. This is a very interesting match. As with Punk vs. Jericho, the match will feature two of the best ring technicians in the business today. Fans were interested in seeing this match after there was initial hints at it occurring a year ago, though it never panned out. Now it seems we'll be getting what we hoped for. The only way that this could get better is if Jericho were to someway weasel his way into the match after last night's botch on the part of the referee with doing the 10-count on the Big Show.
Either way, this seems like a five-star match in the making, and I'm sure fans' fingers are crossed that it is everything that we are hoping that it will be.