Oregon Football: Despite Not Being Drafted, Darron Thomas Made the Right Choice
May 1, 2012

Stephen Dunn/Getty Images
Too often we as fans get wrapped up into sports and lose perspective on what is important and what is the reality of a situation.
After the Oregon Ducks had won the 2012 Rose Bowl in January, Duck fans were flying high as the present and future continued to look bright. While many knew that LaMichael James would likely turn pro, comfort was taken in the fact that Kenjon Barner and De'Anthony Thomas would step in at running back and that Darron Thomas would be returning as a senior.
On Jan. 14, things got turned on its side as Darron Thomas announced he would forgo his senior season and turn pro.
Since making that choice, Thomas has been off the grid, and Duck fans had their emotions go from disbelief, to sadness, to then accepting that he was gone and criticizing him for his choice.
When Thomas turned pro, Duck fans began to make it known that he was making a mistake and that he had plenty to gain from a senior year at Oregon. What they were confusing is the fact that the fans had a lot to gain, not Thomas.
In his four seasons at Oregon, Thomas saw it all. He had been to two Rose Bowls, a national title game, four straight wins in the Civil War and was one of the most successful quarterbacks in Oregon history.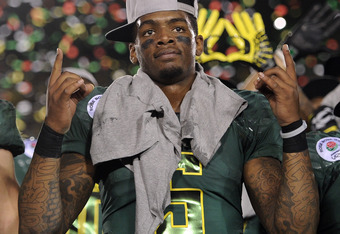 Harry How/Getty Images
As a redshirt junior, Thomas had been at Oregon for four years and had seen his career hit a ceiling. His accuracy and power wasn't going to improve, his knowledge of the college game had been maxed out and he was not mentally committed to another season.
This past weekend, the NFL conducted its annual draft, and Thomas was not one of the lucky players to be selected. The fact that Thomas was not picked up made some fans feel that their criticism was justified and that Thomas had indeed made the wrong choice.
Again, Thomas made the wrong choice for Duck fans not for him.
When watching college sports, we forget that these are kids. Thomas made a choice and didn't owe the university anything else after his junior year. The choices that he has made will impact his life, and that is something he must be OK with, not fans. 
Regardless of where Thomas ends up, football or not, he was a great player for the Ducks and was someone that helped elevate this program to a new level.
As fans, we need to spend more time appreciating what players have done for us than criticizing their choices. Fans must remember, that Thomas sees what is being said, and after four years of giving his time and body to this program are you proud of the message you have delivered to him?