Oregon Ducks Football: Unsolved Mysteries from the Spring Game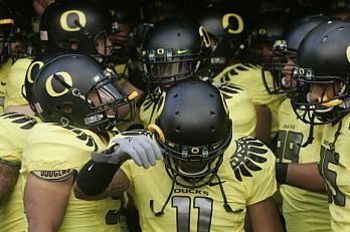 If you've come to this slideshow expecting answers to all of your Oregon Ducks questions for this year, you've come to the wrong place.
I don't mean to sound like Cruella de Vil, it's just that I don't have answers to what I'm guessing are your remaining questions after the spring game last Saturday. That's because I think there are some Sherlockian mysteries about this year's team that the spring game did not shed any light on.
Let's help each other. Maybe we can get to the bottom of some of the puzzling details if we have a conversation here.
After all, it's not like we have anything else to do until Sept. 1—or Aug. 30, if a report coming from Eugene's Register-Guard about the possibility of a schedule change to a Thursday night game turns out to be accurate.
Okay, here come my questions. Any answers out there?
Q: What the Heck Is Going On with Colt Lyerla?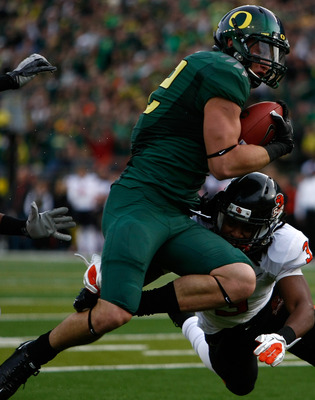 Jonathan Ferrey/Getty Images
Did anyone see him at the game Saturday? Either in it or on the sidelines?
I didn't see him, but I had a lot of things on my list to look for and may have missed him when it got busy. But I don't think Lyerla was there, or at least not in the game.
So, if you didn't see him either, there are three possibilities:
1. The coaches know what Lyerla can do, and wanted to see Christian French, Evan Baylis, Brian Teague and Dallen Voeller.
2. Lyerla is hurt and, of course, no one is talking.
3. He's in Chip's doghouse for some reason.
Anyone know anything about this mystery?
Q: Why Didn't Josh Huff Play?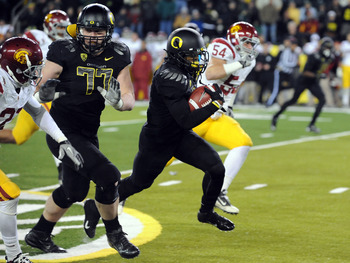 Steve Dykes/Getty Images
Josh Huff was at the spring game, but only on the sidelines. He was spotted by one of my astute readers working with the other "Mighty Oregon" wide receivers. But he was not listed on the official U of O post-game stat sheet, and the prevailing wisdom is that he didn't play a down.
So, here are three possibilities for what the Josh Huff story might be:
1. He is not fully recovered from his injury last year and they are being cautious (this was the prevailing theory in the press box with reporters far more experienced than me.)
2. He's in the "bad boys' doghouse" until his upcoming court date either exonerates or damns him.
3. The coaches wanted to show us all the young talent at the wide receiver position so we'd quit worrying about it. (It worked on me!)
Your thoughts?
Q: Who Is the Third-String Quarterback?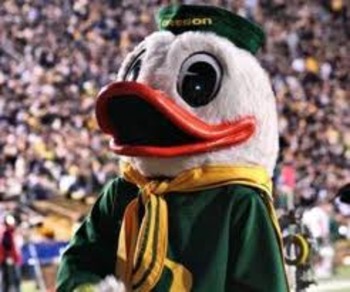 I believe that Marcus Mariota and Bryan Bennett took every snap for their respective teams on Saturday. I don't recall seeing freshman recruit Jake Rodrigues (who enrolled early) or junior Dustin Haines in the game.
I understand that the heated competition between Bennett and Mariota—and the rabid fan interest—necessitated those two seeing all of the action.
But I'm wondering if anyone has heard anything about how Jake Rodrigues is adjusting to big-time college football? Or if anyone saw Dustin Haines?
Both were listed on the spring game roster, Rodrigues behind Mariota and Haines behind Bennett.
Hopefully, neither will be needed this year, but lest I remind you—no, never mind, I'm not going to say it.
Q: Will Carson York Be Ready To Go?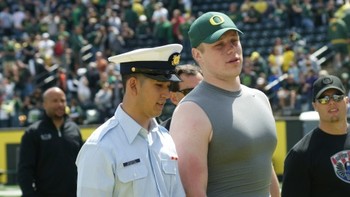 As we all know, Carson York is not practicing yet and was not listed on the spring game roster. That's him in this photo, participating in the ceremony to honor the military.
I'm wondering if anyone has heard anything about how his leg is healing? Do we expect the senior to be 100 percent by fall camp?
I think I speak for all of us when I say that I sure hope he comes all the way back. He's a good kid and a good player.
Q: Is Tyson Coleman as Good as He Looked?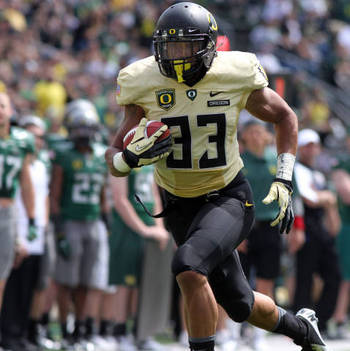 Yeah, Bryan Bennett's pass was not his best effort, but the interception and touchdown run by Tyson Coleman was still a thing of beauty.
It was opportunistic, and to me, that's the best quality a linebacker can have.
That, and not getting arrested.
Yes, that was a cheap shot, and Coleman seems to have put those darker days behind him. Let's hope this redshirt freshman—an Oregon product from Lake Oswego High School—can stay away from the Eugene police and concentrate on his game.
I think he's off to a great start—do y'all agree?
A Long Summer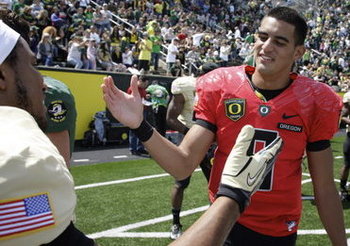 Yes, it's going to be a long summer while we hold our collective breath hoping that no players get hurt rock-climbing or surfing, or spend time in the company of Eugene's finest.
While we wait for fall camp, we might as well debate and share our feelings on this most civilized of sporting sites.
Oh, and don't forget that De'Anthony Thomas is making his season track debut this weekend at Hayward Field.
But you'd better be quick.
Keep Reading

Oregon Ducks Football: Like this team?