10 Elite Committed Players with Lofty Comparisons or Big Shoes to Fill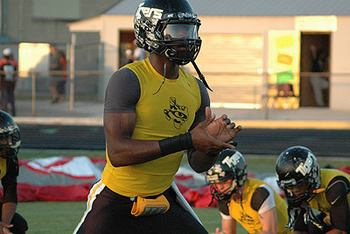 Photo By Scout.com
Many great college football players have left legacies all over the country at various schools. Incoming players often have to deal with comparisons to the player who previously occupied that school's position.
For this read, I'm going to give you 10 players who are committed and have been compared to great players who used to play the same position at their future schools. Some other players on this list will just have big shoes to fill once they get to campus.
10. Chris Johnson, QB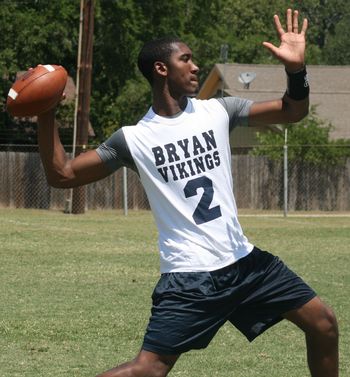 Photo By 247Sports.com
He's from Texas. He's a dual-threat, athletic quarterback prospect. He is committed to Baylor and has a world of potential.
Sounds a lot like what many said about Robert Griffin III coming out of high school, right?
Well, Johnson is in the same mold. He will hear his name and RG3's mentioned together a lot.
9. Kelvin Taylor, RB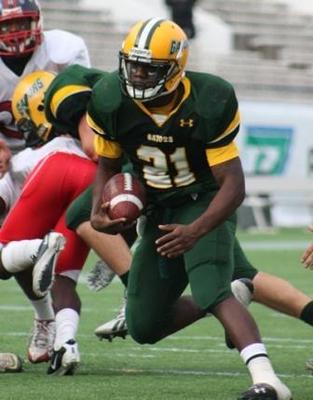 Photo By Scout.com
Taylor finds himself on this list because it's in his blood. His father was a Gator great at RB, and Taylor is headed to Gainesville as well.
He's always going to be compared to his father and there's nothing he can do about it. There have been some great RBs to come from Florida, and Taylor could be the next one.
8. Jake Oliver, WR
Photo By Scout.com
Oliver caught over 100 balls last season and is just a reliable, trustworthy and natural receiver. He stands 6'3", 185 pounds and is headed to Texas.
He's not overly fast, speedy, quick or athletic, but Oliver just makes catch after catch. He'll be viewed as a taller Jordan Shipley when he's in Texas.
7. Brice Ramsey, QB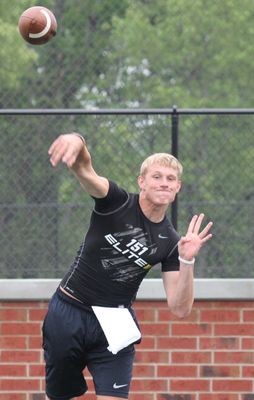 Photo By 247Sports.com
Ramsey has big-time potential and is headed to Georgia. He's 6'3" and right around 200 pounds. His biggest asset is his arm strength.
What? A rocket-armed passer headed to Georgia? Sounds like another Matt Stafford to me.
Toss in the fact that whenever he becomes the starter he'll have to fill the awesome leadership values of Aaron Murray, and you see Ramsey has lofty comparisons and big shoes to fill.
6. Thomas Tyner, RB
Photo By OregonLive.com
If you're an Oregon fan and don't know who Tyner is, then take Jonathan Stewart's size, DeAnthony Thomas' speed and quickness, the athleticism of LaMichael James, mix it up in the bottle and you get Thomas Tyner.
Try that on for a lofty comparison.
5. Ricky Seals-Jones, WR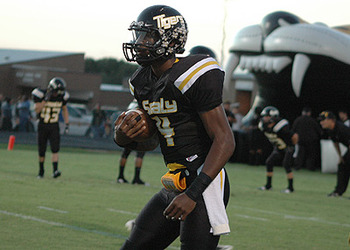 Photo By Scout.com
Seals-Jones looks like the next Roy Williams or Limas Sweed for Texas. He's 6'5", 220 pounds and has a high ceiling.
He could also become a TE in Austin, but right now, WR looks like the first turn. Naturally, with his big frame and athleticism, RS-J will hear his name associated with the aforementioned Longhorns.
4. Tyrone Swoopes, QB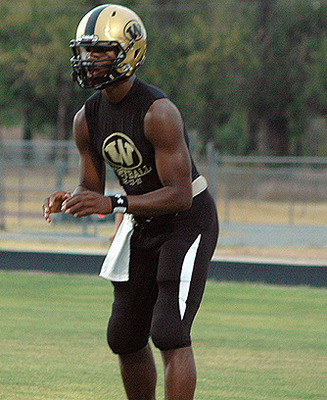 Photo By Scout.com
He's a 6'5", 220-pound dual-threat QB who is committed to Texas. He's well known in the Lone Star State, has supreme athleticism and great arm strength.
No, this is not a recruiting rewind about Vince Young. I'm talking about Tyrone Swoopes.
Young is a pillar player around Austin, so Swoopes has both big shoes to fill and is drawing lofty comparisons.
3. Reuben Foster, LB
Photo By Scout.com
Foster is the next rock star defensive recruit to come into Tuscaloosa, and he's expected to be the best of a long line of 'Bama LBs in recent years.
With Dont'a Hightower, Courtney Upshaw, C.J. Mosley, 2012 signee Reggie Ragland, Rolando McClain, 2011 signee Trey DePriest and more, Foster is "next in line" for the Tide.
I expect him to become the best player out of the aforementioned LB names.
2. Max Browne, QB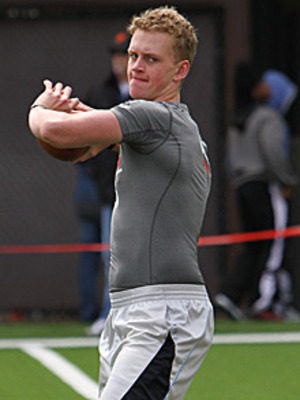 Photo By Scout.com
USC has seen some real top-notch QB prospects come to Troy, and Browne is the newest one. At 6'5", 210 pounds, he's committed to USC and could be the next big thing in SoCal.
From Carson Palmer, to Matt Leinart, to John David Booty, to Mark Sanchez and now Matt Barkley, Browne will be charged with keeping the QB tradition going at Heritage Hall.
Those are supremely big shoes to fill.
1. Shane Morris, QB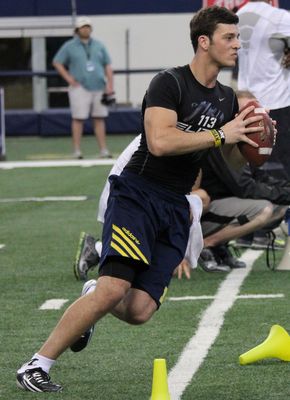 Photo By 247Sports.com
I have Morris No. 1 on this list because I think he has the most on his shoulders. Denard Robinson doesn't fit the true mold of a traditional Michigan QB, no matter how dominant he is—and boy, is he.
Morris is the highest-rated and most-hyped QB prospect to come to Ann Arbor since Chad Henne, and maybe even since Drew Henson.
He's expected to take Michigan to new heights and deliver Big Ten titles, Rose Bowls and more to the Big House's fanbase.
Keep Reading