Auburn Football: 11 Defensive Linemen Who Will Play in the Tigers' 2012 Rotation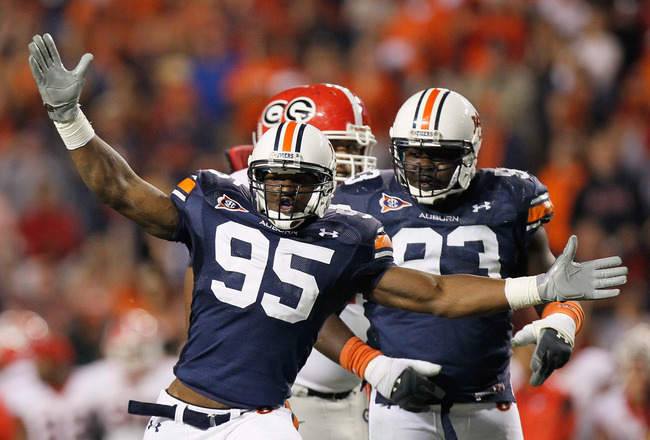 Kevin C. Cox/Getty Images
The Auburn Tigers head into the 2012 season with the most talented defensive line group since Gene Chizik's arrival on the Plains. The Tigers have 11 different guys that will see time this coming season, all bringing unique skills to the defense for Auburn.
The Tigers battled defensive line woes a year ago, looking extremely porous at times along the front. The Tigers return a host of experienced juniors and sophomores this season, all of whom have seen significant playing time against the top talents in the SEC.
Looking ahead to the fall, these are 10 guys that will build the wall against opposing offenses and wreak havoc on opposing quarterbacks.
Corey Lemonier: DE, 6'4", 240 Lbs, Jr.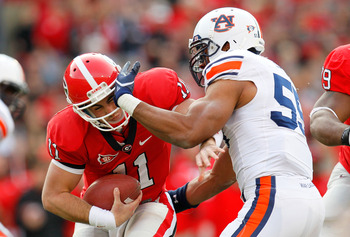 Kevin C. Cox/Getty Images
Corey Lemonier is the most experienced defensive lineman that will take the field for the Tigers this fall.
Lemonier has been a consistent performer for the Tigers from the defensive end position since he was a freshman, playing in pass-rushing scenarios during the national title run in 2010.
Last season Lemonier showed his strength, speed and resilience by finishing No. 4 in the SEC in sacks with 9.5 sacks on the year. He also finished at the No. 7 spot for tackles for loss, notching 13.5 tackles behind the line in 2011.
Look for Lemonier to continue to grow into his defensive end position this season and show more every-down type capabilities. His biggest criticism has been his run defense, but I expect the new defensive scheme may help put Lemonier in better position to make plays.
Dee Ford: DE, 6'2", 245 Lbs, Jr.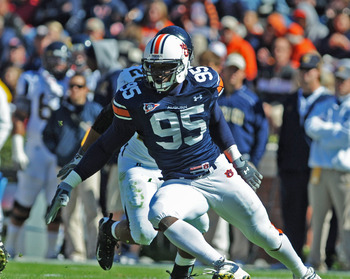 Al Messerschmidt/Getty Images
Dee Ford was a 200-pound linebacker when he first arrived at Auburn. He is now one of the most explosive defensive ends that the Tigers have on roster.
Ford has battled through an injury that was sustained last fall and is now poised to be a starter opposite Lemonier when the season opener kicks in Atlanta on September 1.
In the past, Ford was labeled as a pass-rush specialist, but he will benefit from the new defensive system, much like Lemonier. I would expect that Ford and Lemonier will be a very effective tandem from the outside of the defensive line for the Tigers.
Nosa Eguae: DE, 6'3", 258 Lbs, Jr.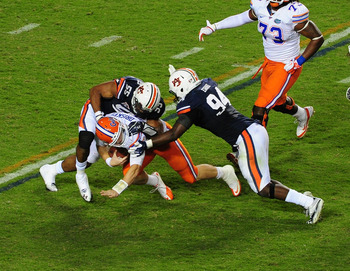 Scott Cunningham/Getty Images
Nosa Eguae is a powerful, run-stuffing defensive end for the Tigers. He has battled nagging injuries throughout the past year but looks to return this fall injury-free.
Eguae has proven to be a bookend for the Tigers, often causing havoc in the backfield during passing situations as well.
During the 2011 season, Eguae was not able to make a major impact. Despite the high level of talent that is littered along the line, the leadership and experience that Eguae brings to the table will have him playing a major role in this year's defense.
Craig Sanders: DE, 6'4", 260 Lbs, Jr.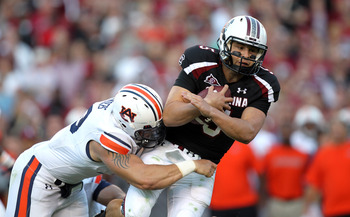 Streeter Lecka/Getty Images
Craig Sanders is a beast on the football field. He didn't get the nickname "Animal" for being a patsy.
As a freshman, Sanders cut his teeth on special teams blasting return men into oblivion with his bone-crushing hits. After three seasons of mixed line play and special teams, Sanders is ready to destroy quarterbacks on a regular basis.
Sanders was a part of the line rotation consistently a year ago and looks to continue that trend this year. Sanders has a passion and fervor on the football field that is unmatchable. The guy loves to hit, and it shows.
Look for Sanders to explode through a number of opposing offenses and bring snot-bubbles to the noses of a few ball carriers this fall.
Jeffrey Whitaker: DT, 6'4", 301 Lbs, Jr.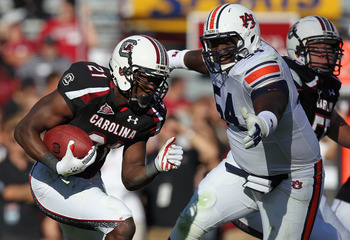 Streeter Lecka/Getty Images
Jeffrey Whitaker has been a producer in the middle since his freshman season. He was able to work with guys like Nick Fairley, Zach Clayton and Mike Blanc in the middle in 2010.
Last season, he had to help anchor a starting defensive line in the SEC as a sophomore. It didn't end up very well for Whitaker and the Tigers. They finished No. 94 in rushing defense in the country.
That put Auburn's run defense just slightly worse that Central Michigan's.
Whitaker returns this year as a junior with experience and a little less weight on his frame. At 301 pounds, he is able to move a few steps faster, exploding into the backfield and plugging up the middle rushing lanes of the offense.
Whitaker will be a leader upfront for the Tigers.
Kenneth Carter: DT, 6'4", 290 Lbs, Jr.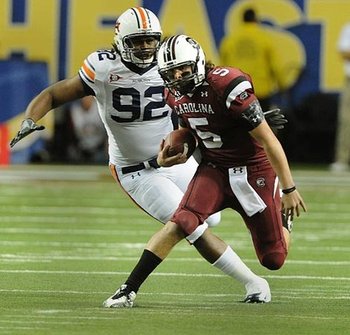 Johnny Crawford | Atlanta Journal Constitution
Kenneth Carter has been forced to learn the new defense on paper only as he sat out spring with injury.
Carter was an impact lineman for the Tigers for much of the 2011 season, sharing time later in the season with numerous up-and-coming freshmen linemen.
This season, Carter will look to push for starting time in the middle, but he may be pushed into a reserve role by the talent that made it through the spring session. Carter will play a role in this defense. He's too good not to.
Look for a much improved big man this fall as he will be a rising junior and have two seasons of experience to pull from.
Angelo Blackson: DL, 6'4", 325 Lbs, So.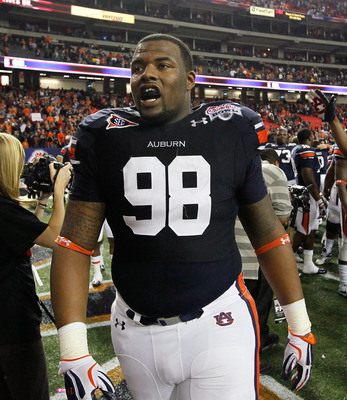 Kevin C. Cox/Getty Images
Angelo Blackson is the most athletic inside lineman that the Tigers have. He is a massive body on the interior but has the athleticism to play in the backfield of the opponent consistently.
During the bowl game a year ago, Blackson showed his athleticism on special teams when he blocked a Virginia punt out of the end zone for a safety.
Blackson got a ton of reps this spring with Carter and Gabe Wright falling to injury. It will be an interesting battle as these Tigers fight for playing time.
JaBrian Niles: DL, 6'2", 297 Lbs, Rs. Fr.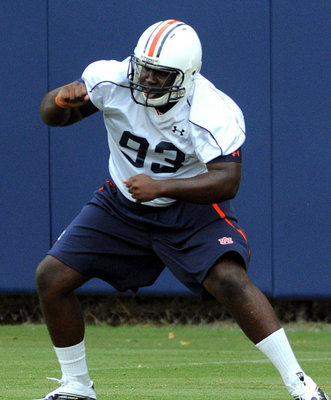 Mark Almond | The Birmingham News
JaBrian Niles is a big-bodied inside man that exploded in the weight room this winter.
Niles was a 270-pound high school defensive end, but he made the transition to the inside once he made it to Auburn. Niles looks to be productive this fall.
Niles will not be a regular on the line with all of the talent that stands in front of him, but he will see time in reserve and will stand by if there is an injury to a main inside man this fall.
With the addition of weight and the ability to maintain his previous speed, Niles is becoming a dangerous threat to offenses for the Tigers inside.
LaDarius Owens: DE, 6'2", 237 Lbs, So.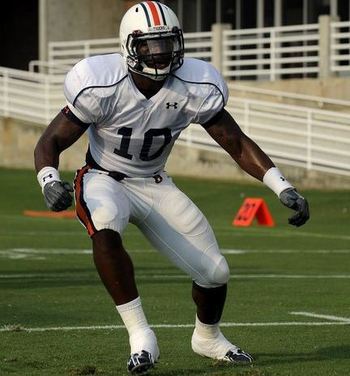 Todd Van Emst Photo
LaDarius Owens was a bit of a tweener when he showed up on campus because of his size. He was a guy that attempted a transition to outside linebacker but in short order returned to the defensive line.
Lacking ideal size for the defensive line, Owens uses his blazing speed to make it around opposing offensive tackles and flies into the backfield.
Owens is also a guy that can cover backs out of the backfield and make plays in pass defense. Look for Owens to be a pleasant surprise this fall when he makes it onto the field frequently for the Tigers' defense.
DeVaunte Sigler: DT, 6'4", 295 Lbs, So.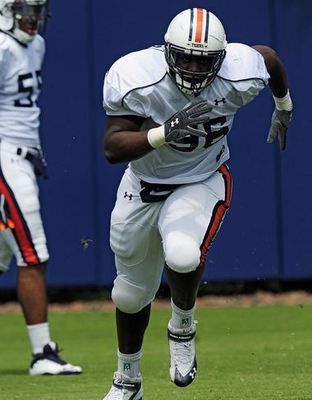 Todd Van Emst Photo
DeVaunte Sigler was a transition-type athlete when he arrived on campus. The Tigers staff could have placed Sigler on the outside of the defensive line but instead chose to use his frame to develop a force on the inside of the defense.
Sigler saw time as a true freshman for the Tigers and will likely see his snaps increase this season. Sigler has gained a ton of weight and has been able to maintain his speed into the backfield through the center of the line.
With his blend of size and explosiveness off of the ball, Sigler will be dangerous for the Tigers this fall.
Gabe Wright: DL, 6'3", 316 Lbs, So.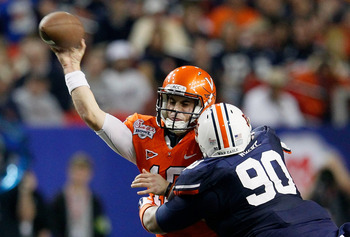 Kevin C. Cox/Getty Images
Gabe Wright was on his way to a big spring before he injured his foot in the third practice. Wright was forced into surgery by the injury, ending his spring immediately.
Heading into the fall, Wright will be in a battle with the other interior linemen on the Tigers defensive front.
The Tigers will need the leadership that Wright provides on the field this fall. Despite being only a sophomore, Wright is a verbal leader for the Tigers.
I think by season's end, Wright may be one of the best performers on the field for the Tigers.
Keep Reading

Auburn Football: Like this team?