Carl Crawford Trade Rumors: Could the Los Angeles Dodgers Make a Splash?
May 1, 2012

Elsa/Getty Images
Imagine, if you will, a Los Angeles Dodgers outfield consisting of Matt Kemp in center, Andre Ethier in right and Carl Crawford in left.
It could happen.
Well, maybe.
I bring the idea up because Bill Shaikin of the Los Angeles Times mentioned it in an article he published over the weekend. He speculates (and I stress speculates) that the Boston Red Sox could be willing to deal Crawford out west, thus shedding themselves of a major albatross.
Here's what he wrote:
[Crawford's] $142-million contract with the Boston Red Sox has turned into an absolute disaster, in part because of elbow and wrist injuries. If he returns healthy and productive after the All-Star break, perhaps Crawford and the Red Sox both would want a fresh start.

Crawford's game — speed, gap hitting, good defense in left field — plays much better at Dodger Stadium than at Fenway Park. If the Red Sox paid off part of the contract and accepted some decent pitching in return, Crawford could join Matt Kemp and Ethier in the Dodgers outfield, batting second between Dee Gordon and Kemp.
So, is there anything to this?
Yes and no.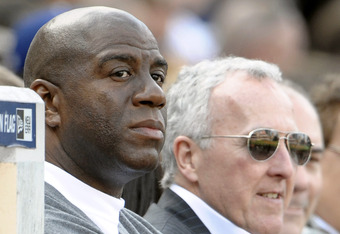 Denis Poroy/Getty Images
With a new ownership group coming in, it's a good bet that the Dodgers are going to be anxious to make some big moves to further win over a fanbase that is already very excited about Magic Johnson and friends taking over. And given how good they've looked so far this season, the Dodgers are going to have every excuse to be buyers at the trade deadline and beyond. 
However, at this moment it's almost a little too easy to speculate that the Red Sox could look to trade Crawford. His first season in Boston was an absolute disaster, as he hit a cringe-worthy .255/.289/.405 with just 18 stolen bases. He also had a UZR of -2.2 after posting a UZR of 18.2 the year before with the Tampa Bay Rays. 
This year, Crawford is hurt. At last check, Michael Silverman of the Boston Herald reported that the star left fielder likely won't be back until the All-Star break.
Add it all up, and what you get is a portrait of a player whose trade value is as low as it's ever been. He's been an absolute bust, and I have to say I rather like Jose3030's nickname suggestion for Crawford:
The Carl Crawford signing was so bad, I've changed his name to Carl Crawful

— 3030 (@jose3030) April 27, 2012
So yeah, the Dodgers probably could get this version of Crawford for mere "decent pitching," and they probably could get the Red Sox to pick up part of the tab.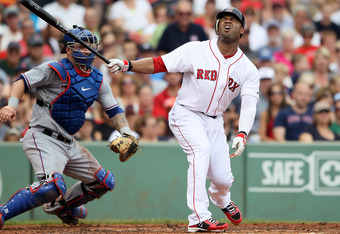 Elsa/Getty Images
This is all very convenient for the Dodgers, but trading Crawford this season doesn't make a whole lot of sense for the Red Sox. Yes, his signing has been a bust, but it's way too soon for them to pull the plug on their investment. They've seen Crawford at his worst, but that doesn't mean they're never going to see Crawford at his best while he's wearing their uniform. At the age of 30, he should still be in his prime.
If they're smart, what the Red Sox will do is let Crawford be himself this season. They'll let him come back at the All-Star break (or whenever) and just let him go to work. It's not like he's going to be any worse than he was last season, and the Red Sox can do him a favor by not filling his head with trade rumors after he comes back. That wouldn't be very wise given how much Crawford was clearly pressing last season in an effort to earn his money.
If Crawford comes back and picks up where he left off last year, that's when the Red Sox will have to get serious about dealing him. This would be during the offseason, when Ben Cherington and the Sox brass will have plenty of time to ponder whether they want to pull the plug  on the the seven-year Crawford experiment after two seasons.
It's obviously worth noting that Theo Epstein, the man who signed Crawford, is in Chicago now. And despite their reconciliation in February (see ESPNBoston.com), nobody's likely to forget that Sox owner John Henry told 98.5 The Sports Hub in October that he initially opposed the decision to sign Crawford.
If Crawford struggles again, Henry could very well decide that he'd rather not put up with the signing that he didn't want any part of in the first place. That's when the "fresh start" proposed by Shaikin will become a real possibility.
But until then, it's just an idea. We're probably going to look back on this and laugh.
Either that, or we'll look back on this as a prophecy. 
If you want to talk baseball and/or the inevitable zombie apocalypse, hit me up on Twitter.