Nebraska Football: Cornhuskers Will Be Just Fine After Aaron Green's Transfer
May 2, 2012

Eric Francis/Getty Images
On Monday, sophomore running back Aaron Green was released from his Nebraska scholarship and announced he will be transferring to another school. According to the Lincoln Journal-Star, Green wanted to be closer to his home in Texas, and was unhappy with the limited playing time he was likely to get behind Rex Burkhead and competing with Ameer Abdullah.
Green's father, according to the Lincoln Journal-Star article, said Green will look at Oklahoma, Houston, Baylor, Texas Tech and TCU as potential transfer targets. Green will have to sit out a year, but has not used his redshirt, so he will still have three years of eligibility wherever he lands.
On the surface, Green's departure is not good news for Nebraska. Green was the offensive centerpiece of NU's 2011 recruiting class, and losing a playmaker of his ability certainly hurts. Nebraska's running back depth, especially looking past 2012, also gets called into question.
While Burkhead will clearly be the focal point of the offense next season, in 2013 and beyond Nebraska was looking at Abdullah and Green as the primary running backs. Abdullah, at 5'9" and 185 pounds, might struggle on his own to carry the load as NU's primary tailback, so Green's departure creates a potential depth issue even if he were to remain behind Abdullah on the depth chart.
But Nebraska has options to address the depth issue. The simplest option might be to return Braylon Heard to running back after converting him to cornerback in the offseason. While the coaches said Heard was transitioning well to defense, he also displayed the ability to move the ball in limited opportunities on the field in 2011.
Nebraska also has two big running backs on the roster in 2012 that were not available last year. Junior transfer Mike Marrow is listed at fullback, but given his size and ability, Green's departure may provide Marrow with an opportunity to work his way onto the field as a primary ball carrier.
True freshman Imani Cross, another bruising back, would likely have redshirted this season as the tailback logjam worked itself out. Green's departure may provide Cross with an opportunity to see the field in his first season in Lincoln.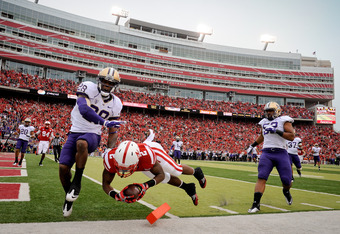 Eric Francis/Getty Images
Green's departure may also provide the excuse—I'm sorry, the rationale—for offensive coordinator Tim Beck to backtrack a little on his position that Burkhead will not get as much work in 2012 as he did in 2011.
If Burkhead gets the amount of touches next year he did last year, perhaps he could be in line to produce a Heisman-contending season, regardless of what some clown said previously.
So, yes, Green's decision to transfer is not good news for Nebraska. Of all the freshman tailbacks from last year, I thought Green had the best chance to develop into something special, so it's disappointing to see he won't be making that leap for NU.
And given that Nebraska will no longer be regularly playing in Texas, it's never a good thing for recruiting to see a prized Texas recruit jump ship after one season. Don't think coaches in the Lone Star State competing with Nebraska for Texas recruits won't mention Green's situation to those kids.
But it's also not catastrophically bad news. Having a glut of playmakers at a position as important as tailback is a sign that Bo Pelini is raising the talent level in Lincoln. Big time programs have players who don't see themselves getting on the field early enough leave all the time.
Green's departure is the kind of problem big time college football programs have, and I would much rather see Nebraska struggle with problems like Green as opposed to scraping the talent barrel and playing kids out of position because a team is threadbare in certain areas.
Plus, running back is one position where players can come in and be effective as true freshmen. That means Cross has a chance to make a splash and help the depth right away, and that a successful recruiting class can ease Nebraska's depth problems as well.
By all accounts, Green is a good kid, and Nebraska fans should wish him well wherever he lands. While it is disappointing, Green's decision is understandable given the running back logjam—heck, in my NCAA Football video game dynasty, I redshirted Green as a sophomore because I knew he wasn't going to see the field.
If I could see that coming, Green certainly could as well. Green will do fine wherever he ends up, and Nebraska should be able to fill the gap and be fine after his departure.
If you would like to contact me directly to schedule an interview, ask a question or to get my recipe for a killer peach cobbler, you can send an e-mail to patrickrunge@gmail.com. (Disclaimer: Peach cobbler recipe might not be all that killer.)
Or, you could always... Follow @patrickrunge