Andy Lyons/Getty Images
May 2, 2012
Now that the 2012 NFL draft is over, the 2011-2012 season has officially come to an end. There are no more spring practices, no more scrimmages, and fans are left with no speculations as to what might happen to the players that have declared for the draft or graduated.
Here is a quick look at exactly what the Tide did over the last year.
Games and Results
*All info in this section from ESPN.com
Week 1: vs. Kent State, W 48-7
Week 2: at Penn State, W 27-11
Week 3: vs. North Texas, W 41-0
Week 4: vs. Arkansas, W 38-14
Week 5: at Florida, W 38-10
Week 6: vs. Vanderbilt, W 34-0
Week 7: at Ole Miss, W 52-7
Week 8: vs. Tennessee, W 37-6
Week 9: BYE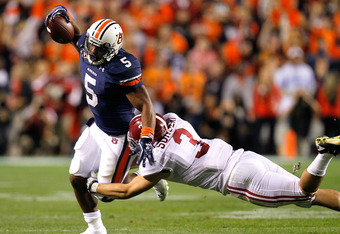 Kevin C. Cox/Getty Images
Week 10: vs. LSU, L 9-6 (OT)
Week 11: at Mississippi State, W 24-7
Week 12: vs. Georgia Southern, W 45-21
Week 13: at Auburn, W 42-14 (Biggest margin of victory ever in Jordan-Hare Stadium)
Heisman week: Trent Richardson went to New York and finished third in the Heisman race.
BCS National Championship Game: vs. LSU, W 21-0 (First championship shutout in BCS history)
Defensive First-Place Finishes
*All stats from Rivals.com

Fewest points allowed with 8.8 per game.
Fewest yards allowed with 191.3 per game.
Fewest total passing yards allowed with 1396.
Fewest total rushing yards allowed with 899.
The Tide's defense was largely responsible for all that happened in 2011. Had LSU scored any more points in the first meeting, it is likely that Oklahoma State would have been the one-loss team facing the Tigers in New Orleans. (Considering the margin between the two teams.)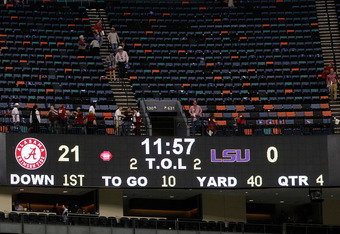 Kevin C. Cox/Getty Images
The Tide's defense was entirely responsible for the fact that Jan. 9 ended in a shutout. Alabama finished the season with its 14th national title and its second crystal football in three years.
After the season ended, Alabama's commanders hit the road to make the final recruiting push before National Signing Day. With the final push and the resulting key commitments, Alabama reeled in the nation's top recruiting class. (For the first time since Saban arrived at the Capstone, Alabama registered No. 1 on ESPN's class rankings.)
With National Signing Day in the rear-view mirror, only the spring game and NFL Draft Weekend remained before the three-month drought of no football...whatsoever.
Alabama's A-Day was still riddled with injury, and the absence of players like Eddie Lacy was quite noticeable. However, T.J. Yeldon took advantage of this opportunity, as did Adrian Hubbard and Chris Black. They made us Alabama fans temporarily forget (or at least stop worrying) that we were missing key players to injury and suspension.
2012 NFL Draft
This is where Alabama reasserted its dominance this past weekend, pumping a massive number of players into the NFL.
Alabama had the most players drafted in the first round with four: Trent Richardson, Mark Barron, Dre Kirkpatrick and Dont'a Hightower.
Alabama had the most players drafted with eight: add Courtney Upshaw, Josh Chapman, DeQuan Menzie and Brad Smelley to the previous four.
Seven free agents were signed with various NFL organizations as well, putting Alabama's total at 15 players from Tuscaloosa in the pros in 2012.
So, as we Tide fans enter the summer season that is completely devoid of all things football, we can take solace in the fact that the Tide left almost every team in college football in its wake throughout the season.
LSU is the lone team who can claim any sort of victory over the Crimson Tide during the 2011-2012 season in its entirety, and the Tide avenged that loss.
So, here's to an absolutely dominating season at the Capstone, and here's to 2012 bringing similar success! ROLL TIDE!
Like the new article format? Send us feedback!