San Francisco Giants: Odds of Key Giants Becoming All-Stars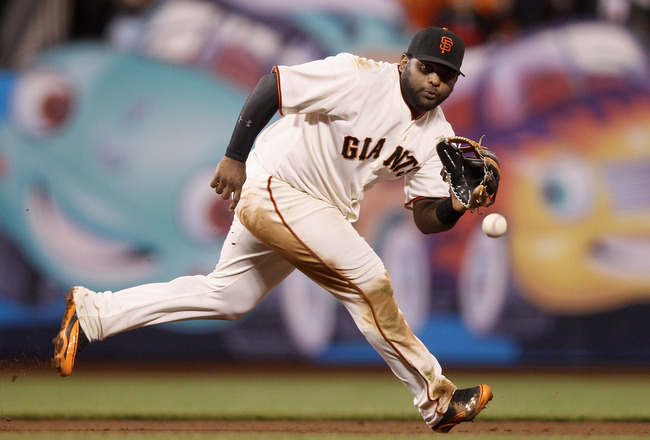 Ezra Shaw/Getty Images
Is it ever too early to start talking about the All-Star game? Yeah, probably. The April All-Star team would probably include such non-stars as Gerardo Parra and Jose Altuve. By July, the cream will rise. All-Star selections separate the elite from the roster fillers. A three-month hot streak changes guys like Mark Loretta and Cesar Izturis into "former All-Stars Mark Loretta and Cesar Izturis."
Life changing indeed.
Last year, the Giants had five guys selected to the All-Star team. This was probably due as much to Bruce Bochy collecting some World Series spoils as anything else.
Let's take a look at which Giants have a good shot at making it this season—but don't even ask me about Zito. I believe in jinxes.
Pablo Sandoval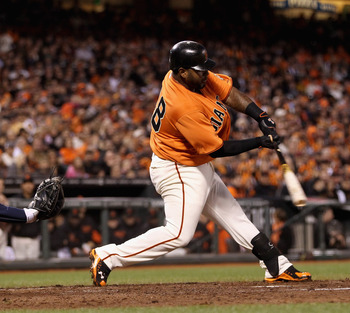 Ezra Shaw/Getty Images
When you remove the funky season-long slump in 2010, Pablo Sandoval has been one of the most reliable young hitters in baseball. The Panda came flying out of the gates this season, racking up a 19-game hit streak, while hitting .311 and leading the Giants in both home runs and RBI.
Sandoval has some competition in World Series hero and early-season masher David Freese along with a healthy five-time All-Star David Wright, who has reverted to form.
After that, the National League is conspicuously devoid of All-Star caliber third basemen. I wouldn't consider any of them for my fantasy team, let alone the All-Star team. Last year, four NL third basemen were named to the squad. The chances of Wright missing the game due to injury are as good as not.
It looks like Pablo will be in Kansas City this summer.
All-Star chances: 74.333 percent
Buster Posey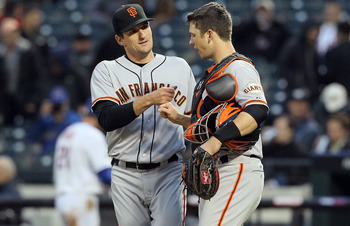 Jim McIsaac/Getty Images
Atlanta's Brian McCann has gained a stranglehold on the NL All-Star catching duties, having made the last six summer classics. Posey will be eligible for the first time this year, and so far, he's in line to get behind the plate. Playing in just his second full season, Posey already has a World Series title and a brutal ankle injury that will make him sympathetic with voters.
St. Louis' Yadier Molina continues to get better, and of course, McCann is the familiar name, but this honor should belong to Posey for years to come.
His .413 OBP leads NL catchers by a mile. Posey is also the only one of the three that anchors his team's lineup. The Giants will go where Posey takes them. Offensively and defensively, few players are more valuable.
All-Star chances: 92 percent
Madison Bumgarner
Ezra Shaw/Getty Images
I can't get enough of Madison Bumgarner.
I've spent years watching lefty artists like Glavine, Pettitte and Lee throw cut fastballs. You know, the pitch that breaks four bats an inning? The one that looks like it moves three feet due to the TV camera angle? The one that guys standing outside the batters box still can't avoid pulling into the third base dugout?
The Giants got themselves one of those. And it's glorious.
The 22-year-old phenom is the best pitcher on the team right now and I'm not sure he's as good yet as he's going to get.
Seeing a Giants pitcher with a 4-1 record caused me to refocus my eyes. Yes it's true. Given that about 96 pitchers are selected for the All-Star team, a healthy Bumgarner seems like something of a sure bet.
All-Star chances: 79 percent
Matt Cain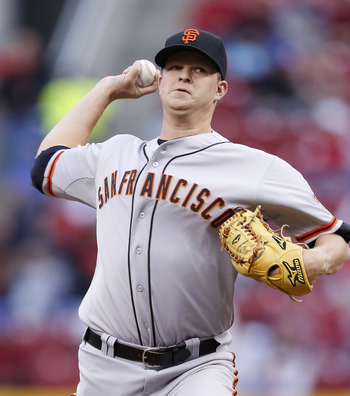 Joe Robbins/Getty Images
Matt Cain finally got some All-Star action last season and there's no reason why we shouldn't see him again in 2012.
You can mark Matt Cain down for 200 innings and an ERA around 3.00 right now. There are also early signs that Cain is on track to compete for the Cy Young award. Cain's BB/9 through four starts is less than half his career rate and he leads the league in WHIP.
As a fly ball pitcher, he will have the occasional six-innings-pitched, four-earned-run outing, but those are gradually becoming less frequent as his career progresses.
All-Star chances: 90 percent
Santiago Casilla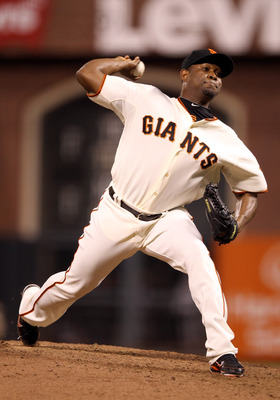 Ezra Shaw/Getty Images
If you are interested in making an All-Star game appearance, put up about 30 innings of solid pitching out of the pen.
Last year, 14 relief pitchers made the game. The position produces some of the most unlikely All-Stars, most recently guys you may have never heard of like George Sherrill (2008), Evan Meek (2010) and Tyler Clippard (2011).
So why not Santiago Casilla?
The beardless one has assumed one of the busiest closing jobs in baseball and so far there's reason to be cautiously optimistic.
I'm not saying that Casilla is one of the best 13 pitchers in the National League, but when it comes to making the All-Star team, a hot first half is all you need. Casilla figures to get about 62 chances between now and July to save the Giants' anemic offense. His stuff is nasty. Don't be surprised if he sneaks in there.
All-Star chances: 40 percent
Keep Reading

San Francisco Giants: Like this team?