Mayweather vs. Cotto: 10 Reasons Cotto Could Be the First to Beat Money May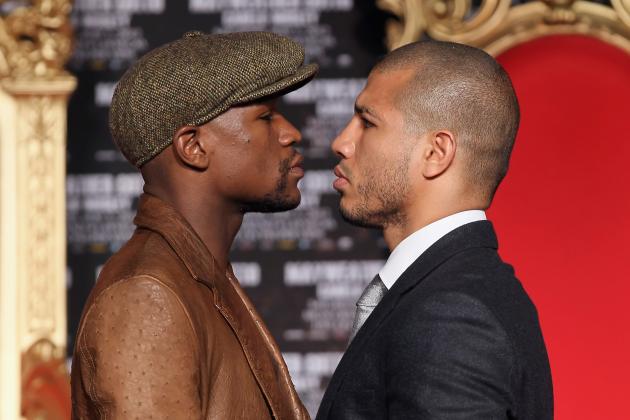 Jeff Gross/Getty Images

Although the general consensus heading into the Floyd Mayweather-Miguel Cotto mega-fight this weekend is that Money May will walk out of the ring with yet another win to his undefeated record, there are reasons why Cotto could pull the shocking upset Saturday night at the MGM Grand in Las Vegas.
Sure the odds are stacked against Cotto, as he is a heavy underdog to Mayweather, the current No. 1 ranked pound-for-pound fighter in the world, but as Cotto said, "Nobody is invincible."
Here are the 10 reasons why Cotto could do the unthinkable and give Mayweather the first number other than zero after his record in their Cinco De Mayo showdown.
Begin Slideshow

»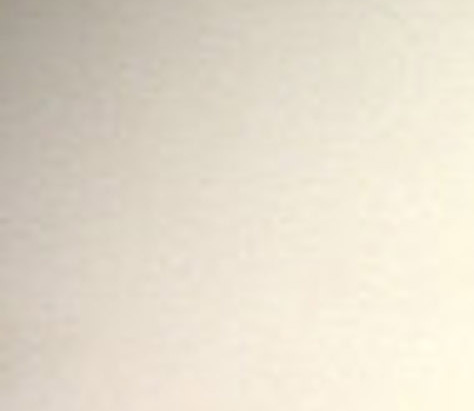 Handout/Getty Images

Let's get this one out of the way, the pending June 1st turn-in date for Floyd Mayweather's 90-day jail sentence is less than a month after the Miguel Cotto bout this weekend and could be weighing heavy on Money May's mind.
No matter what anyone has been through, losing your freedom for any amount of time is the worst possible thing that could happen, especially to someone like Money May, who is used to living the life of luxury.
Mayweather is used to living the 24-hour lifestyle that his hometown of Las Vegas offers and is usually out and about at all hours of the day and night, placing sports bets, eating the finest foods and coming and going as he pleases; jail is the last place someone that lives in this matter wants to be.
If the thought of imprisonment even crosses his mind in the ring, Mayweather's game could be thrown off, giving Cotto the mental edge in the ring.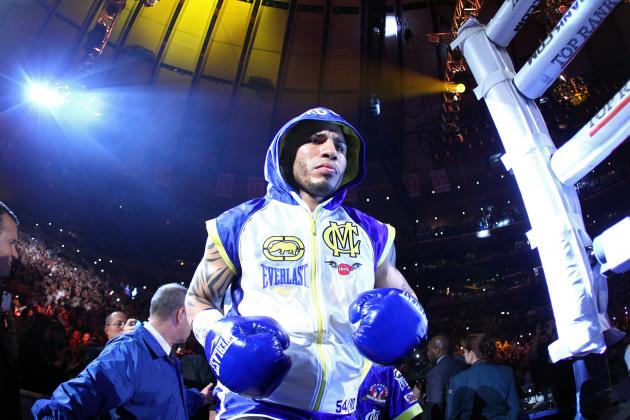 Al Bello/Getty Images

Give Floyd Mayweather credit, he could have easily made his fight with Miguel Cotto at a catch weight between his usual 147 pound welterweight limit and Miguel Cotto's usual 154 junior middleweight limit, but he didn't and chose to fight Cotto where he is most comfortable, his usual 154 pounds.
Money May has fought at 154 pounds once before, when he scored a split decision against Oscar De La Hoya back in 2008 and as seen in that fight, his power just wasn't the same as it is in the welterweight division.
Cotto has been fighting in the junior welterweight division the past two years and will be the more comfortable fighter by far, in the bout. He is in the prime of his boxing career as opposed to De La Hoya back in 2008, as he was in the twilight of his career.
The respectable decision to take on Cotto at his higher weight limit could be the ultimate downfall for the undefeated Mayweather.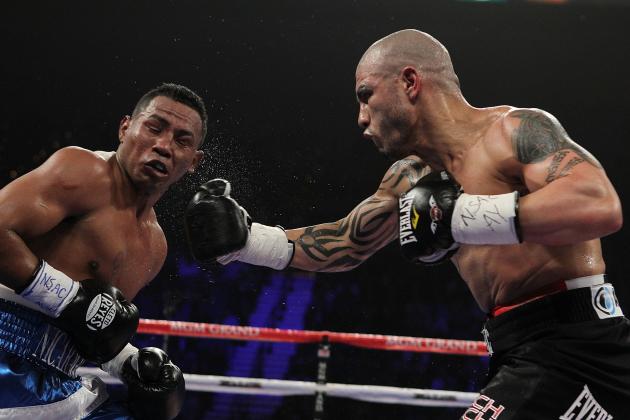 Al Bello/Getty Images

Floyd Mayweather has taken on many fighters that have had impressive knockout records, but none that are as strong or in their prime as Miguel Cotto is.
Cotto has amassed 37 wins with 30 of those wins coming by way of KO, and Mayweather has to be concerned with that.
As stated before, Mayweather is moving up to the junior middleweight division for only the second time, and is fighting Cotto at his more comfortable weight class where he has won each of his last three fights by TKO.
Mayweather has yet to be really hurt by a punch in any of his 42 bouts, but this is almost guaranteed to change come Saturday night.
How Mayweather responds to being hurt will be key, and if his response is weak, then look for Cotto to go in for the kill.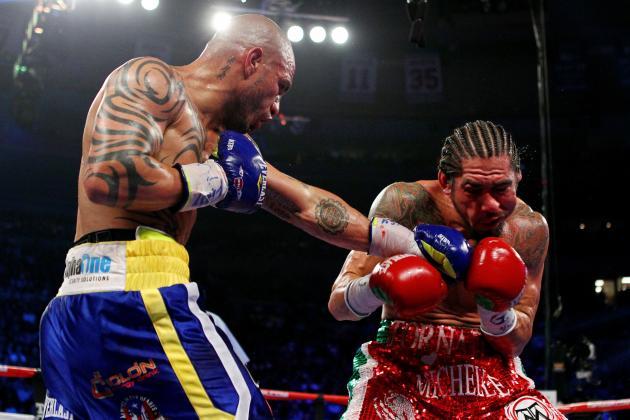 Al Bello/Getty Images

In Miguel Cotto's last fight against Antonio Margarito, he looked as sharp and determined as he ever has in the ring, scoring a revenge-motivated TKO victory this past December.
Cotto dominated Margarito the entire fight, leaving Margarito, one of two fighters to ever beat him, battered and defeated.
If Cotto comes into the fight at the same level as he was against Margarito, Floyd Mayweather will not be the huge favorite that he is listed in the Las Vegas sports books.
Most boxing enthusiasts like to point out how Cotto lost to other top pound-for-pound great, Manny Pacquiao, trying to negate any chance that Cotto has against Mayweather. That fight was three years ago and Cotto has done nothing but gotten stronger and more focused since the 2009 bout.
Look for Cotto to give the fight of his life against Mayweather, showing just how much he has grown since his last loss at the hands of Pacquiao.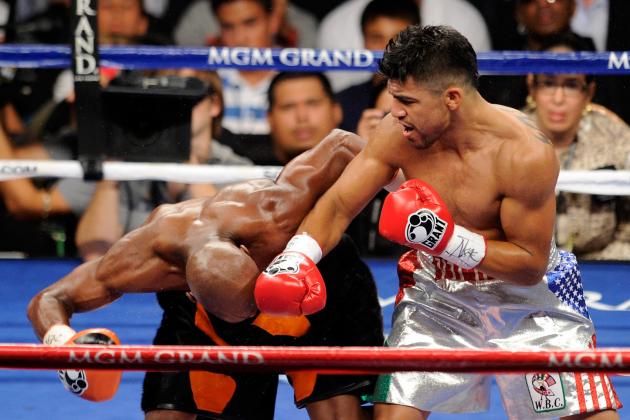 Ethan Miller/Getty Images

As Floyd Mayweather has gotten older, he has been more willing to stand in and exchange blows with his opponents, something he has almost never done, a few years ago.
Money May is still one of the quicker fighters in boxing, but as he has aged, he has not been able to fend off father time and has gotten slightly slower, which causes him to exchange punches more and more.
Sure this means that opens up the chance of Money May landing a devastating blow on Cotto, but this also opens up Mayweather to more punishment from Cotto in return.
If Mayweather does opt to mix it up more than he usually does, he will take more than a few power shots, giving his chin the test of his career.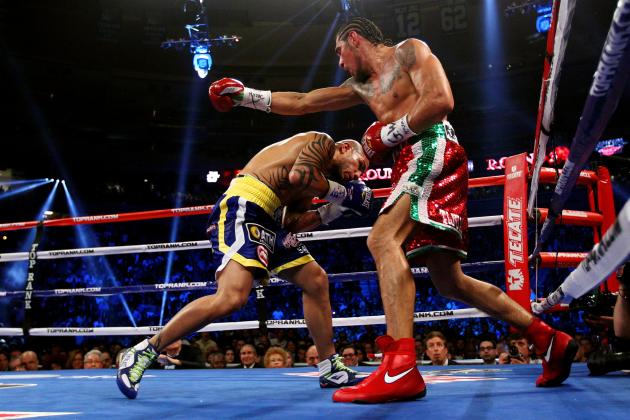 Al Bello/Getty Images

If Floyd Mayweather opts to go the counter punching route, he will not be at as much of an advantage as he has been against other fighters he has faced, because Miguel Cotto is also a renown counter-puncher himself.
Cotto can more than hold his own against Mayweather in a counter-punching stand off, which could lead Mayweather to become frustrated and taking more risks along the way, allowing for punches to be landed for Cotto.
Staying focused and keeping his defense up is what Cotto would need to do if Mayweather gets frustrated, as his discipline to stay a counter-puncher would be key in that scenario.
Cotto could then stretch the fight out a full 12 rounds and earn a decision by being the more effective fighter.
Al Bello/Getty Images

If Miguel Cotto tries to go opposite his usual counter-punching route, after seeing that he is unable to out-counter-punch a better counter-puncher and be the more aggressive fighter, he could find another way to beat Floyd Mayweather.
The best way to beat a counter-puncher is to throw more punches and dictate the fight's pace through out.
There have been a few fighting techniques I have named that Cotto can use to defeat Money May, but he will have to figure out which one works best within the first three rounds or so to be able to pull off the win.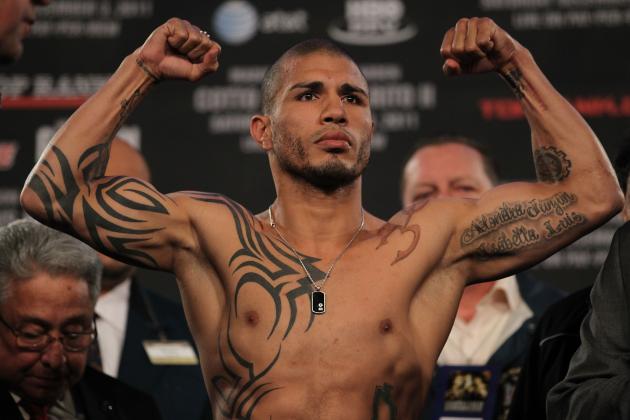 Nick Laham/Getty Images

With the bounty on Floyd Mayweather's head becoming increasingly higher with each win, whenever anyone steps into the ring with Mayweather, it is their equivalent to the Super Bowl, and this is no different for Miguel Cotto.
It's been said numerous times before, but Cotto has the best shot of any fighter that has tried to use the extra motivation tactic to his advantage against Mayweather in his favor to go for the unexpected win.
With Cotto having the advantage with being more comfortable at the junior welterweight limit and having the mind set that this is the pinnacle of his career, Cotto could finally be the one to turn the extra motivation that comes along with fighting Mayweather, into handing the all-time great his first loss.
Al Bello/Getty Images

With Miguel Cotto winning his last three bouts via late-round TKO's, if Cotto does enough to get by for the first seven rounds or so, preserving his energy for a late fight rally, he could surprise Floyd Mayweather with a late-fight stoppage.
Sure, this could just set up Cotto for a loss, having him fall into a hole with the judges early on, but surprising Mayweather with a late rally could be Cotto's best chance to win the fight.
Letting Mayweather expend more energy early on will make him more susceptible to being hurt with a power punch later in the fight, as he will be more fatigued later in the bout.
This strategy would be the most dangerous for Cotto. But in the end, it could be the most effective one he could implement.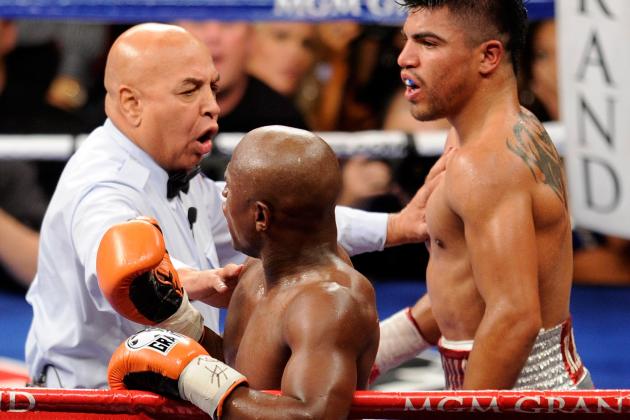 Ethan Miller/Getty Images

As we saw in Floyd Mayweather's last fight against Victor Ortiz, Mayweather isn't the cleanest fighter in the game, and could be prone to a disqualification against Miguel Cotto.
If Cotto can get into Mayweather's head early on in the fight, he could make Money May revert to his dirty tactics, ones that the referee will be sure to keep an eye on after what took place in Mayweather's last bout.
With all that is going on in Mayweather's life, and his pending jail time, he may be easily irritated, leading to Mayweather being frustrated and dishing out some illegal moves—which could lead to a DQ.
Sure, this is the worst way to win a fight, especially if your trying to hand an all-time great his first loss, but a win is a win and Cotto would still be the first to hand Mayweather a loss in the event of a DQ.