Marko Marin: 5 Things to Know About Chelsea's New Signing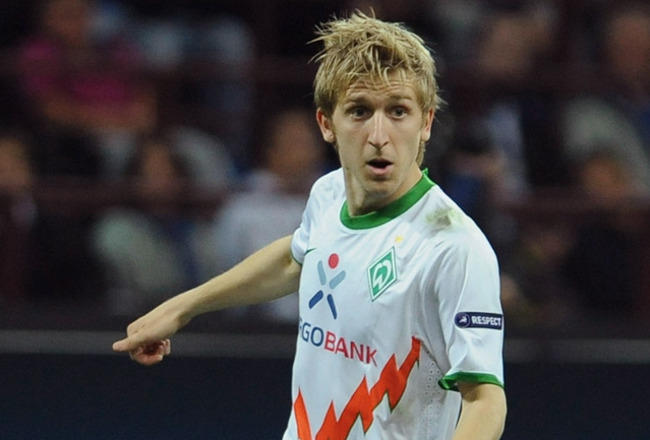 Chelsea surprised everyone yesterday when they announced that they'd signed Werder Bremen's attacking midfielder-cum-winger Marko Marin for a fee of €8 million, according to The Guardian.
Marin's name has been circulated in the rumor mill for years now, but recently his name has been absent from the gossip columns as he's aged and somewhat faded into the background at Werder Bremen.
But now that he's signed, the question everyone wants answered is this: Who is Marko Marin? Why did Chelsea believe he was worth signing prior to the opening of the summer transfer window?
In the coming slides, we'll answer those questions, and hopefully more, about Marin.
Marin Is an Assist Machine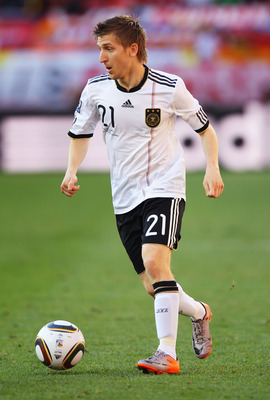 Michael Steele/Getty Images
Marin has never been an impressive goal-scorer. He scored seven goals in the 2009-10 season with Werder Bremen, but it took him 49 games to do so. And he's never scored more than four goals in a Bundesliga season.
But while Marin lacks goals, he records plenty of assists. Since breaking into the first team with Borussia Monchengladbach in 2007/08 (at the age of 18), Marin has never recorded fewer than 10 assists in a Bundesliga season.
In the 2009/10 season, Marin recorded 18 assists in all competitions, 14 of which came in the Bundesliga. That made him the third highest assist-maker in the Bundesliga, after teammate Mesut Ozil (17 assists) and ex-Wolfsburg playmaker Zvjezdan Misimović (15 assists).
Marin Is a Poor Attacking Midfielder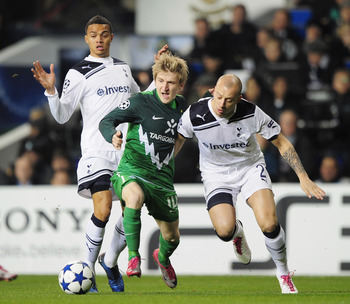 Shaun Botterill/Getty Images
One glance at Marko Marin's stats this season will show you that he's struggled badly this season.
After four consecutive seasons of 10-plus assists, Marin has only been able to record five assists this season. Three of those came in the same game, a 5-3 victory over Freiburg.
But a deeper look at Marin will show that he's been asked to exclusively play as an attacking midfielder this season, after years of operating as a winger, and has not been able to make the transition.
In essence, he's got the opposite problem of Juan Mata.
Marin will almost surely be asked to occupy the left winger position at Chelsea, while Ramires takes up the right. As a left winger, Marin should be able to return to the productivity level of years past.
German Messi? No. German Angel Di Maria? Maybe.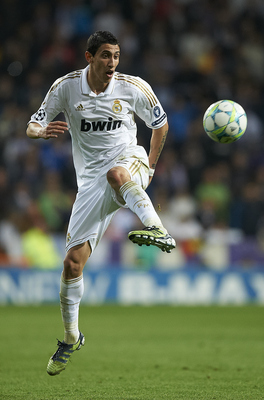 Manuel Queimadelos Alonso/Getty Images
Like any tiny player who performs above expectations at a young age, Marin's excellent performances at the age of 18 earned him the moniker of "German Messi" (the nickname actually makes no sense since he's Yugoslavian and hadn't declared his national team yet).
But as Goal.com rightly point out, Marin's game is much more akin to that of an Angel di Maria.
Could you imagine Angel di Maria playing centrally at Real Madrid? No, Di Maria is far too indecisive and requires room to dribble to be effective, room that players are rarely afforded at the attacking midfielder position.
And those are the same problems Marin has faced as an attacking midfielder with Werder Bremen this season.
But like Di Maria, Marin possesses good one-on-one ability, good dribbling and good acceleration and agility. All these features should help him achieve the same success that Di Maria has if he's given the right environment and opportunities to grow.
Bargain Price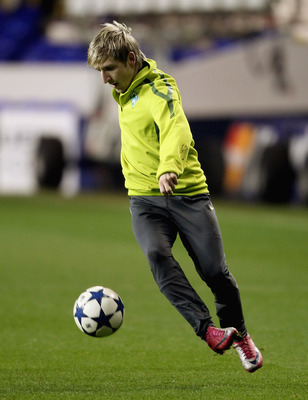 Scott Heavey/Getty Images
Whether or not Marin becomes a smashing success or useful substitute at Chelsea, his transfer fee of roughly £7 million is a bargain for a player of his quality.
Transfermarkt.co.uk, who tend to undervalue players, have Marin valued at £9.7 million, and have had him as high as £12.5 million in the past.
This transfer is about as low-risk, high-reward as it gets with Chelsea transfers.
FIFA Progression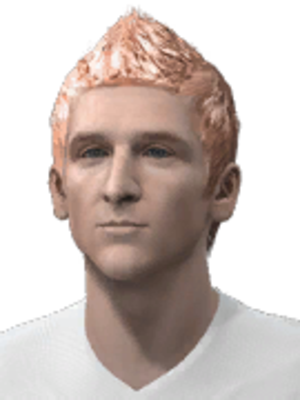 Being the FIFA fanatic I am, I thought it'd be interesting to bring in some FIFA numbers on Marin.
Marin has drifted between a rating of 78 and 80 on FIFA since FIFA 10. In FIFA 10, he had a rating of 79, which moved up to 80 in FIFA 11, but has moved down to 78 in FIFA 12.
More specifically, Marin's strong attributes in FIFA 10 were his crossing (80), short passing (84), dribbling (88) free kick accuracy (84), ball control (85), acceleration (86) and sprint speed (82).
In FIFA 11, Marin's crossing score was dropped to 78, but his short passing, dribbling and ball control ratings remained the same. His free kick accuracy also dropped to 81, but his sprint speed increased to 83 and he was given an agility rating of 91, one of the highest in the game.
In addition, he was given an 80 rating for both reactions and vision.
In FIFA 12, Marin's scores have dropped across the board. His crossing has dropped to 77, while short passing has dropped five points to 79. His dribbling still remains at 88, but his free kick accuracy is now at 78, and his ball control rating is down to 84.
His sprint speed is down to 78, but his acceleration is up to 87 and his agility has remained sky high at 91. He has also been given a balance rating of 90, one of the highest in the game. Reactions and vision have dropped to 77 and 79, respectively.
Make whatever you want to of these numbers. FIFA games can be very hit-and-miss with their ratings, but ratings have gotten more and more accurate with each edition's release. Especially in FIFA 12, the depth of playing style breakdown indicates a great deal of scouting goes into rating each player.
Keep Reading

Chelsea: Like this team?