Chicago Cubs: Who's Hot, Who's Not Among Top Prospects Part 3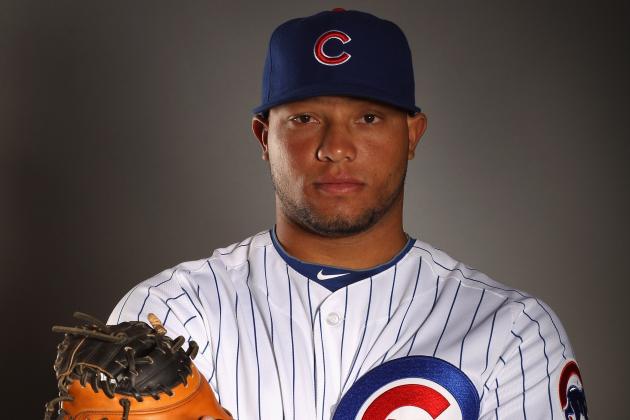 Ezra Shaw/Getty Images

We're back with the 3rd Edition of Who's Hot, Who's Not among the Cubs' top prospects.
Cubs' catching prospect Welington Castillo, 25, has been with the Cubs since 2004, and has climbed the ranks of the organization. This will likely be the year he gets a legitimate chance at the Cubs' starting job.
With Soto struggling, there is a lot of uncertainty, and at-bats are for the taking.
Let's explore the Cubs' system once again to find out who is playing well and looking to move up the organizational ladder.
Begin Slideshow

»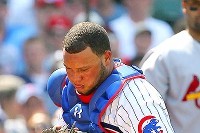 Castillo is hitless in seven at-bats since being called up to the Cubs, but this is a good opportunity for him and certainly won't be his last.
Castillo was hitting .320 with two home runs and a .435 OBP before being called up to replace Steve Clevenger, who was placed on the 15-day DL. He will see extra at-bats given that Geovany Soto is struggling at the plate.
Castillo will have an opportunity to show he deserves to be in Chicago, but in all likelihood he will return to Iowa once the hot-hitting Clevenger is healthy.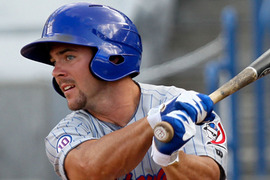 Matt Szczur got off to a pretty slow start, but in his past 10 games he is hitting .308, with eight stolen bases, five walks, and 13 runs.
He brought his average up to .233, and will certainly look to keep it climbing as he fights to get back on the radar in Chicago.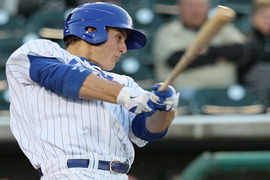 It is not like I can just ignore him.
Rizzo continues to mash the ball in Triple-A, hitting .361 with two doubles and two home runs in his past 10 games. His league-leading seven home runs coupled with a .378 batting average and 21 RBIs, tied for second in the league, show his hot start is no fluke.
It is only a matter of time before he finds a spot in Chicago.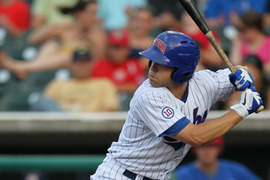 Outfielder Brett Jackson has been struggling as of late, hitting .179 with no home runs and nine strikeouts to four walks.
His average has fallen to .233, and he has struck out twice in three straight games. Jackson is struggling, but he is hitting lefties well and seeing more pitches.
His strikeout-to-walk (27 K-12 BB) is worth noting, but until he gets it back on track it will be more telling of what is working and what is not.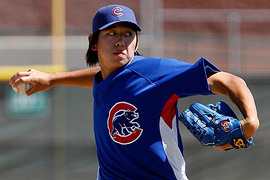 In five starts, Rhee is 1-1 with a 5.81 ERA and 23 strikeouts to nine walks. He's surrendered six hits in each of his five starts, combined with almost two walks per start, and he is bound to have his troubles.
Rhee has shown flashes of talent, even going 6.1 innings striking out four and walking none. But he has struggled in his past three starts, giving up at least three earned runs and and a K-BB of 14-7.
Rhee, 23, is pitching for the first time in Double-A, and will likely work out his early season struggles there. If he can't make more hitters miss, he may be sent down to Single-A to refine his secondary pitches.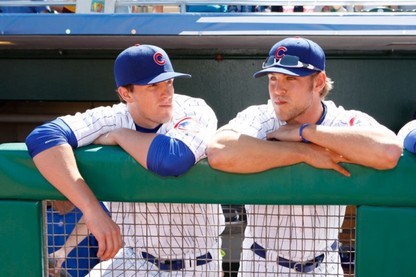 Vitters continues to struggle in Triple-A, and he has yet to find his power, something he is known to be capable of doing. He is hitting .262 with a .310 OBP and .618 OPS, low even for Vitters historically.
He is doing even worse over his last ten games, hitting .152 (5-for-33) with seven strikeouts.
Vitters and Jackson's struggles are apparent for the Iowa Cubs as they have lost eight of their last 10. Hopefully they can both turn it around.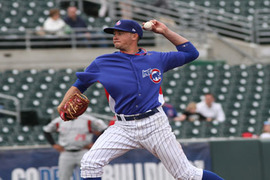 Triple-A
Chris Rusin (5 starts, 27.1 innings)
2-2 W-L, 2.62 ERA, 13 K, 6 BB
-Currently has 14 scoreless innings through his past two starts.
Double-A
Trey McNutt (4 starts, 14.2 innings)
0-1 W-L, 0.61 ERA, 13 K, 7 BB
- Has not pitched more than four innings in a start this season. Definitely a cause for concern if they view him as a starter.
Single-A
Austin Kirk (5 appearances, 29.1 innings)
1-0 W-L, 1.53 ERA, 15 K, 7 BB, 0.99 WHIP
- Pitching with great command early on and could receive a promotion to Double-A soon enough.