Manchester City vs. Manchester United: A Preview of a Colossal Manchester Derby
April 30, 2012

Alex Livesey/Getty Images
The Premier League has never witnessed a more important match than the one that will take place today. After 35 thrilling contests, the EPL title race will boil down to the winner of a derby match.
Manchester City and Manchester United have competed in numerous matches of importance during their history.
But in the 118 years since these two rivals first met, they never have played a more important match against their biggest rival.
The match that is about to take place on Monday will be one where two completely different cultures of football ideology will take hold.
Manchester City represent the new style of football ideal—that of having wealthy foreign owners using their treasures to lure in the best footballers in the world to achieve instant success.
Manchester United represent the old style—that of building success over a long period with smart buys and youth players to become the best.
These two rivals have met each other three times this year. The first time they met was in the Community Shield that took place last August. City went ahead 2-0 at halftime, but United came from behind thanks to some entertaining football and a late winner from Nani.
Their previous Premier League encounter saw City swinging over to Old Trafford, where they put together a footballing masterpiece.
City's 6-1 win over United tied their largest-ever win at the Theatre of Dreams and caused many to think that City were now the best football club in Manchester.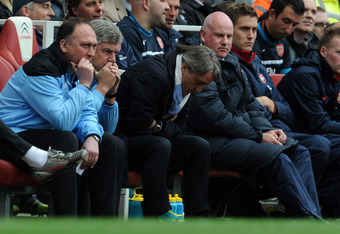 Michael Regan/Getty Images
But United did not have any of that.
In their first FA Cup fixture of the season, both sides met at the Etihad Stadium, where United took an early 3-0 lead and held off a late City surge to win 3-2.
Since this time, both clubs have gone through a tremendous stretch which saw United overcome a five-point deficit in early March to eventually claim a seven-point lead in the table in early April.
But that has proven to be short-lived, with United losing points to Wigan and Everton; they now only hold a three-point lead going into this match.
If United lose this match, they will move into second place in the table due to goal differential.
If this match ends in a draw, United will maintain a three-point lead in the table with two matches remaining.
The last five matches that both sides have participated in have shown us a tale of two sides that are traveling on different paths.
Manchester City
Manchester City 3 Sunderland 3 (March 31).
Arsenal 1 Manchester City 0 (April 8).
Alex Livesey/Getty Images
Manchester City 4 West Bromwich Albion 0 (April 11).
Norwich City 1 Manchester City 6 (April 14).
Wolverhampton Wanderers 0  Manchester City 2 (April 22).
Manchester United
Blackburn Rovers 0 Manchester United 2 (April 2).
Manchester United 2 Queens Park Rangers 0 (April 8).
Wigan Athletic 1 Manchester United 0 (April 11).
Manchester United 4 Aston Villa 0 (April 15).
Manchester United 4 Everton 4 (April 22).
Both City and United have also been impacted by news involving their players going into this match.
Mario Balotelli can play for Man City after serving a three-match suspension for his red card at Arsenal from the beginning of April.
Micah Richards is also available to play for the home side after missing last week's match at Wolves due to a hamstring injury.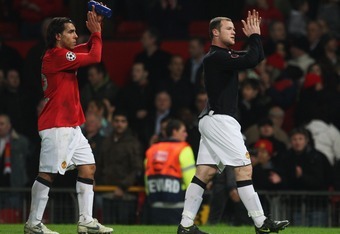 Laurence Griffiths/Getty Images
Darren Fletcher, Paul Pogba, Anderson, Anders Lindegaard and Nemanja Vidic all cannot play for United due to various injuries.
The two most important players going into this match have both been involved in transfer sagas with their respective clubs, yet neither one appears ready to leave.
Carlos Tevez has come back to Manchester City strong following his long hiatus, tallying four goals for the most potent offensive side in the EPL. During this EPL campaign, Tevez has contributed either a goal or an assist every 55 minutes.
Only Thierry Henry has a better ratio this season.
There has been much concern surrounding Tevez, yet it appears that he will at least start this match and will look to score against his former club.
Wayne Rooney has had a season to remember. The second-highest goal scorer in the Premier League, Rooney has 13 goals in his last 11 Premier League appearances.
Man United will have the benefit of knowing they have lost only one of their last five Premier League trips to the Etihad Stadium, which doesn't count the Red Devils' 3-2 win there earlier in the season.
City have been dominant at Eastlands since last season. In fact, City have claimed 77 of a possible 81 points in their last 27 Premier League home games.
Prediction: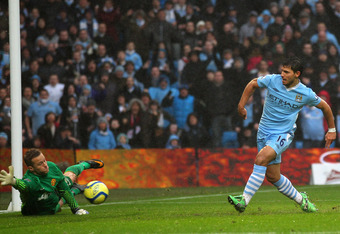 Alex Livesey/Getty Images
This match is not easy to call, not by a long shot. City are certainly strong: they have only lost two points at home this entire season and of course had their 6-1 win at Old Trafford from the beginning of the season to back up their claim for victory.
City have also been on a strong run of form and right now appear that they are only getting better.
United don't have the odds going in their favor. No team in Premier League history has won a return leg after having lost by five goals or more at home in the reverse fixture.
Even though United's attack has been fantastic in recent matches, it is hard to see them winning here.
But a win is not necessary for United to retain their hold of the league. Though they will want a win from this match, a draw would be the equivalent of putting United on the brink of a 20th league title.
That draw is the exact result that I expect from this fixture.
Manchester City 2 Manchester United 2