Tampa Bay Buccaneers: The Ballad of the Muscle Hamster
April 27, 2012

Ethan Miller/Getty Images
Yes, that is a real nickname. 
And yes, the Buccaneers drafted him. 
While I spent a great deal of time scouting Doug Martin, until he was made the 31st pick of the draft I had never heard of the name "Muscle Hamster."
I was captivated by this title. No one ever calls me something that amazingly awesomerific. What beauty, what accuracy, what perfection this moniker holds. The Boise State Bronco is only 5'9'', but weighs 210 pounds. Pure muscle accounts for roughly 800% of those pounds by my personal calculations. For his short stature and powerful body, Martin deserves a comparison to Jacksonville Jaguar Maurice Jones-Drew. 
And so I began my quest to unearth the dark secrets of the Muscle Hamster. 
To start my journey I began by searching for the grail in the jungle of depravity. Google. 
According to this article originally posted on National Football Authority, the nickname does come from the height/BMI combo. Furthermore, Martin is compared to former San Diego Charger Natrone Means, a traditional power back, however the author says Martin has more athleticism. The Muscle Hamster seems to be more akin to a kangaroo for his ability to leap over defenders. 
But I could not find the origins of the name, so I dug deeper. An old ProFootballWeekly evaluation claims it comes from his "chubby cheeks and strength." 
Hmm... I would never ever want to post something demeaning about a guy called "Muscle" on the internet. Even if he does have these chubby wubby cheeks.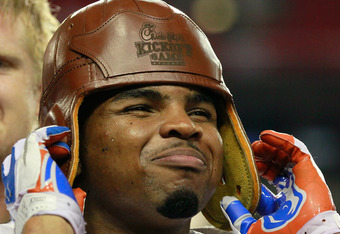 Kevin C. Cox/Getty Images
Only by directly searching "Muscle Hamster" can one find the real dirt. It says here, that Martin was drawn to the running back position because of his elite speed when playing tag. 
The stocky youngster was fast, but he also jumped off jungle gyms, did spin moves and rolled on the ground to keep from being caught. He even ran through a glass door once while trying to avoid being tagged.

"I was a fan of Jackie Chan, so I was doing all kinds of stuff," Martin says. "I was crafty."
He didn't even know how to put his pads on the right way. He didn't even know where the Dolphins played. And if you want more proof of his "nerdiness," he confessed to collecting Pokemon cards. 
Somethings never change. Martin rides an electric skateboard, dances like Michael Jackson and describes himself as a tech-freak. The article itself uses the word "freak" in description of the new Buc a whopping six times. 
So in conclusion, No.22 sounds like a great guy who will work his hardest to be the best player he can possible. In him, Greg Schiano may have found a bell-cow back, and Josh Freeman a reliable back field target.
P.S. It was a friend who invented the nickname.