Georges St-Pierre: UFC Champ Talks Road to Recovery, Nick Diaz and More
April 30, 2012

Jason Merritt/Getty Images
You would think UFC Welterweight Champion Georges St-Pierre has a lot of free time on his hands while recovering from surgery on his injured knee, but between cornering teammates and promoting new products for his sponsors, that's anything but the case.
This past weekend, Bleacher Report was on hand at the Renzo Gracie Academy in New York City as the reigning welterweight king helped to unveil the EnduraCool™ Instant Cooling Towel during a media event for Mission Athletecare™.
While media events such as this may be a welcomed respite from his rehabilitation and recovery regimens, the long layoff has been a grueling experience for St-Pierre.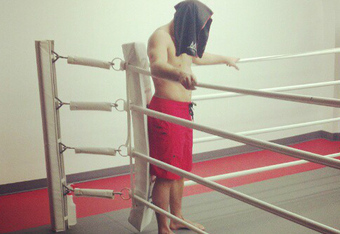 "It was tough, it was very tough.  I tried to keep my morale up and I write down a lot of stuff," St-Pierre said.  "I've been working on a lot of different things. All the techniques, everything that I have learned, it's like I didn't have time to digest it. And with this break, everything comes more easy now. So I will be back and not only better, but much better than I was before."
In terms of training, St-Pierre has kept himself active, albeit with serious limitations. 
"I was doing a lot of gymnastic training, I'm training right now," St-Pierre said.  "I'm just limited in what I can do for training."  
However, St-Pierre isn't all about work, as he stated at the event that, "I have a lot of other passions outside of fighting, for example, paleontology. I love paleontology probably even more than mixed martial arts." 
Dinosaurs and fossils may be his part-time muses, but in order to keep the competitive juices flowing, St-Pierre has turned to coaching his fellow Tristar camp teammates in order to keep his mind focused on MMA. While the champ enjoys seeing his teammates succeed, don't expect to see St-Pierre become a full-time cornerman anytime soon.
"Not when I'm training all the time. The reason why I'm doing it is because I haven't fought for a while. So for me, being in the corner of a guy like Francis Carmont, like Rory [MacDonald], I really like these guys, like my brothers," St-Pierre said. "When I walk through the Octagon with them it's like I'm fighting as well so I have the same feeling then when I'm going to fight.  I have the same nervousness, I have the butterflies. For me, it's important to keep that feeling active, so when I come back from a long time, I am not going to be ring rust."
St-Pierre was last seen in the corner of fellow countryman and welterweight Rory MacDonald, who decimated Che Mills at UFC 145, winning by second-round technical knockout. After the win, St-Pierre praised his 22-year-old protege, saying that he will be a future champion.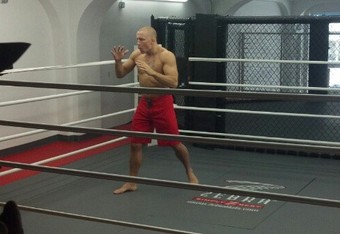 The remarks caused a stir as fans and analysts have been speculating about another possible teammate-versus-teammate situation, a notion that St-Pierre was quick to put to rest.  
"I'm not interested in fighting Rory," St-Pierre said, his reason being that there are so many other matchups out there that it makes no sense to fight his young stablemate.
But before he can entertain a date with a future opponent, next on his list will be the newly-crowned interim UFC welterweight champion Carlos Condit, an opponent that St-Pierre holds in high regard and views as a tougher matchup than former Strikeforce welterweight champion Nick Diaz.
"I believe because he won the fight. I want to fight the best guy, I want to fight the number one guy. He has a bigger variety of attack than Nick Diaz," St-Pierre said, believing that Condit's knees, elbows and kicks are a testament to his lethal arsenal. 
Nonetheless, St-Pierre does believe that Diaz is a dangerous opponent. 
But while St-Pierre respects Diaz's abilities inside the Octagon, the reigning welterweight king is not a fan of his antics and attitudes toward the sport.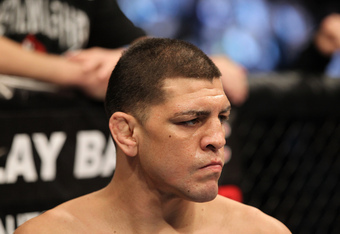 "I do this sport for a living and we live off of it," St-Pierre said.  "Of course I had a tough childhood, but I don't have to carry that into my sport. I respect everybody, that's what I learned in martial arts."
"It's not only about fighting, it's how you treat yourself. I try to bring that into my everyday life as well."
Matt Juul is a Featured Columnist for Bleacher Report. All quotes were obtained first-hand unless otherwise noted.
Be sure to like me on Facebook or follow @MattJuulMMA