Athletic Bilbao 3-1 Sporting: Tactical Review and Analysis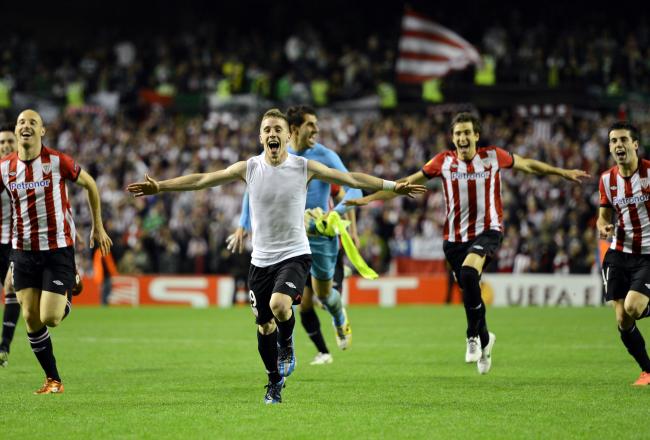 Jasper Juinen/Getty Images
Tonight, Athletic Bilbao hosted Sporting at the formidable San Mames Stadium.
Marcelo Bielsa, Athletic's head coach, put on a prominent display of attacking football for the home crowd and deservedly bagged a win that takes them to the 2012 UEFA Europa League final.
His counterpart tonight, Ricardo Sa Pinto of Sporting, is certainly no slouch either. He took out Manchester City earlier in this competition so his team were not to be underestimated.
It has to be said, however, that Athletic Bilbao beat the stuffing out of Sporting—but how? Here's a breakdown of what happened tactically during the game.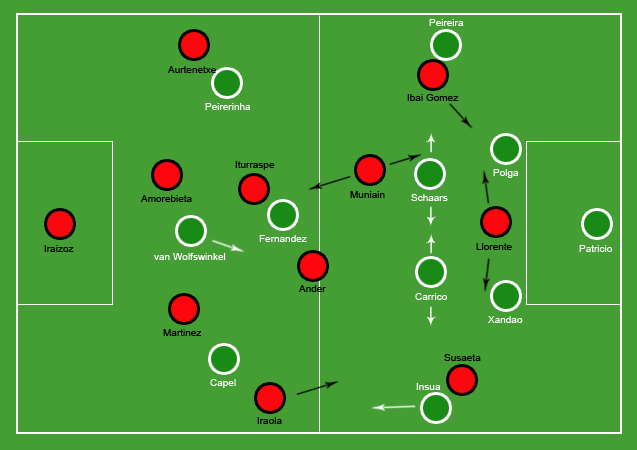 Rarely do you see such contrasting styles of football on the same pitch.
By now, we all know that Bielsa likes to play possession football and have his team dominate the proceedings. This helps his players maintain the psychological and physical edge on the game.
Sa Pinto, on the other hand, likes to utilise the explosiveness of his players by playing direct, incisive football. His team managed to hurt Bilbao at the Estadio Jose Alvalade, and it was clear to see that he had instructed his team to play in a relatively similar way during the second leg.
Sa Pinto's Incisive, Quick Football
Depicted in the diagram, Stijn Schaars and Daniel Carrico played in one of the most limited midfield roles your likely to see all season—even taking Gilberto Silva and Felipe Melo's contributions in the 2010 World Cup for a ride.
It was their job to sit in front of the back four and shield their defenders. When they broke up play and won possession, they were under instructions to move the ball from line to line quickly. They utilised one-touch passing in their quick distribution to Matias Fernandez and Diego Capel.
From here, Sa Pinto was relying on the dynamic and agile nature of his midfield playmakers to carry the ball forward and form a four-man attack.
It was here that his tactics differed from the home leg.
If support was needed, it was never supplied by the holding midfielders—Schaars and Carrico took absolutely no risks in going forward. Full-backs Emiliano Insua and Joao Pereira made the occasional dart forward, but they were nowhere near as marauding as they were on their home patch two weeks ago.
This ultimately left Sporting short of numbers on offence. They attacked with such pace and were stifled so fast that, more often than not, the attack had been quelled before the full-backs could even catch up with the play.
Insua was one of the most influential players on the pitch during the first leg, yet he was almost non-existent during this game.
This was a classic example of zonal coverage of the neutral field, transformed into a deadly and direct attacking threat—except in this instance it was entirely self-defeating.
Bilbao's Dominance Pays Off
As the scoreline suggests, Sa Pinto's methods didn't work. Athletic's dominance in possession allowed them to conserve the energy they needed to take risks. Every time they lost the ball they retrieved it with relative ease.
Athletic's willingness to track back and retrieve the ball saw them comfortably rebuff any potential threat. Iker Muniain was perhaps most impressive in this department.
Athletic lined up and played exactly how we expected them to, yet Sa Pinto could not find an answer. He got the upper hand during the first leg, but that was an off-colour Bilbao we saw and they were never going to put in a replica of that performance.
In this tie, the midfield were quicker, fresher and sharper when carrying out their man-marking assignments. Javi Martinez's return made a colossal difference to their ability to control the game.
A Disjointed, Unbalanced Sporting
Having looked at the distance between Sporting's lines throughout the game, it was clear to see that the formation and careful nature of playing style would never allow the Verde-e-Brancos to gain a foothold in the match.
The gap between the holding midfield line and the attacking quartet up front was astounding—averaging around 20 yards (as an estimated guess) for most of the game. This left both sets of players marooned without each other, as Carrico and Schaars were unwilling to move forward and attack.
Sporting were outnumbered in every part of the pitch, and that doesn't even take into account the sheer number of two vs. ones Bielsa creates with his tactical setup.
Bilbao's Trump Card
Sporting's approach to the game could have worked against a more limited side. It was similar to how Chelsea set themselves out against Catalan giants Barcelona during the UEFA Champions League semifinals, but failed to take into account Bilbao's most dangerous weapon—Fernando Llorente.
We saw some unbelievable touches from the big target striker this evening. He provided two stunning assists that showed awareness and poise, then poked in an instinctive finish to win it for his side.
When Bilbao fail to break through a packed midfield, they can look to Fernando Amorebieta to hoist the ball into the air and let Llorente bring it down. No other possession-based team in the game has a backup outlet as effective as this.
This article is
What is the duplicate article?
Why is this article offensive?
Where is this article plagiarized from?
Why is this article poorly edited?