Brock Lesnar vs. John Cena: 7 Reasons It Has Far-Reaching Ramifications for WWE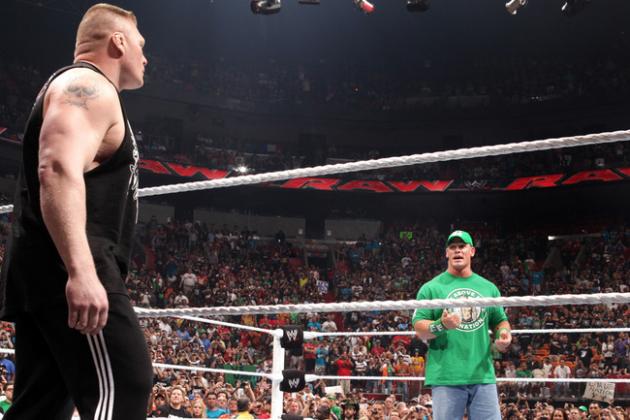 Photo courtesy of WWE.com
This Sunday at Extreme Rules, John Cena will face Brock Lesnar in a match that no one thought was possible just a few years ago.
Although Cena was still at the top of the WWE then, Lesnar was at the top of the UFC as arguably the biggest draw in the company.
Yet, Lesnar retired late last year, and it opened up the gate for a return to WWE and a colossal showdown with Cena.
That match is just two days away now and will be one of the biggest matches in recent WWE history.
Thus, as you might expect, it will have far-reaching ramifications for WWE.
Let's take a look at what those ramifications might be.
Begin Slideshow

»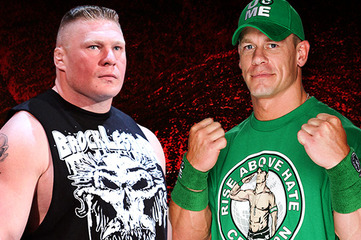 Photo courtesy of WWE.com
This is stating the obvious here, but John Cena vs. Brock Lesnar is a WrestleMania-worthy match.
Though it's clearly not taking place at the biggest pay-per-view of the year, that doesn't mean it can't make the biggest impact of the year.
Any time you put two of the most well-known names in the business in the same ring, it's a huge deal for a number of reasons.
It should spike interest in the WWE overall, increase the Extreme Rules pay-per-view buy rate and, quite simply, rock the foundation of the WWE.
Big matches like this tend to do things like that, and it affects both the WWE product and the company as a business.
We won't know exactly how it does that until after Extreme Rules, but I think it's safe to say that Lesnar vs. Cena, no matter the outcome, is a big-time match that (without even taking storylines into account) is going to make the WWE some serious money.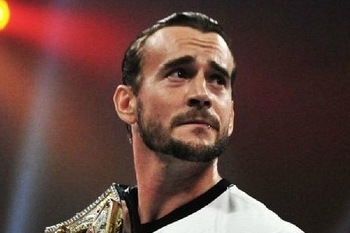 Photo courtesy of WWE.com
You have to think that the result of Cena vs. Lesnar will affect more than just those two men.
Yes, it could affect the entire WWE, most specifically the WWE Championship picture.
The winner of this match could definitely step up and become the next challenger for CM Punk's (or Chris Jericho's) WWE Championship in the not-so-distant future.
There are a lot of possibilities here: Cena/Punk (roughly a year after their awesome match at Money in the Bank), Cena/Jericho, Jericho/Lesnar and Punk/Lesnar (a battle of two "Paul Heyman guys").
This isn't to say that the Cena vs. Lesnar winner will undoubtedly go on to become the No. 1 contender for the WWE Championship, but a win in a match of this magnitude definitely takes him a step closer to that coveted title.
At least storyline-wise, we could see some major changes made to the WWE if Brock Lesnar beats John Cena at Extreme Rules on Sunday.
Among all of his ridiculous demands, Lesnar said that if he beats Cena on Sunday, the name of Raw will have to be changed to "Monday Night Raw starring Brock Lesnar."
Of course, this is all just a part of the storyline to help Lesnar generate some more heat.
But it will be interesting to see how a Lesnar win affects the WWE going forward: what type of changes we see, if Lesnar makes more demands, what this means for John Laurinaitis, etc.
We could, in essence, see Lesnar "take over" Raw if he beats Cena, and that would obviously have a huge domino effect on the rest of the WWE.
What that effect is, we don't know. But a Lesnar win is going to make the landscape of Raw look a lot different in the immediate future.
Watch that video, and you'll realize one thing: Chicago hates John Cena.
Though a lot of that hatred comes from the fact that Cena is facing Chicago's own CM Punk in that video, Chicago has always been a smart wrestling city that isn't afraid to voice its opinion.
Thus, I have no doubt in my mind that Cena is going to get booed out of the building on Sunday, and conversely, I'd bet that Brock Lesnar gets the warm welcome that's typical for a top babyface.
So, the question remains: How, if at all, will this affect the WWE going forward?
It didn't really have any lasting ramifications when Cena was booed at Money in the Bank last year, but that could change, given how stale Cena's character has been and its current state.
Is there any possibility that we see the Chicago crowd lead to a double turn or perhaps just a heel turn for Cena?
It almost seems like a waste of time to even consider it, but given how Cena is going to be received in Chicago (Think One Night Stand in 2006), this might result in some interesting story lines at and beyond Extreme Rules.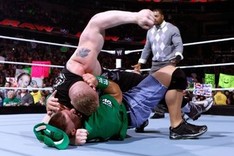 Photo courtesy of WWE.com
Check out the headline of an insider-only report on WrestlingNewsWorld.com: "John Cena Injured: Slated for Time Off After Extreme Rules?"
The article suggests that Cena is indeed injured and that he could have some time off after Extreme Rules as a result.
This may not seem like a big deal, but it's another small thing that could actually have huge ramifications.
The fact that Cena may be taking time off after Extreme Rules could drastically alter creative's plans for the match, the storyline and for Lesnar and Cena's characters going forward.
We can't be totally sure what some possible time off for Cena means, but it will mean something if he is indeed going to be out of action for any sort of extended period.
Maybe Lesnar takes Cena out with a vicious attack? Maybe Cena loses and fails to show up on Raw for the next couple of weeks?
Who knows? I just know that I can't wait to find out.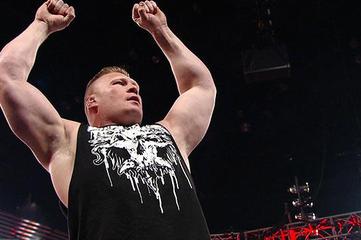 Photo courtesy of WWE.com
What does a loss for Brock Lesnar in his first match back do for him?
It makes him look incredibly weak, that's what it does.
At least to me, it would make no sense whatsoever to bring back Lesnar and have him lose his very first match.
All that would do is completely kill any and all momentum that he's built up since his return just four weeks ago.
So, if the creative team decides to book Lesnar to lose, it better realize that it's going to have to come up with a lot of phenomenal post-Extreme Rules booking to make up for it.
Lesnar can't lose at Extreme Rules, but if he does, expect that loss to have a not-so-great effect on the WWE as we move forward.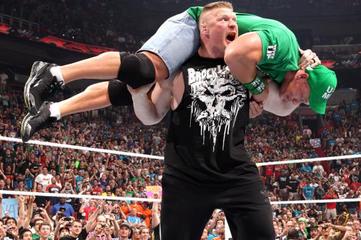 Photo courtesy of WWE.com
The WWE is in quite the little pickle here.
While Brock Lesnar really can't afford to lose at Extreme Rules, it doesn't seem likely that the creative team will book John Cena to lose his second straight major PPV match to a part-timer.
As a result, the WWE could book some sort of shady finish where neither Cena nor Lesnar actually loses. But in the end, I think a Cena loss makes things a lot more interesting.
As Edge told Cena on Monday's Raw, Cena has to win. Cena has to beat Lesnar at Extreme Rules.
If he doesn't, though, that opens the door for some incredibly intriguing story lines going forward.
Every time we see Cena start a new feud, we beg and plead that it will lead to some sort of major character development for him.
It never does, but on Sunday, the WWE will have yet another chance to make it happen.
Drake Oz is the WWE Lead Writer for Bleacher Report. You can follow him on Twitter and ask him any wrestling-related questions (to be answered in the B/R Mailbag) on Formspring.