New York Yankees: Michael Pineda out for Entire 2012 Season with Shoulder Tear
April 25, 2012

Nick Laham/Getty Images
When the Yankees traded for Michael Pineda, there were a lot of expectations for him entering the 2012 season.
Those expectations are on hold now, because Pineda will not throw a single pitch this season.
According to Bryan Hoch of MLB.com, Pineda has an anterior labral tear of his right shoulder, which will require arthroscopic surgery.
Yankees General Manager Brian Cashman said the surgery requires at least 12 months of recovery time, so Pineda will miss the entire 2012 season.
It's a tough injury for the Yankees to have happen, but Pineda is still in the very young stages of his career and likely can bounce back from this.
You have to wonder if Pineda had this kind of injury when the Mariners dealt him back in January in exchange for Jesus Montero and Hector Noesi.
With the news of Pineda now out for the season, it is a good thing Andy Pettitte decided to come out of retirement and make a 2012 comeback.
If the Yankees didn't have Pettitte, they might be scrambling a little, especially since Freddy Garcia has been downright horrible in 2012 and Phil Hughes has had moments of pitching poorly.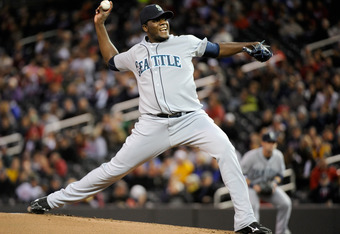 Hannah Foslien/Getty Images
On the bright side, at least the Yankees discovered this injury now rather than later, and are taking care of it with the corrective surgery.
The focus will be getting Pineda healthy and ready for the 2013 season, and his velocity back to where it was during 2011, when he was an American League All Star for Seattle.
On the short-term, the injury makes the Pineda-Montero deal look bad for the Yankees. But in the long-term, Pineda is only getting started in his baseball career, so it's not the worst thing in the world for the Yankees that he gets surgery to fix his shoulder.
Plus, Pettitte may be a week or two away from retuning to the Bronx, which I think will be a great move for the Yankees in 2012 and takes the pressure of the Pineda situation.
Stay tuned, Yankee fans.