Asante Samuel to Falcons: Eagles Trade Veteran CB to Atlanta
April 25, 2012

Patrick McDermott/Getty Images
The Philadelphia Eagles have been desperate to move cornerback Asante Samuel for the best deal possible before the 2012 NFL draft, and it appears another flock of birds are coming to their rescue.
UPDATE: Wednesday, April 25 at 5:04 PM ET
The Philadelphia Eagles have officially traded veteran CB Asante Samuel to the Atlanta Falcons, according to ESPN's Adam Schefter. 
Officially official: have acquired four-time Pro Bowl cornerback Asante Samuel from the Philadelphia Eagles.

— Adam Schefter (@AdamSchefter) April 25, 2012
"The Atlanta Falcons acquired Philadelphia Eagles Pro-Bowl cornerback Asante Samuel on Wednesday for a seventh-round pick in the 2012 draft," according to ESPN.
It was first reported Jeff Skvesrky of WPVI-TV 6ABC in Philadelphia earlier this morning that the Atlanta Falcons  were trading for the four-time Pro Bowler:
Asante Samuel traded to Atlanta Falcons

— Jeff Skversky (@JeffSkversky) April 25, 2012
Adam Schefter, Jason La Canfora and Jeff McLane all noted that the deal was nearing its conclusion as well.
UPDATE: Wednesday, April 25 -- 1:30 PM ET
McLane got the scoop on Samuel's deal, and it looks like this:
Per a league source, Atlanta has agreed to terms on a 3 yr 18.5 deal for asante samuel.

— Jeff McLane (@Jeff_McLane) April 25, 2012
He's also reported the deal is complete at this time and will update with compensation when it is known.
Clark Judge of NBC 10 in Philadelphia is reporting that the deal will be become official at 4 PM ET today:
Asante Samuel trade to Falcons will become official at 4pm. He has agreed to a new deal with Atlanta, according to source

— John Clark NBC10 (@johnclarknbc10) April 25, 2012
The Eagles are likely to seek some cornerback depth in the draft in mid-to-late rounds.
The 31-year-old cornerback became expendable last year when the Eagles shocked the NFL with a mega-deal for cornerback Nnamdi Asomugha on the heels of trading Kevin Kolb to the Arizona Cardinals for cornerback Dominque Rodgers-Cromartie.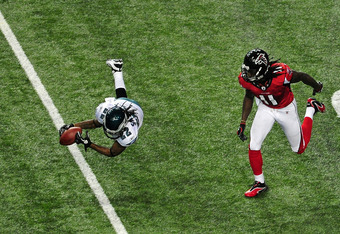 Scott Cunningham/Getty Images
Samuel has maintained all along that he wants to remain in Philly, but the Eagles know the price is dropping on a player who has actually led the league in interceptions in two of the last three years.
According to La Canfora, the Falcons are working on restructuring the final two years of Samuel's contract, which is worth roughly $20 million, and McLane says it is likely going to be a sixth-round pick flying back to Philadelphia in exchange for the cornerback's services.
Samuel would be leaving one crowded secondary for another, as Atlanta already has a good chunk of change tied up in Dunta Robinson and Brent Grimes.
We'll update more as this story unfolds throughout the day.