NBA Playoff Schedule 2012: 1st-Round Matchups Destined to Disappoint
April 23, 2012

Jonathan Daniel/Getty Images
The NBA playoffs are going to soon be upon us, and as a sports fan, I couldn't be more excited.
Basketball is fun, quick-paced and always exciting. The regular season matchups are just a preview of what pageantry the playoffs will bring to the table. 
Pitting the best of the best against each other makes for great sports and a must-watch event.
In my eyes, every single first-round matchup will be interesting with many stellar sub-plots.
But, some series will just be better than others. 
Here are first-round matchups that will not live up to the hype and are destined to disappoint. 
No. 1 Chicago vs. No. 8 Philadelphia 
At one point in the season, Philadelphia seemed like a surprise contender. 
That was a long time ago.
The 76ers are 4-7 in the month of April and are in the midst of a colossal free fall. This team has morphed from the feel-good story of the year to a depressing sideshow. 
The Bulls are 2-1 against Philly on the year. They should have no problem dismantling the Sixers with ease. 
Even if their superstar Derrick Rose isn't healthy for the playoffs, this team has shown time and time again that they can win with great bench play. 
The City of Brotherly Love is about to feel a world of hate.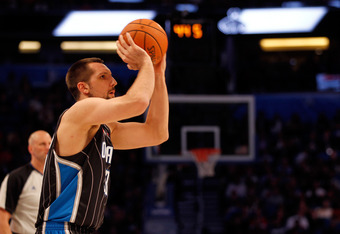 Mike Ehrmann/Getty Images
No. 3 Indiana vs. No. 6 Orlando 
Trouble is brewing in the Magic Kingdom. No, scratch that. Trouble has already brewed in Orlando and the playoffs are going to be one disgusting cup of coffee. 
Dwight Howard is likely out for the playoffs, but the storm he left behind in Florida will continue to show its effects. 
The leader behind this team is not confident and the Magic are uninspired. They don't want to win after self-imploding. 
Frankly, this is a squad that doesn't belong in the playoffs after going 4-8 in April with wins against lowly Detroit, sad Cleveland and the aforementioned 76ers. 
Upstart Indiana will continue their surprise winning ways with a relatively easy and boring win over Orlando. 
No. 1 San Antonio vs. No. 8 Utah Jazz 
The reason the Western Conference has not been well represented in this article is because the conference is so deep and competitive. I believe every matchup will be good. 
But, if I had to pick one that is destined to disappoint, it would be this one. 
The Spurs are one of the best teams in the association, but play extremely boring. That isn't a knock against San Antonio or what they have accomplished this season.
But, they are not the most fun team to watch.
They are simple and get the job done cleanly and effectively.
The Utah Jazz are a young and exciting team who I love to watch, but it was a struggle for them to even make the playoffs.
The real Big Three of Tim Duncan, Tony Parker and Manu Ginobili will crush Utah. 
It won't even be close.