Bryce Harper: Will Phenom's Midseason Call-Up Make Nationals Firm Contenders?
April 24, 2012

Christian Petersen/Getty Images
Bryce Harper launched his first Triple-A home run on Sunday and seems to be getting on track in Syracuse. 
Meanwhile, the Washington Nationals are storming through the early part of their schedule and are off to a National League East-leading 12-4 start.
The Nationals are off to their best start since moving to D.C. despite beginning the season without center fielder Rick Ankiel for a week and the continued absence of left fielder Michael Morse. The sky is the limit as this team exhibits superb pitching and clutch hitting.
It is hard to imagine a better start for this team, but what can we expect when Harper gets the call from the big club? The Nationals were rumored to be interested in another outfielder this season, but they have the option of turning to Harper.
The Nats will field powerful outfield trio of Jayson Werth, Morse and Harper when Morse is ready to return. Until Morse returns, though, the Nationals could still use Harper's help to increase their lead in the division.
Washington is not expecting Morse to resume baseball activities until late in May. Although Harper was sent to the minors to work on his center field skills, he can be called upon to man left field if Morse continues to miss time as the summer deepens.
The Nats have so many strengths, but through the team's first 16 games their left fielders have combined to hit for an MLB-worst .100 (6-for-60) with one woeful extra base hit. The Nats have insurance in Harper if Morse takes a bit more time than expected.
Harper can play the corner outfield positions and can be a vital asset to this team very soon if their left field struggles continue.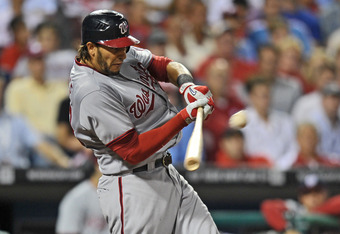 Drew Hallowell/Getty Images
Solidifying the outfield, whether in center or left field, will round out this team as a legitimate playoff contender for the entire season.
A call-up of Harper will also allow for guys to be given days off.
The Nats are versatile and can move guys around to allow for their players to receive some rest. When Morse returns, Harper can move over to center field and give Ankiel some time off.
Adam LaRoche can be given days off at first base and Morse can fill in, allowing Ankiel, Harper and Werth to play in the outfield. Routine days off will keep the whole team fresh down the stretch and into the playoffs.
The Nats smell blood and need to go for it. They have earned a tremendous opportunity by taking an early lead in the division. Harper will be able to give them the final piece they need in the outfield to build on the lead.
The addition of Harper gives the Nats another option and a threat to other teams in the league. The next few weeks will be closely watched as it remains to be seen if Harper takes off after getting the elephant off his back with his first home run.
Harper is going to fit into this team whenever he arrives. The league is already playing catch-up to the Nats, and Harper will only help their playoff chances.