5 Things I Don't Like About the 2012 ACC Football Schedule
April 23, 2012

Streeter Lecka/Getty Images
Spring football for the ACC came to end this past weekend, so we have four months until the season starts. Oh man, that's a long time.
To start things off, I think we should begin with the 2012 ACC schedule and five things I don't like about it. I'm not a negative person, because in a few days, I'll talk about what I do like about the schedule.
1. Georgia Tech at Virginia Tech 9/3
The last seven ACC Coastal Division champions have been decided by the winner of this game. So why play it the first week of the season? Virginia Tech has been prone to early-season losses, and Georgia Tech would have steep hill to climb with an ACC Coastal defeat this early in the schedule. So let's start one of your consistently best teams in the Coastal with a sure loss.
Yes, I understand that this will be the prime-time Labor Day game but just ask Maryland and Miami how much the game helped their seasons even if you win. I like big non-conference games early in the year, I don't like one of your marquee conference games early. You'll see that's going to be a theme here.
2. Clemson at Florida State 9/22
What did I just say about early marquee games? This game is arguably the ACC's biggest of the year and the ACC scheduled it in September. Why? No need for it…so one of your top contenders in the ACC Atlantic is going to be effectively eliminated before the leaves change?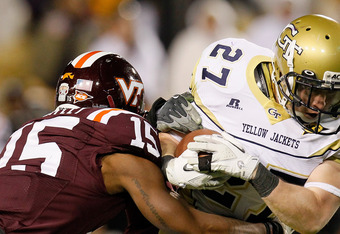 Kevin C. Cox/Getty Images
This game frankly should never be played before the third week of October. Think of the hype you could build and has been built when it's later in the year.
3. The Weekend of 11/17
Let's see, Clemson must play a very dangerous NC State team at home before their rivalry game with South Carolina. South Carolina plays might Wofford. Advantage goes to the Gamecocks. In the constant ACC/SEC battle of which the ACC has been on the short end recently, this scheduling doesn't help the Tigers while South Carolina gets a gloried scrimmage but wait there more.  
Florida State plays at Maryland while rival Florida hosts Jacksonville St. Georgia Tech still has a conference game with Duke. Their in-state rival UGA get Georgia Southern the week before they play. Are we seeing trend here? The SEC understands the importance of these late non-conference games while the ACC apparently does not.

4. Virginia Tech playing back-to-back Thursday night games
I'm not sure what Hokie fans think of this, but I wouldn't care for it.
First, there's a road game at Miami then a home game with Atlantic Division favorite Florida State. Look I like big matchups on Thursday night and one or the other game is a great game, but this has to be disruptive for the Hokie's student-athletes to have back-to-back mid-week games.
That means Virginia Tech only plays four home games on a Saturday. What is this, the MAC?
5. Virginia's 3-Game stretch of Penn State, at Georgia Tech and at TCU
Remember Clemson last season having to playing Auburn, Florida State and Virginia Tech? Well, they came through with flying colors, but Florida State did not following a huge non-conference loss to Oklahoma, then losing at Clemson.
I think it's extremely rough to play a strong non-conference opponent followed by a good conference opponent. As I looked at the non-conference schedule of the rest of the ACC, only Miami who plays at Notre Dame then gets North Carolina and Florida State has a similar back-to-back-to-back stretch of games at Virginia.
They at least get the Heels and FSU at home. The Cavs have to head to Atlanta sandwiched between two difficult non-conference games. On the surface, this hurts Virginia and the ACC in the all-important out-of-conference games as well as making a critical conference road more difficult for the Cavaliers.
Become a fan of the ACC on Facebook and follow the ACC on Twitter.