Breaking News: Duke Begging for Polish Big Man
April 21, 2012

The Duke Blue Devils are not a hot bed of big men. Outside of the Plumlee pipeline, Duke has had trouble bringing in solid big men since the departure of Sheldon Williams. Sheldon never ended up being the pro prospect that many thought, but their newest prospect could be the icing that takes the cake.
Poland's own Przemek Karnowski is the next athlete that Duke's coaching staff is bidding for. In a real-life version of Auction Hunters, the Devils are really hoping that this big man will don the Duke jersey.
It's said that this Polish prospect is a sure seven-footer without shoes. I came across that fact while trolling the Dukereport.com. It's rumored that this true big man not only has the ability to play at an NBA-level right now, that he could challenge Mason Plumlee as Duke's best big man.
Could you imagine the Devils bringing in someone already better than Mason?  That would be more than a welcome addition.  Playing two players of such caliber down low would do more than open three point shots, it would make them open all day every day.
All day long the Twitter world has been touting this big man. Jim Oliver, Chad Lykins and Adam Rowe were all talking about him throughout the day on their Twitter feeds.
Currently, Karnowski is visiting Gonzaga but Duke is hot on his heels. Stepping into the game late, Duke is hoping to land this monstrous big man.
If you're wondering what this player could do for Duke, he could instantly make Duke's frontcourt solid. He may not be a Nerlens Noel type of recruit, but he is the type that could transform Duke. On paper it's said that he's 7'1" and weighs close to 300 pounds.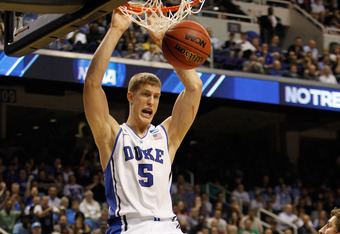 Streeter Lecka/Getty Images
If he decided to take his European style to Duke, he would immediately make Coach K and his staff  question his starting lineup. No one would question if he would start over Mason Plumlee, but the question would be do you start him opposite Plumlee?  
Right now, Gonzaga is the front-runner to land Karnowski. Duke may be a late addition to his sweepstakes...they are still Duke. Needing a big man, they are more than likely going to make a strong push for him.
Already being compared to Marc Gasol, he's going to be a great late addition to any team that's able to convince him to sign that letter of intent.  
Don't be fooled by the sudden interest that this player is going to get. He is not ready for the NBA, and he may not be ready for the American D1 game. He's not as athletic as your typical ACC center. Karnowski does not posses a drop step, strong hook or solid head fake. His skill set consists of height and an occasional fade-away jumper.  
I may be the only one, but I see him as a project player who could be more of a Zoubek-type of player. If he can keep his knees healthy, he could step in and be a solid shot-blocker/ rebounder in a reserve role for Mason Plumlee all while forcing Marshall Plumlee to really practice hard and compete for PT.
In the end, it truly is a long shot for Duke to land this Euro-league transfer. Not only that, if they do land him, it is uncertain if his game will be able to transfer to the American game. Duke is a late aggressor in the recruiting game for this player, and it's certainly a long shot for them to land him.