2012 NBA Mock Draft: Anthony Davis and Stars Who Will Be Busts
April 21, 2012

Andy Lyons/Getty Images
The 2012 NBA Draft class is full of talent and players who will make a strong impact at the pro level. However, there are a number of players who could turn out to be busts.
Let's look at who those players are in this fresh first-round mock draft.
Note: Order based on projected finish.
1. Charlotte Bobcats: Anthony Davis, Kentucky
Anthony Davis is a very good defensive player, but I don't think his offensive game is suited for the NBA. Unlike in college, Davis won't be going up against players he can dominate athletically in the pros. 
He's not a very big player and he will be going up against a physical NBA players on a nightly basis very soon. His lack of an effective low-post offensive game is also going to be a problem.
There's no doubting that Davis is a tremendous talent, but there are flaws to his game that need to be corrected or he won't be a star NBA player.
2. Washington Wizards: Michael Kidd-Gilchrist, Kentucky  
The Wildcats star is the most NBA-ready player in this draft and my pick for rookie of the year. This is a safe pick for a Wizards team that needs a star.
3. New Orleans Hornets: Thomas Robinson, Kansas
Robinson will make an immediate impact for the Hornets because he rebounds and plays defense every night. 
4. Sacramento Kings: Andre Drummond, Connecticut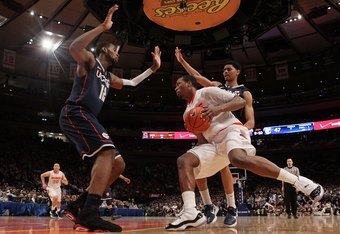 Jim McIsaac/Getty Images
Drafting Andre Drummond would certainly satisfy a need for the Sacramento Kings, but concerns over his work ethic might scare the Kings away from taking him.
Big men take longer to develop than guards do, so players like Drummond have to be willing to make an effort to improve their game year-round.
With an unpolished offensive game, Drummond is one of the riskier lottery picks in this class.
5. Cleveland Cavaliers: Brad Beal, Florida
Beal's ability to be a reliable scorer will really help the Cavaliers compete with the high-powered NBA offenses.
6. Toronto Raptors: Harrison Barnes, North Carolina
Barnes is an all-around player who creates his own shot with a polished offensive game. The Raptors cannot afford another draft bust.
7. Portland Trail Blazers (via New Jersey): Jeremy Lamb, Connecticut
Lamb is a proven scorer who plays well in high-pressure situations. That's exactly what you want from a young player.
8. Detroit Pistons: John Henson, North Carolina
The Pistons defense would be much better if they added North Carolina shot blocker John Henson in the draft.
9. Utah Jazz (via Golden State): Jared Sullinger, Ohio State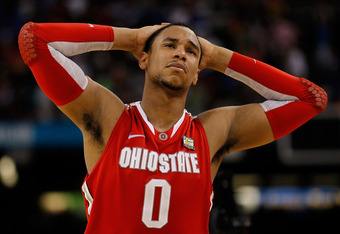 Chris Graythen/Getty Images
Sullinger's lack of size is a concern for teams wanting to use him as a power forward in the NBA. He has good strength and an NBA body but he lacks the height of typical power forwards.
To succeed at the next level, Sullinger will have to out work his opponents and give a great effort each night.
His lack of size and inability to dominate in the paint as a scorer could result in Sullinger being a bust in the pros.
10. New Orleans Hornets (via Minnesota): Damian Lillard, Weber State  
The Hornets need a point guard to lead the team right now, and Damian Lillard of Weber State is a great choice for that role.
11. Portland Trail Blazers: Tyler Zeller, North Carolina
Center is the biggest need for the Blazers, which is why Tar Heels big man Tyler Zeller is the best fit for them at No. 11.
12. Milwaukee Bucks: Meyers Leonard, Illinois
Leonard would fill a big weakness for the Bucks at center since the Andrew Bogut to Golden State trade that hurt the team's interior defense.
13. Phoenix Suns: Kendall Marshall, North Carolina
The North Carolina star point guard would be a wise choice as the Suns' point guard in the post-Steve Nash era.
14. Utah Jazz: Tony Wroten Jr., Washington
Point guard isn't the biggest need for the Jazz, but Wroten will be a phenomenal offensive guard at the NBA level.
15. Houston Rockets (via New York): Doron Lamb, Kentucky
Lamb might not step into the pros and dominate right away, but he has more potential than most guards in this draft class.
16. Philadelphia 76ers: Terrence Jones, Kentucky
Jones is a gifted offensive player who can score in several different ways, but for him to be an effective NBA player, his perimeter defense has to get better.
17. New Jersey Nets (via Houston): Perry Jones, Baylor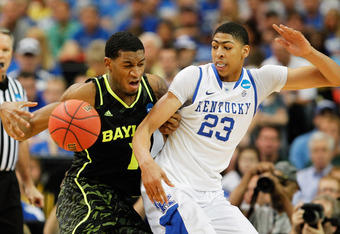 Streeter Lecka/Getty Images
Perry Jones may have the height to play power forward in the NBA, but he lacks the strength to bang on the boards with NBA big men.
He also has an inconsistent outside shooting game, and he looks disinterested at times too. That's a big problem, because rookies who don't give enough effort are destined to be busts.
Jones has a lot of talent, but he needs to get stronger and improve his low-post game over the summer.
18. Denver Nuggets: Terrence Ross, Washington
Ross will help the Nuggets be a very good defensive team next season with his ability to guard opposing team's best perimeter scores very well.
19. Houston Rockets (via Dallas): Jeffery Taylor, Vanderbilt
Taylor can score and play defense effectively which makes him a nice fit on a team ready to compete for the playoffs right now.
20. Atlanta Hawks: Moe Harkless, St. John's
The Hawks need more players committed to playing defense every night, which makes Harkless a good fit in the middle of the first round.
21. Boston Celtics: Austin Rivers, Duke
Austin Rivers is better suited as a shooting guard in the NBA, which makes him a good fit on the Celtics since Ray Allen may leave the team in free agency this summer.
22. Orlando Magic: Marquis Teague, Kentucky
Teague is a very good point guard who excels at both ends of the floor, which really fills a need for the Magic since Jameer Nelson is just an average point guard.
23. Memphis Grizzlies: Royce White, Iowa State
White needs to improve his low-post offensive game or he won't succeed in the NBA. His defense is solid though and will earn him minutes in the pros.
24. Boston Celtics (via Los Angeles Clippers): Arnett Moultrie, Mississippi State
The Celtics don't have any quality centers going into next season, so drafting one like Arnett Moultrie is a smart idea for Boston.
25. Indiana Pacers: Dion Waiters, Syracuse
Waiters will add some bench scoring to a really good Pacers team ready to contend in the Eastern Conference for many years.
26. Cleveland Cavaliers (via Los Angeles Lakers): Fab Melo, Syracuse
Melo didn't play in the NCAA Tournament but he is still one of the better center prospects that will be available late in the first round.
27. Golden State Warriors (via San Antonio): Draymond Green, Michigan State
Draymond Green is smart enough and is strong enough to step into the NBA and contribute from Day One.
28. Miami Heat: Andrew Nicholson, St. Bonaventure
Nicholson will be a good offensive player give the Miami Heat the bench scoring they really need moving forward.
29. Oklahoma City Thunder: Evan Fournier, France
Fournier has a lot of offensive potential, especially as an outside shooter, and will be a quality shooting guard at the NBA level.
30. Chicago Bulls: Tomas Satoransky, Czech Republic
Satoransky's size and strong defensive ability makes him a nice fit with the Bulls at shooting guard.