Amile Jefferson: Odds for Star Recruit to Decide on Each Team on His List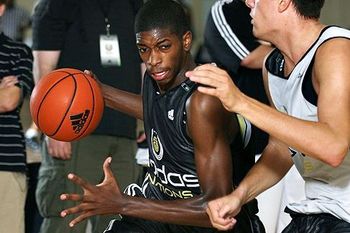 http://www.nationofblue.com/attachments/f37/9258d1325467600-amile-jefferson-down-5-amile-jefferson.jpg
Amile Jefferson is a McDonald's All-American and a star college basketball recruit who delayed his decision once again today, and these are the updated odds for every team courting Jefferson to land the 6'7" small forward.
Duke, Kentucky, North Carolina State and Villanova all remain on his list, and they wait with bated breath as Jefferson continues to make them wait. Trying to find out where they all stand on his list is stressful for teams and fans alike, and these are my odds for where he will end up.
Jefferson's decision is going to be one of the biggest left in college basketball this year. His athleticism and great length make Jefferson a great player, and his decision will carry great weight.
With that, let's take a look at the odds for each school to land the skilled forward.
Villanova: 12-1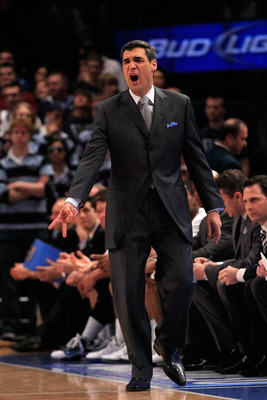 Chris Trotman/Getty Images
As a local from Philadelphia, Villanova's appeal to Amile Jefferson is obvious: staying close to home.
Villanova needs a forward like Jefferson who has a big impact on both ends of the court, and Jefferson is the school's last hope for the 2012-13 season.
Jefferson has said that he likes 'Nova because it is close to home, with his exact words being:
"Villanova is a local school, so if I decide to stay home, that would be a great choice," Jefferson said.
Villanova used to be a great school for basketball, but the school has dropped off in recent years, and is now a mediocre team in a conference that is going to be torn apart by conference realignment.
While staying close to home can be good for some recruits, I don't see it being a huge factor in Jefferson's decision. This kid is going to be a star, and like most star players, I see him making sure that he goes to the best school no matter how far away it is. Also, the fact that his other three schools are all in the South (including two in North Carolina) tells me that that is where he wants to be.
North Carolina State: 6-1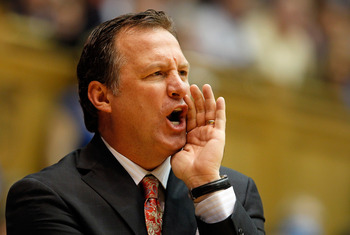 Streeter Lecka/Getty Images
Mark Gottfried is building a great program at North Carolina State, thanks to his ability to recruit well and mold talented players.
The Wolfpack is bringing in a great recruiting class, and adding Jefferson would give this team a young, talented look that would help turn this program into the best in the ACC.
With powerhouses like Duke and North Carolina fading, Jefferson would help the Wolfpack become the best team in the ACC. That has to be appealing for Jefferson, as he could be the one leading this revolution.
However, with C.J. Leslie returning for his junior season next year, the Wolfpack is going to have a crowded roster, and he may not get as much playing time as he would like behind Leslie.
Kentucky: 4-1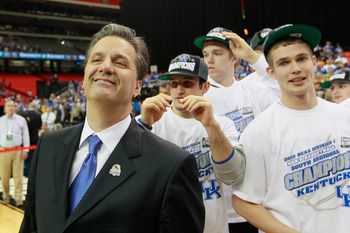 Kevin C. Cox/Getty Images
Prestigious program. National champions. John Calipari's recruiting prowess. Kentucky definitely has a lot of appeal for Amile Jefferson.
Jefferson knows that Calipari wants him, and that he would be playing for arguably the best team in the country at Kentucky. Calipari can mold Jefferson into an NBA-ready player with a bright future ahead of him, and that holds a great deal of weight with any recruit.
There is one major drawback to playing at Kentucky, however, and that is playing time.
While the Wildcats are losing their top six players to the NBA, the team still has a lot of talent, and playing time will be scarce for forwards who are coming to the program.
Kyle Wiltjer is the best player who will be returning to Kentucky next season, playing small forward. He was the No. 19 recruit in the Class of 2011, and he is a very talented player.
The Wildcats also have four great recruits coming in, including the No. 1 overall player, Nerlens Noel. Along with Noel, they are bringing in center Willie Cauley, shooting guard Archie Goodwin and small forward Alex Poythress.
With Poythress, Noel, Cauley and Wiltjer already in the frontcourt, adding a fifth member would ensure that two players would come off the bench. Of those two, Jefferson would probably be one.
The team is also recruiting No. 7 Anthony Bennett, who appears to be leaning toward Kentucky. Far from leading Jefferson to pick Kentucky, Bennett would take even more time from Jefferson, which hurts Kentucky in this decision.
While UK has a lot to offer, I don't think they are leading for Jefferson.
Duke: 2-1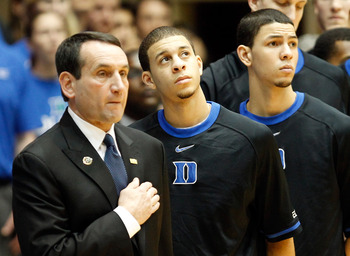 Streeter Lecka/Getty Images
The Duke Blue Devils are leading in the pursuit of Amile Jefferson, and they have everything he wants.
With the guarantee of playing time ahead of several other forwards, Jefferson would be an immediate-impact player for the Blue Devils and Mike Krzyzewski. Jefferson would start along with Ryan Kelly and Mason Plumlee on the frontline, and he would be guaranteed about 25-30 minutes of playing time per game.
Coach K is an elite coach who can mold Jefferson into a great player and prepare him for the future. This is something that is important for all recruits and will be weighing on the mind of Jefferson when he makes his decision.
Jefferson has been interested in Duke for years, and he even attended Midnight Madness with Duke a few years ago.
Jefferson took Duke off his list for awhile, but they went back on a few months ago and have been making a huge push for him.
The fact that Rasheed Sulaimon is going to Duke also helps, as Jefferson and Sulaimon have become close.
"I definitely talked to Rasheed. When I took an unofficial visit, Rasheed was there. He is a great guy too. Duke recruits great kids. He's a good friend of mine, and I definitely have talked to him about the system and coach Mike Krzyzewski. We always talk about things like that," Jefferson said.
I give Duke the best odds to land Jefferson, and he would be a great addition to the team.
Keep Reading

Duke Basketball: Like this team?