Baltimore Ravens on Verge of Bringing on a Veteran Backup QB; Who Will It Be?
April 19, 2012

Andy Lyons/Getty Images
The Baltimore Ravens gambled last season by keeping just two quarterbacks on their active roster—starter Joe Flacco and backup Tyrod Taylor. That gamble paid off, with Flacco staying healthy throughout the season and Taylor never called upon to take the reins of the offense.
That seems to be changing this year, with the Ravens seemingly quite willing to bring in a veteran to serve as Flacco's primary backup, which would shift the second-year Taylor to No. 3 on the depth chart.
Aaron Wilson of the Carroll County Times reports the Ravens have recently worked out three veterans—Dennis Dixon, Curtis Painter and Kyle Boller—and should be making a decision on who to sign soon.
Dixon was the first of the three to draw interest from the Ravens. Most recently a member of the Pittsburgh Steelers, Dixon is an unrestricted free agent that his former team does not want to re-sign.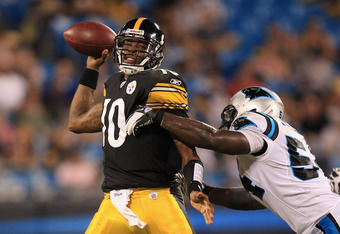 Streeter Lecka/Getty Images
Dixon has been very clear that he'd like a starting job, but with his limited on-field experience, doesn't warrant such a distinction just yet. He's had three starts (one in 2009, two in 2010) for a 2-1 record, and has two touchdowns and two interceptions to his name.
Painter is probably the least attractive of the three options. We had a chance to see what he's capable of achieving on the field, and it's not much. As the Indianapolis Colts' starter for nine games last year, he completed just 54.3 percent of his passes, for 1,541 yards, six scores and nine interceptions.
Yes, Painter has the most recent starting experience of the three quarterbacks, and not all of his struggles can be attributed to him alone. But seeing what he did last year for the Colts should make the Ravens a bit wary if he has to take the field in Flacco's stead at any point in 2012.
In my estimation, the most likely backup for Flacco is Boller, whom Flacco replaced after five seasons in Baltimore. Boller has far more on-field experience than either Dixon or Painter and represents a more attractive option at starter should the situation arise.
Boller has had 47 career starts since 2003, has completed a total of 56.7 percent of his passes in that time, averaging 133.3 yards per game and notching 48 touchdowns to 54 interceptions. Boller's career as a starter is likely over, but his value as a backup for Flacco (and mentor to Taylor) makes him the best option of the three.