Jarrod Uthoff Transfer: Is Bo Ryan Making the Wisconsin Badgers Look Bad?
April 18, 2012

Andy Lyons/Getty Images
Jarrod Uthoff, a Wisconsin redshirt freshman, reportedly submitted a list of 25 possible transfer schools to Wisconsin officials, but he's reportedly being denied a transfer to over half the schools on the list.
Wisconsin officials are prohibiting him from transferring to other Big Ten schools, all ACC schools, Iowa State and Marquette.
Badger's head coach Bo Ryan may win the battle, but he won't win the war.
For Uthoff to be allowed to transfer, he must have permission from officials at Wisconsin, which they are declining.
It's simply a case of Wisconsin digging a hole and burying themselves in it, and there's no way they can come out looking good.
Prohibiting him from transferring to a Big Ten rival, I get that, but going on and on with this list of prohibited schools will hurt Wisconsin for many years to come.
Firstly, it directly affects future recruits who may be looking to commit to the University of Wisconsin.
The reason top recruits go to play for people like John Calipari is because they know he's a player's coach. At Kentucky, Calipari accepts the constant flow of one-and-done players.
In this situation, Bo Ryan is making himself look like the anti-Calipari. While Wisconsin may not be a top recruiter in the country, they certainly aren't helping their case to get any top recruits in the future.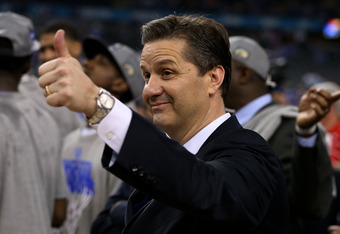 Jeff Gross/Getty Images
Not only will this put up red flags for high school graduates, but opposing teams—like recruiting rivals in the Big Ten—are going to say, "Hey, you don't want to go to a school with a strict coach like Wisconsin. Look at the way they treated a guy who wanted to transfer."
Secondly, the move is simply unfair to Uthoff.
Collegiate students aren't paid. In my mind, they should be, and no, I'm not just talking about scholarships. But that's a topic for another time.
Coaches leave players in the dust everyday, as many coaches chase the next big job and next big payday.
They use their recruits as a springboard to propel themselves along. How is it fair to stop an athlete from transferring when coaches can just leave at the drop of a hat?
If VCU head coach Shaka Smart had gotten an offer for a job better than the one he was reportedly offered at Illinois, would he have taken it?
I think it's safe to say he would have, leaving his program behind and abandoning the returning players and incoming recruits.
That's what makes college sports so interesting. More often than not now, players commit to universities—not coaches.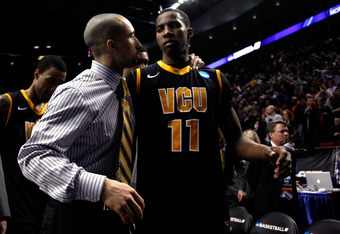 Jonathan Ferrey/Getty Images
Even when players commit to play for coaches at big-time schools, like the SEC for football, there's always the chance the coach takes the next big paycheck to move up to the NFL.
Finally, this decision will have an effect on more than just the basketball program. The decision could tarnish former football coach and current athletic director Barry Alvarez.
If it gets all the way to Alvarez, you would have to bet he would grant Uthoff his wish.
If Bo Ryan wants to block it, so be it, but if Alvarez wants to block him as well, things could get ugly. That's when you wonder if it will effect the football program as well, giving the university a bad reputation.
This story has already attracted national attention because Ryan is blocking him from transferring to so many schools. If coaches can leave so easily, why don't players have a right to transfer to wherever they want?
It's best for Bo Ryan to swallow his pride, allow Uthoff to transfer to wherever he pleases and take the hit.
Swallowing one scholarship player leaving is one thing, but losing potential scholarship players for years to come in both football and basketball is even worse.
It shouldn't get to Barry Alvarez, and it doesn't need to. You lose the battle to win the war.  Bo Ryan needs to realize this.