WWE Raw Deal April 16: Lord Tensai Defeats John Cena
April 17, 2012

Live (or tape delayed by a few hours) from London, England this is the Raw Deal. This was written live earlier this evening and I did not read the results prior to the show. 
No video package to start. We get the annoying Nickelback song and the crowd shot right away. First up is the WWE Title match.
The WWE Title match is a no disqualification, no countout contest based off the results of the last two weeks when Mark Henry won via DQ and via countout. They show us video of that.
Henry was already in the ring at the start of the show. WWE Champion CM Punk made his entrance to a big pop. They replayed the events of the last two weeks. I love the classic entrances for these WWE Title matches. The crowd was really loud in their support of Punk, who has been the WWE Champion for five months.
WWE Title (No DQ, No Countouts): CM Punk vs. Mark Henry
They fought outside the ring early on and Punk took him down with a dive through the middle ropes. Henry recovered to throw Punk into the steel post. Random "yes" chants from the crowd to entertain themselves, I would imagine. That's a good thing.
Punk blocked a charge by getting his boot up and then ran across the railing to deliver a bulldog to Henry on the floor. That was a Jeff Hardy-like move, although the bulldog was a nice addition.
Henry caught Punk on the floor and he threw him into the security wall. Both guys were out on the floor as we got our first vintage floor-to-commercial spot.
(Commercial)
Back from break, Henry has control after decking Punk with a clothesline. I could hear some "sexual chocolate" chants so I'm loving this crowd already. Punk grabbed a steel chair and hit Henry with it including a shot to the ribs.
Henry booted him in the gut to avoid a chair attack. Henry hit Punk in the back with a chair.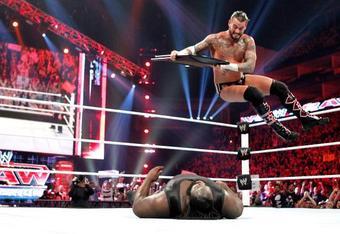 Punk came back with punches and chops leading to more "yes" chants, but Henry knocked him down with a clothesline. Punk fought out a bearhug and got a DDT for two. Henry caught a crossbody block attempt, and Punk countered the World's Strongest Slam with a kick to the head and hit his running high knee in the corner.
Henry powered out of the bulldog attempt, though.
Henry charged, Punk avoided it and Henry went crashing face first into the steel chair that was wedged between the top and middle ropes. Punk grabbed the chair, climbed to the top rope and used the chair to attack Henry in the face…or upper chest. Punk covered for the victory. The Match went about 12 minutes.
Winner: CM Punk
Analysis: *** (out of 5)
This was a well booked match. They worked hard and the chemistry was there.
The finish was creative too because obviously Punk couldn't give the GTS to Henry, but he beat him with a move that looked good as a finisher. I liked all three of their matches. It was also nice to see Raw start off with a match for a change.
After the match, Chris Jericho appeared in a bar. Jericho said he was granted a WWE Title match at Extreme Rules. He announces their match would be a Chicago Street Fight, which is convenient since it's in Chicago. Punk said it's no longer about being best in the world, it's personal now. Jericho asked him to show up at Extreme Rules sober.
Jericho showed footage of where Punk was earlier in the day. The camera said 11:55AM and it was a video of CM Punk walking into a bar called "The Pilot Inn." It then showed him leaving. Jericho wondered if he was drinking. Punk told him to come to the ring. He said he was at the bar having fish and chips with a friend of his. Jericho said he was making up stories like his father.
There was a "fish and chips" chant.
Jericho said he went to the bar because he wanted to be surrounded by alcohol. Jericho said he's lost his honor and personal beliefs and in two weeks he'll lose his WWE Championship. Then the screen went black.
Jericho left.
Weird ending because Punk said a few more words and then he just stopped when Jericho wasn't on the screen anymore.
Analysis: It was an effective segment. That's the norm for these two.
I'm fine with the Street Fight stipulation as well. It works for the story and the crowd in Chicago should be hot for the match—especially since it involves Punk in his hometown.
A US Title match is next as Santino defends against David Otunga.
They hyped-up an exclusive interview with Brock Lesnar later in the show.
(Commercial)
There was some R-Truth/Teddy Long segment— an attempt at comedy that didn't really work.
Santino appeared. He had multiple football/soccer team jerseys on. Finally he entered in an England jersey.
Otunga appeared doing his posing.
United States Title: Santino vs. David Otunga
I think I need to call Otunga the "Baby Oil Kid" because he douses himself in it before his matches.
Otunga countered some vintage Santino offense. Otunga hit his Spinebuster finish and then floated over to the opposite side to cover in a very contrived spot that allowed Santino to get his foot on the rope. Santino came back with his usual offense leading to the Cobra striking for the win after about two minutes.
Winner: Santino
Analysis: 1/2* Short match, which is for the best. No more matches between these two, please.
Backstage, Josh Mathews interviewed Lord Tensai and Sakamoto. Tensai said he knows what we should fear. A very brief interview. Tensai had his face covered during it.
Next we'll hear an exclusive interview with Brock Lesnar. It was likely taped last week since he didn't make the trip to England.
(Commercial)
They plugged that WrestleMania was the highest grossing of all time. The WWE website reported 1.3 million buys on PPV and a $67 million gross. 
We get the Brock Lesnar interview.
It's him sitting in a room talking while clips of him played. He mentioned being NCAA Champion and that he was a three time WWE Champion that dominated and then brought up UFC. He talked about being UFC Heavyweight Champion and proving people wrong.
He skipped about four years there.
Lesnar said he didn't care about the fans. He cared about Lesnar. "The only reason Cena's where he is, is because I left." He said Cena was scared of him and he had piss running down his leg. He said it isn't a wrestling match. It's an Extreme Rules match. He said he's coming for a fight and he hopes Cena is ready.
"I'm not a superstar. I'm an ass kicker. I am Brock Lesnar. What makes me happy? Beating people up. That makes me happy."
Analysis: That was an awesome video package. Lesnar's at his best in videos like that. He doesn't have to use a live microphone. He can just talk to the camera and it can show off how intense he is.
The video ended and the announcers mentioned that Cena vs. Lesnar at Extreme Rules will be an Extreme Rules match—which is another way of saying a Hardcore match.
There's Zack Ryder. We get pictures and clips of all the pain that Kane caused Zack. I guess this is their blowoff match after three months of build. Ryder got a mild pop. Kane made his entrance after. They went to break. I like going to break before the match starts. Better than during a match.
(Commercial)
Back from break, we got to see a clip of Kane attacking Randy Orton's dad Bob Orton last week. Orton ran to the back and got attacked by Kane too. Kane: "I'm a sucker for family reunions." The line was the best part.
How long has Castrol GTX been a sponsor for WWE by the way? It should be in the Hall of Fame. More deserving than Koko B Ware.
The Kane/Ryder match never happened. Kane attacked him before the match. He beat him up on the floor, gave him a chokeslam in the center of the ring and he left.
That was it. Seriously.
Post match, Kane cut a promo about Randy Orton and what happened on Smackdown. I assume we'll be getting a rematch from them at Extreme Rules.
Backstage, Kofi Kingston was talking to AJ. Daniel Bryan showed up in his "yes" shirt and the crowd chanted "yes" for him. He thought Kofi was hitting on AJ. Bryan: "Just because I don't want her doesn't mean it's open season."
Great line!
He said he's changing the name of his finishing move from the LeBell Lock to the "Yes Lock." He yelled "yes" in Kofi's face. The crowd chanted along with it. He probably said it about twenty times. Kofi just walked away.
I'm fine with the move being called the "Yes Lock" now. That should be fun.
Next up we'll find out John Cena's state of mind apparently. Is he a drunk now too? Oh right he already likes booze. That's the other guy.
(Commercial)
John Cena entered the ring as we reached the top of hour-two. They replayed the Cena/Lesnar brawl. They also replayed the end of Raw when Lesnar attacked Cena one more time to end the show.
As Cena talked, the crowd chanted "yes" and John acknowledged it by chanting "yes" along with them. He mentioned Laurinaitis being the most powerful man in WWE.
He's more powerful than Vince? Or Triple H? I guess we'll roll with it.
He said he has a problem because Laurinaitis wants to replace John Cena with Brock Lesnar to legitimize WWE. Cena called Lesnar's return the most anticipated event in the company's history?
I thought WrestleMania 28 was? I hate dumb statements.
Cena said that Lesnar stands for destruction, pain and dominance. Basically Cena was cutting a promo for Lesnar since he's not there.
He said Lesnar's won everything there is to win and that Brock's sole purpose is to replace Cena. There were "yes" chants from the crowd. Cena said on April 29th he will fight. He said it multiple times. He doesn't care if he takes an ass whipping…"I WILL FIGHT!"
The music of John Laurinaitis started up. He told us who he was. People power! He said Cena would have an Extreme Rules match tonight. He didn't say the opponent. He also announced that next Monday, on the three hour Raw, Cena would have a contract signing with Lesnar. Laurinaitis said we won't know Cena's opponent tonight because it's creative to not to tell us.
If we're going about being creative, why are we having a contract signing when those aren't fresh or new?
Analysis: Cena did a good job. He basically put over Lesnar to make up for Brock not being there and he let us know that he didn't care if he lost because he was going to put up a fight.
Simple message. It worked. I've liked the build up to the match.
We got replays of the Punk/Henry match from earlier along with Jericho's clips against Punk.
Up next is Daniel Bryan vs. Kofi Kingston. Should be good.
(Commercial)
Kofi Kingston vs. Daniel Bryan
Good pop for Kofi. Huge reaction to Bryan with lots of "yes" chants for him. During all of his early offense, the crowd was chanting "yes" for everything too. Bryan dominated the action in the beginning part of the match. They worked a slow pace so that likely meant it was going to be a long match. Kingston hit a nice back elbow to the face.
They had a nice sequence on the floor that ended with Kingston hitting a springboard crossbody on the floor. Bryan was out on the floor for our vintage floor to commercial spot.
(Commercial)
Back from break, Bryan dominated the action in the ring. They showed AJ watching on a monitor backstage. Crowd was really loud for all of DBry's offense, chanting "yes" during all of it. Kingston made a comeback. Bryan avoided the Trouble in Paradise, but Kingston countered the Yes Lock with the SOS for a two count.
Nice exchange there.
Kingston went to the top. Bryan chased him up there and went for a superplex, but Kingston gave him a headbutt to put him down. Kingston missed the cross body block. Bryan slapped on the Yes Lock. Kingston tapped out. The match went about 10 minutes.
Winner: Daniel Bryan
Post match, Bryan put him in the Yes Lock one more time. Sheamus showed up for the save. Bryan ran away to avoid the attack.
Analysis: **1/2 Good match, but could have used another five to ten minutes to get more nearfalls and build to the finish more. It was an effective match because it built up Bryan well in the build up to his 2/3 falls match against Sheamus at Extreme Rules.
The London crowd was great too. Loved the "yes" chants. Fantastic atmosphere. If a crowd is hot, the show is more fun to watch. Proven fact.
They hyped up the main event, which was Cena versus a mystery man chosen by John Laurinaitis.
Since I've been asked, as far as I know next week's three-hour Raw is not the draft show. It's simply a three-hour show because WWE's contract with USA Network calls for a handful in the year.
They can do the draft any time. It doesn't have to be a three hour show. I'm not even sure if they plan on having one this year.
We just saw a Smackdown wrestler in Mark Henry get a WWE Title match on Raw. It's not like the brands matter that much anymore, except for house show purposes. House shows are important for the company, but in terms of the broadcasts they don't necessarily need to have a draft show anymore.
We'll see what happens.
(Commercial)
Back from break, the Brodus Clay entrance was next. Somebody call my momma. Vickie Guerrero introduced Dolph Ziggler. Jack Swagger accompanied him to the ring as well.
Brodus Clay vs. Dolph Ziggler
Ziggler hit a dropkick right away. Clay caught him with a suplex. Swagger saved his friend. Clay gave him a headbutt. Ref rang the bell. Match went about 20 seconds.
Winner by DQ: Brodus Clay
Post match, Vickie knocked Cameron to the ground. Vickie went into the ring and Naomi shoved her down. Then Vickie left. Then Brodus danced with the girls.
Analysis: That was an incredibly rushed segment. Can we get Ziggler a real feud?
Backstage, Laurinaitis was talking to Otunga. Eve showed up looking to talk to Laurinaitis. All three of them went into his office because he said he had an idea.
The announcers threw to a video package for the late Chief Jay Strongbow who died last week. His career happened before my time, but he's always been somebody held in high regard by WWE. The video package did a good job of showcasing his career for those of that didn't get a chance to see him. When his in-ring career was over he had a big role backstage too, which was acknowledged in the video package as well. Very classy video. He was 84.
(Commercial)
They showed an exterior shot of the O2 Arena in London.
Backstage, R-Truth was trying to help Teddy Long find a job. He said he could be the GM of Smackdown. Long told him that's what he got fired from. What was the point of this? Truth was trying to be funny. I didn't laugh.
Big Show & The Great Khali vs. Primo & Epico
The face team is one of the biggest tag teams in the history of the company. I'd rather see them together than against eachother. It's a non-title match. Why would the heel GM put the heel champs up against a babyface team that is heavily favored? They mentioned the champs complaining on Twitter. That's a work, but it's nice to see it made TV. Abraham Washington showed up on the ramp to scout talent. Wait, they just call him AW now. I guess his whole name is too long?
Khali beat up Primo with his crappy offense. Khali nearly fell over after he gave him Primo a big boot. The champs tried to leave. Big Show threw them back into the ring. Khali gave them both chops to the head. Show gave Epico a chokeslam and Khali gave Primo the Punjabi Plunge. They won in about two minutes.
Winners: Show & Khali
Analysis: 1/2* Show didn't even tag in. It was a squash tag match. Can't they actually develop teams other than having the champs look like inferior talent to two giants? What benefits the company more: a squash or a legit tag division? I vote for the tag division.
They showed clips of the European tour including the debut in Moscow.
The Cena match against a mystery opponent is next as our main event.
The last two segments have hurt the show. Some of the positive momentum that was built up prior to those squashes were replaced by big men dancing.
(Commercial)
Immediately after the break, John Cena made his entrance for his Extreme Rules match, which Justin Roberts clarified as a match that you could only win via pinfall or submission. John Laurinaitis appeared on the stage along with David Otunga. He wished Cena luck. The opponent? Lord Tensai. Cole said that his name simply means Destruction. Don't blame me if that's wrong. I'm just saying that's what Cole said.
Extreme Rules Match: John Cena vs. Lord Tensai
Tensai dominated the action early. Cena did the Bret Hart-like sternum first bump into the turnbuckle. This is a battle of Massachusetts by the way, but obviously Tensai is not billed from his home state anymore. Tensai threw Cena into the steel steps. Cena countered an attack with a back body drop. Cena picked up the steps and hit Tensai in the head with them.
Outside the ring, Sakamoto attacked Cena with some hard kicks to the chest. Otunga rolled Cena back in. Tensai hit a delayed butterfly suplex for two. He slapped on a nerve hold. Crowd isn't that hot for this main event. There was a brief "Albert" chant although not as loud as the last two weeks. Perhaps editing took effect there. I'm not sure.
Tensai missed a corner charge, so Cena knocked him down with three shoulderblocks and then a spinning suplex. He went for the Five Knuckle Shuffle, but Tensai got back to his feet and chopped Cena down. Tensai hit a running back splash. He put Cena in a submission hold on his shoulder. Cena countered into a Crossface that Cole called the STF. How is it the STF when he doesn't have his leg locked at all? Otunga ran in. Cena hit the Attitude Adjustment on Otunga. That allowed Tensai to recover and he spit the green mist into Cena's face. Tensai finished off Cena with the Baldo Bomb (needs a new name) and covered for the win at the 8 minute mark.
Winner: Lord Tensai
Analysis: *3/4 Decent match. When was the last time Cena lost via pinfall in under ten minutes? That doesn't happen very often. It wasn't totally clean since Otunga ran in to set up the finish, but it was a match where Tensai looked better in the end. It's a case where Cena can afford to lose because he's going to be over anyway. I'm just surprised they booked it that way considering his big match with Lesnar.
After the match, Cena was selling the mist in the eyes by asking for water because he couldn't see anything. Meanwhile, Tensai spit into his hand again and looked at it. Laurinaitis celebrated at ringside. The show ended with Cena looking defeated.
That was an odd ending. I thought maybe there'd be some kind of post match attack. Instead, it ended suddenly. It didn't feel like the end of the show. I kept waiting for more. We didn't get more. I can happily report that "Green Mist" was a trending topic on Twitter immediately after that finish. That's wonderful.
Three Stars of the Show
1. Daniel Bryan
2. CM Punk
3. Mark Henry
Final Thoughts
It was a better show than last week, which is why it gets a solid 7 out of 10 rating. There were two very good TV matches in Punk/Henry and Bryan/Kingston that each got a good amount of time and gave us excellent finishes as well. Match finishes are important. In both cases, they were decisive wins for the guys that should have went over. I especially liked the finish to Punk's match. It was a creative way to end a highly competitive match. It didn't make Henry look bad either.
The main event wasn't the best match, but it was a good angle. Tensai winning over Cena is a big deal both in terms of Tensai going over a big guy in only his third match and for Cena losing in less than ten minutes on free TV, which is rare to see. It makes you wonder if Cena will bounce back at Extreme Rules to beat Lesnar or if his struggles will continue.
As for Lesnar, he wasn't at the arena. However, the way they featured him in that video package was excellent. It focused on him being a wrecking machine for those that may not have seen his previous WWE run and the words he said carried a lot of weight. It reminds me of those shows that UFC does to build up matches. They're really effective when done right. I would love to see WWE adopt that strategy more often because a guy like Lesnar is better in that kind of setting than he is with a live microphone at times. Not everybody is, but it works for Lesnar.
There were some low points in the show like the tag champs getting squashed in a manner that doesn't help anybody, another boring Santino/Otunga match and Ziggler continuing to be poorly used, but none of those segments were that long either.
My last point regarding the show is to put over the London, England crowd. Their enthusiasm made it a lot of fun to watch. Like I said earlier, a hot crowd makes the show better. We've seen it many times. If this same show was in front of last week's dead crowd perhaps things would have been different. Because the crowd was as hot as they were, that led to an entertaining edition of Raw filled with plenty of "YES!" chants. I love it.
The quality segments dominated the show, so that's why it gets a favorable review from me.
John Canton is a Featured Columnist at the Bleacher Report. He'll never understand why WWE hates Toronto so much that we haven't had a PPV there since September 2006. You can read more of his work at his website TJRWrestling.com and follow him on Twitter @johnreport too.