Fantasy WWE: Monday Night Raw (4/9)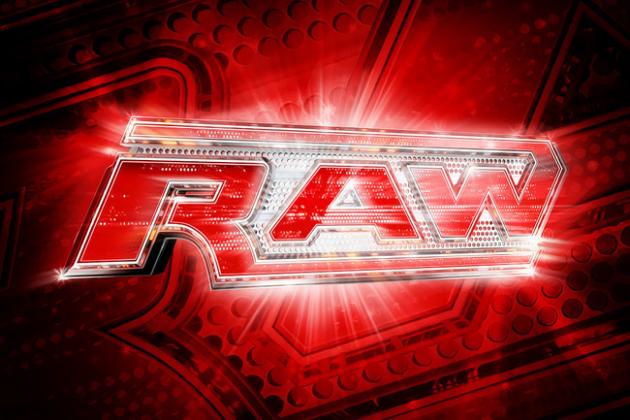 Hey Bleacher Report! This is the posting of this past Monday's episode of Monday Night Raw. As the name implies, this is "Fantasy Raw." By no means will any of this ever happen—it's just a continuation from the Fantasy WWE Series.
The ratings war starts this week, so please leave a comment with a rating from 1 (hated it) to 10 (loved it). Please give some feedback too—it will only help us.
What's going to happen after the Cólons unfairly won the tag-team championship? How will Seth Rollins react after losing to Randy Orton at Wrestlemania? How will Layla react to her continued relationship with Drew McIntyre?
All of these questions and many, many more will be answered tonight. So let's get to Monday Night Raw!
Begin Slideshow

»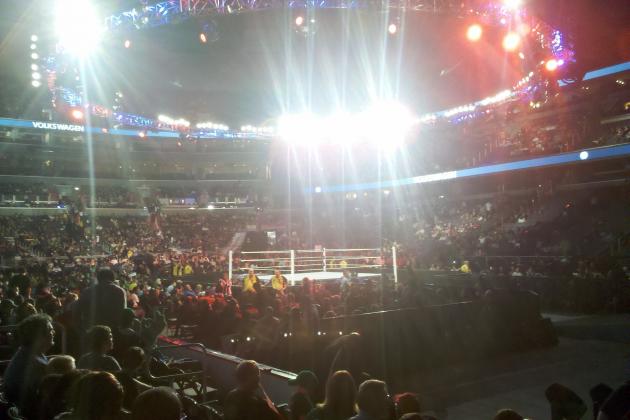 JR: "Welcome to Monday Night Raw! We're here at the Verizon Center in Washington, DC and tonight promises to be a great show!"
Jerry Lawler: "That's for sure. Tonight we're going to see the return of Tiffany, a promising diva who convinced her way to general manager of ECW."
JR: "And on top of that, the COO Triple H will be making an appearance tonight after last week's match at Wrestlemania."
Time to Play the Game!
The crowd pops at the idea of hearing Triple H's theme. He makes his way to the ring pretty slowly and comes in with a pretty big bandage on his forehead.
Triple H: "Well, Washington DC, I gave it my all to the Empire Alliance and its ringleader, Sheamus. While I was not the one to put the nail in the coffin, I did fight and took some bumps.
"But that's not why I'm here. I wanted to announce to the entire WWE Universe, including Raw and Smackdown, that Wrestlemania was a horrendous failure. The matches were fought sloppily and it just did not have the Wrestlemania feel."
HHH: "For this reason, we will be having something that almost seems like it'd be from 1999. Raw GM Vince McMahon and Smackdown GM Michael Cole will be opponents in a WWE ratings war. After each episode of Raw or Smackdown, go to WWE.com and there should be a poll where you can rate the show.
"Whoever has the better standing at Wrestlemania 29 will still have a job. The loser will be fired.
"To start this new age in WWE, a draft will be taking place. The rules are simple. Each week a random Raw superstar will debut on Smackdown and stay there and vice versa. This will be done for six weeks.
"So tonight, in order to get things rolling, let me introduce the draft pick from the 2012 WWE Draft: John Morrison!"
JR: "Wow, what a boom to start this year's draft. I can only believe that Raw became stronger from this move."
Lawler: "I just hope The Shaman of Sexy doesn't get in the way of my relationship with Melina, or Kelly Kelly, or Ros—"
JR: "We get it, King. I just cannot believe that we are already saying hello to one of the craziest high flyers in the business."
Morrison comes out to his signature entrance, which gets a huge pop from the crowd. In the middle of the Slow-Mo, Mason Ryan blindsides him with William Regal next to him. Regal walks into the ring.
Regal: "Tonight my protégé Mason Ryan will be on the road to becoming the next big thing in the WWE. First on his list of people to demolish is RVD, otherwise known as 'Mr. I've won only two matches on Raw.'"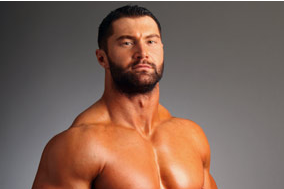 Rob Van Dam comes out to his signature: One of a Kind!
He gets the RVD chants rolling in by doing his signature thumb pointing. He slides into the ring and is immediately victimized to some heavy stomps by the Welshman. Regal stands outside of the ring after being directed by the referee.
The match begins with Mason Ryan hitting a shoulder block on RVD. Van Dam gets up pretty quickly but is then scoop slammed. After getting up a little slower, Ryan goes for a running spinebuster, but Van Dam hits a spinning kick right into the face of Ryan.
He gets up pretty slowly, being a bigger man. As he gets up, Van Dam is already running at him, going for a crossbody. Ryan catches him and stops him.
Rob Van Dam gets up slowly, but is still able to duck out of an attempted clothesline. He rolls Ryan up: 1…2...kick out!
John Morrison is shown getting up slowly from his blindside from Mason Ryan (earlier). Van Dam checks on Morrison, and as he does so, Mason Ryan bullrushes him from behind and outside of the ring.
Ryan tends to Van Dam, lifting him up and eying the steel stairs. He goes for the Irish whip on Van Dam and makes it, but not without some distraction from the Shaman of Sexy: he hit a powerful enzuigiri onto the mat.
As Van Dam slowly gets to his feet, William Regal comes charging over with brass knuckles over his hand. Morrison, in an attempt to stop Regal, hits a running spinning kick on him.
Van Dam is now able to get up and recuperate back in the ring. Mason Ryan slowly follows.
RVD starts working on the face of Ryan, hitting some rights and even hitting a light superkick to the face. Instead of covering up the Welshman, he hits a Rolling Thunder. Now he pins: 1…2...no!
William Regal and John Morrison are shown outside of the ring brawling. Regal is going for a few rights but Morrison jumps onto the ring and performs a moonsault that gets a good pop from the fans.
Back to the ring. Van Dam jumps to the top rope, and as Ryan gets up, Van Dam lands a dropkick to his face. Van Dam now finds it a good time to cover him up: 1…2…rope break!
Van Dam knows now that it's time to fly. He hops on the top turnbuckle and goes for his famous Five Star Frog Splash. He jumps off, and when his body meets Ryan's, the Welshman's knees are up, putting Van Dam in a ton of pain.
Mason Ryan now has time to recover. As he gets up, Van Dam steadily rises and meets a Mason Bomb. He's covered up, but John Morrison hops on the ropes and distracts the referee. Mason Ryan looks over to Morrison, picks him up over the ropes and hits a violent spinebuster.
Ryan now covers Van Dam again: 1…2…3!
"Here is your winner, Mason Ryan!" (Time of Match, 10:01)
Ryan celebrates and signals Regal to come into the ring. Regal enters with a steel chair and hands it to Ryan. The two of them are taking out Rob Van Dam, who got up first. Ryan started this assault with a chair to the head of Van Dam, who almost looked knocked out after that shot.
The referee tries to stop the fighting in the middle of the ring, but it doesn't work. Ryan hits a big boot on Morrison into the turnbuckle.
JR: "I don't see this new feud coming to an end, I only see it beginning."
Jerry Lawler: "I'd love to see this go on for weeks. It would be absolutely crazy."
JR: "I think for once we agree on something."
Finally, a few referees pull off Ryan from Morrison, and he leaves the ring with Regal, their hands held high.
Seth Rollins comes down to the ring for a pretty poor reaction. Much of the Verizon Center crowd is chanting: "OR-TON, OR-TON, OR-TON!"
Rollins: "Shut up! I've just about had it with Randy Orton. I've taken him to his limit twice now and I've beaten him before."
A video shows from Rollins defeating Orton on Raw in January.
Rollins: "That's why I definitely deserve another shot at the World Heavyweight Championship. I'm easily the most qualified superstar on Raw and there's no reason wh—"
Vince McMahon comes out interrupting him.
Vince: "Hold it, hold it. Your performance at Wrestlemania 28 did anything but take Orton to his limits. You think you deserve another chance? I think my guy deserves another chance. So tonight, it will be you taking on my right hand man Kassius Ohno. The winner will take on Randy Orton at Backlash."
Rollins: "I'm not afraid of anybody on the roster. I did take down 29 other participants in the Royal Rumble, and nothing should stop me this time"
Vince: "You mean when you entered last and therefore won the match? I wouldn't say that was a takedown, but good luck tonight. I hope you know what you're doing."
Vince laughs and walks out of the ring.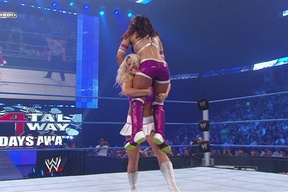 Layla El comes down to the ring with Drew McIntyre for terrible heat. She is loathed by the Washington, DC crowd after what she did to Shelton Benjamin at Wrestlemania 28. Returning WWE superstar makes her way to the ring for a small pop.
McIntyre goes to the announcing table and sits with JR and Jerry Lawler.
JR: "Talk about your love triangle."
Jerry Lawler: "Who do you actually like, McIntyre? Layla or your ex-wife Tiffany?"
McIntyre: "Tiffany is my ex-wife who I'll always love, but Layla just saved me my title."
JR: "Well, Drew, shouldn't you be happy that she loved you so much that she rigged the match for you, rather than saving your title?"
McIntyre: "No comment."
McIntyre remains quiet for the rest of the match, just watching intently and almost daydreaming into space.
Tiffany and Layla are staring each other down. Immediately Tiffany runs at Layla and hits a female Lou Thesz press.
JR: "She's full of rage. We have a report that Tiffany recently asked Drew to come back together, but he declined because of his relationship with Layla was not finished."
Jerry Lawler: "So I'm thinking that you want Layla."
McIntyre: "Don't make me give you a Future Shock, right on this table"
Tiffany waits for her to get back up and then hits a cross body clothesline and pin: 1…2…kick out! Layla gets up and reverses Tiffany's attempted suplex and turns it into an inverted neckbreaker.
Layla finally has some time to recover and gains enough strength to hit a powerful Irish whip into the turnbuckle. She takes her to the top rope and goes for a superplex, but Tiffany gets a few rights and pushes her off. Tiffany goes for an elbow drop, but Layla rolls out of the way.
Tiffany gets up but is taken in for a Lay Out. In the middle of the Lay Out, McIntyre pulls Layla back and holds her in place. Tiffany delivers a few rights and then an atomic drop, followed by a quick diving crossbody. She covers Layla: 1…2…3!
"Here is your winner, Tiffany!" (Time of Match: 5:01)
McIntyre and Tiffany kiss in the ring, and he raises her hand as she leaves.
JR: "Talk about what goes around comes around. She ruins a perfect opportunity with Shelton Benjamin to stay with Drew McIntyre. Now it turns out that he was using her."
Jerry Lawler: "And here you thought that she made the worst decision of her life."
JR: "Was I wrong? She could be with Shelton Benjamin right now, enjoying his company, but now she's knocked out in the middle of the ring without a real significant other."
Jerry Lawler: "Whatever you say, JR."
Kaitlyn is walking around backstage and decides to head into the women's locker room. Inside, Beth Phoenix is in her ring attire.
Kaitlyn: "What are you dressed up for?"
Beth Phoenix: "I have a match tonight, against Alicia Fox. I'm going to show her why she is the worst wrestler on this brand while I am the best."
Kaitlyn: "Well, that's wonderful and all, but how about you try some real competition?"
Beth Phoenix: "Who were you thinking?" She looks at Kaitlyn and laughs: "Please don't tell me it's you."
Kaitlyn: "If you are so confident that you can beat me, why don't we make it a little more interesting?"
Beth Phoenix: "Fine by me."
Kaitlyn: "If I beat you in the ring tonight, I will have a title opportunity at Backlash."
Beth Phoenix: "Well, what do I get if I win? Besides, of course, embarrassing you in front of 20,000 people."
Kaitlyn: "That's for you to decide, and me to agree with. All I know is, I'm going to be the new No. 1 contender, and once I beat that Barbie doll for the belt, I will show you what it means to be a true Women's Champion. I'll see you tonight."
Beth Phoenix finishes stretching while Kaitlyn starts to walk out.
Beth Phoenix: "Wait! Kaitlyn, if I win tonight, you leave Raw. You're nothing but a Barbie who added on fifty pounds because she couldn't stop eating. You don't have muscle; you don't have talent. You're a pitiful excuse for a wrestler, and I'll make sure that nobody on the Raw roster will have to look at you."
Kaitlyn: "You're on!"
Kaitlyn begins to walk out. Beth Phoenix turns around. Kaitlyn then sneaks up on her and viciously pushes her into her metal locker. She then takes Beth by the hair and Irish whips her right into the door to the shower room, which breaks upon contact.
Kaitlyn: "Good luck tonight…You'll need it."
Kaitlyn walks out laughing while Beth Phoenix is completely knocked out in the locker room as we cut to commercial break.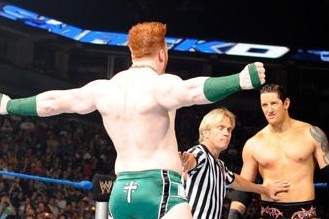 We cut to the ring, where Wade Barrett is entering as the final participant in the match.
"The following match is a tag team match set for one fall. On one side, we have Great White, Sheamus with his partner, the Sinister Scotsman, Drew McIntyre! On the other, Wade Barrett and Shelton Benjamin!"
Shelton Benjamin and Drew McIntyre start this match. Benjamin immediately goes for the crossbody and hits it. Drew McIntyre rebounds pretty quickly, catching a right kick from Shelton Benjamin and turning it into a hard elbow to the leg (a glorified charlie horse).
Benjamin, moaning in pain, quickly spins around and nails a right superkick to McIntyre's face. He covers McIntyre, 1...no! Sheamus is already in the ring and disrupted the pin.
He takes Benjamin and lifts him over his head (in overhead press) and drops his body right onto his knee (in lunge position).
The referee yells at Sheamus to get out of the ring. The impact from the drop to the knee (see move above) gives McIntyre enough time to get back to his feet and tag out.
Sheamus comes in and tries to demolish Shelton. He locks Benjamin into the Torture Rack, and when Benjamin gets the ropes, Sheamus puts him down and immediately hits a shoulder block to knock Benjamin out of the ring.
The referee's count begins: 1...2...3…Benjamin gets up but McIntyre slowly chases after him. Benjamin runs all the way around the perimeter of the ring, (4…5…6…) when Barrett hits an elbow to McIntyre's face (which is quite the pain-dealing blow, seeing as how McIntyre is running).
Benjamin recovers a little more stamina outside of the ring (…7…8…) and then comes back in.
Sheamus is playing possum, just waiting for Benjamin to come in the ring, and when he does, Sheamus takes advantage. He Irish-whips him into the turnbuckle and delivers the crowd friendly 10 punches (although the reaction to that is more quiet than when a face does it).
Shelton falls to the ground. Sheamus has a ferocious look on his face. He stands in the corner, and when Shelton slowly gets up, Sheamus hits a Brogue Kick so hard that Shelton's head looks like it actually fell off.
Sheamus decides that he isn't finished yet. He picks Shelton up and yells at Barrett: "This is what I'm going to do to you!" He lifts Shelton up into Celtic Cross formation. Shelton tries to budge out of his arms to reverse the move, but Sheamus just keeps standing. Shelton keeps trying to reverse the move and even gets Sheamus into Barrett's corner.
Barrett throws some punches at Sheamus just before he got the move off. Sheamus doesn't turn around—he knows the trick. What he doesn't know is that Barrett legally tagged himself in. Sheamus hits the Celtic Cross, and it completely knocks out Benjamin.
Sheamus is taunting in the ring, which gets a bad reaction. Barrett delivers a few punches and this time Sheamus turns around. Although this time, he is taken in for a Wasteland.
Barrett hits it and then runs across the ring, hitting a shoulder block clothesline on McIntyre, who falls out of the ring. Barrett covers Sheamus: 1…2…3!
"Here are your winners: Wade Barrett and Shelton Benjamin!" (Time of Match: 11:33)
Barrett stares at Sheamus and mouths, "That's 2-to-0"
JR: "What a great showing by Sheamus, but in the end, hubris is Sheamus's downfall. I guess the old saying 'nice guys finish last' is wrong."
Jerry Lawler: "This is definitely something I'm keeping my eye out for."
Editor's Note: I wish I knew the names to many of these grapples. I see them done by superstars all the time, but it is impossible to look up "lifts over head and drops his body right onto his knee" on YouTube or Google and come up with something helpful. If any of you readers see any move that you know of from reading my description, please comment. I appreciate it.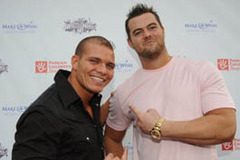 Todd Grisham: "I now bring you backstage, where I am with the Hart Dynasty. DH, Tyson, it was just weeks ago when you guys said that you'd win the championship and you had your Wrestlemania opponents scouted. What happened?"
Tyson Kidd: "I'm not the type of guy who makes excuses, so I'm going to be honest. I don't think we performed the best we could out there."
DH Smith: "Personally I think that the use of the tables were completely unfair. What I don't understand is that in Sheamus and Barrett's match, Barrett was forbidden to be pinned, but in ours, Tyson was illegally knocked through a table and chair, and then immediately after, he was pinned."
Grisham: "I understand this makes you feel angry, but what do you think the tag-team championship situation at Backlash will look like?"
Smith: "Well, hopefully, we get our rightful title shot after the way we were screwed over at Wrestlemania. With that title shot, we'd defeat Epico and Primo, and take back our titles."
Bubba Ray and D-Von Dudley are shown a couple of yards away, just getting out of the locker room. D-Von and Bubba Ray start talking.
D-Von: "Bubba, how are we going to get a chance at the titles at Backlash?"
Bubba Ray: "All we need to do is explain to Vince McMahon that you deserved to win the match. Just tell him Bubba told me to get the table, and he broke Kidd through the table."
D-Von: "I couldn't believe Kidd's face after he flew through that table and chair."
Smith and Kidd walk over to the Dudleys and stare at them.
Smith: "No way do you two deserve a title shot at Backlash. My partner shouldn't have been pinned"
Bubba Ray: "Well, D-Von over here shouldn't have been disqualified."
Vince McMahon comes walking by. He's pretty jolly today.
Vince: "Well, I'm a giving man. Tonight, I want you two to settle your differences in the ring, in a tables match! The winner, will have a shot at the championship at Backlash."
His phone starts ringing and he walks away. We cut to commercial break with Smith and Kidd cheerful while the Dudleys are angry now about having to win their match tonight.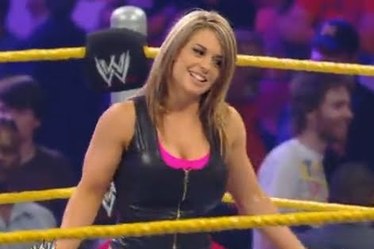 We come back from commercial, where Kaitlyn is standing in the ring with a microphone.
Kaitlyn: "Leave it to Beth Phoenix to not even make it to the match. WWE Universe, how can you support her? How can you cheer for her when she cannot even back up her trash talk?
"Haven't you seen by now that I am the future of this division? The one to end Kelly Kelly? You don't see that Kelly Kelly is just a stepping stone on my journey to superstardom?"
All of these, in proper fashion, receive the classic "What?" response.
JR: "I've just gotten word from backstage that Beth Phoenix is unable to perform tonight with the condition she is in."
Lillian Garcia: "Your winner of this match, by forfeiture, Kait—"
Beth Phoenix's theme goes off and she starts limping to the ring with swelling on her face and bruises all over her arm. Kaitlyn starts laughing over the microphone.
Kaitlyn: "Don't even tell me that you want to take me on tonight. Just let me win this match before your only way out of here is through an ambulance."
Beth keeps walking closer to the ring. When she gets in, Kaitlyn attacks her with a vicious Lou Thesz press. Three referees all invade the ring to pull Beth off of Kaitlyn. They are successful in doing so but Phoenix keeps yelling: "I want a piece of you. Don't hide!"
"No Contest"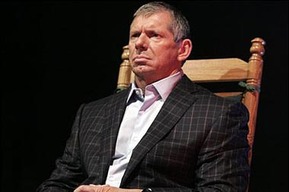 Vince McMahon is sitting in his office filing some paperwork. Seth Rollins walks in and slams the door.
Rollins: "What's your problem, Vince?"
Vince: "You think you can talk to me like that"
Rollins: "I don't care less. You're going to give your kiss-ass main-man Kassius Ohno a shot at the No. 1 contender. He's only been on four matches in his entire Raw career. You must be kidding me.
"I've only lost three matches since January 1st—I'm arguably the hottest superstar in the business. It's absolutely embarrassing that you waste a title opportunity on Kassius Ohno. He should be going for the Women's Championship."
Vince: "Seth, Seth, Seth. You have fought Randy Orton three times. You've only beaten him once, and at that point, it didn't matter.
"Now you come to my office and treat me like crap, expecting another shot at the World Heavyweight Championship. You are the most arrogant superstar on Raw. So now, I'm going to penalize you. You want to know how I'll make sure you deserve your title shot?"
Rollins: "How?"
McMahon laughs. "Because if you win tonight, you won't be the No. 1 contender, oh no. You'll have to win two times out of three. And good luck tonight, because if you lose, Kassius Ohno will be the No. 1 contender. No ifs, ands or buts."
Rollins: "This is some sort of joke, right? You are going to give that piece of crap a title shot. I've busted my ass around here for months. You know what? I hope I get drafted to Smackdown, because I want nothing to do with you. See you later, 'boss.'"
Seth Rollins walks out. Next up at the door is Chris Masters.
McMahon: "Well, if it isn't Chris Masters. I have good news and great news. I know that drugs are a problem in many people's lives and WWE acknowledges that. To make sure that none of my superstars have a drug problem, I'm making sure that nobody gets away with it. That's the good news.
"The great news is that the WWE draft is now upon us. And on Friday, Smackdown will be on the clock. Now I'm not a gambling man, but I'll make sure that if you're not drafted to Smackdown, you're on the streets. That's right. If you do not leave for Smackdown by the end of next month, you'll be fired."
Chris Masters doesn't say anything. He takes the chair he was sitting on and starts whacking it against objects in the room, including Vince's laptop. He then breaks the door down and tells Vince McMahon he can shove Masters' Raw contract up his ass.
The Hart Dynasty, especially Tyson Kidd, looks tired after Wrestlemania's severe beatdown. They come into the ring for a huge pop. The Dudley Boyz get a pretty strong mixed reaction.
Lillian Garcia: "This match is set for one fall and it is for the No. 1 contender to the tag team championship!"
Tyson Kidd and Bubba Ray Dudley start in the ring. Dudley goes for a few chops and is then on the receiving end of a spinning kick. He does not fall down, though. He instead counters by catching another spinning kick and turning it into a powerslam.
When Kidd gets up, he is the recipient of an atomic drop, followed by a suplex hammer. He tags D-Von Dudley in. D-Von immediately goes for a diving headbutt. When Kidd gets up, he is on the receiving end of a German suplex.
D-Von Dudley pins Kidd: 1…2...kick out! Dudley picks up Kidd and goes for a few chops. Kidd is now leaning on the turnbuckle, as it holds him up. Dudley lifts Kidd to the top rope and goes for a superplex, but Kidd is able to jump off and, in doing so, falls out of the ring and onto the mat. He's in severe pain.
D-Von Dudley rolls him back into the ring and hits a running leaping shoulder block. He does not wait for Kidd to get up, he instead lifts him up and hits a falling powerbomb. The pin: 1…2…rope break!
He tags in Bubba Ray Dudley and the two of them go for Wassup? They hit it on Kidd. Tyson Kidd rolls around in pain and is fortunately close to DH Smith. British Bulldog Jr. leans as far as he can to grab Tyson Kidd.
Kidd inches very slowly—it looks like he's going to make it until Bubba comes charging at him. Kidd is about to get there, but Bubba is about to maul him. Somehow Kidd makes the tag. Bubba, not realizing that he's tagged out, starts mauling Kidd with tons of stomps.
Smith, in on the hot tag, absolutely demolishes Bubba, going for a powerslam, followed by a saito suplex. He also delivers a running big boot to D-Von Dudley. He now leaves the ring himself and brings in a table.
He sets it up into the turnbuckle and Irish-whips Bubba Ray that he almost broke it (but right now he is leaning against it with his stomach touching the table).
He sees Tyson Kidd slowly getting to his feet and walks him into the corner across from Bubba (there are two of them, but DH picked one). He picks Kidd up and places him on the top turnbuckle.
Kidd jumps all the way across the ring (horizontally), and lands a diving dropkick on Bubba's lower torso. The impact is hard enough to break him through the table.
"Here are your winners, the Hart Dynasty!" (Time of Match: 9:18)
JR: "They will finally get another chance to capture the titles that they have desperately sought."
Jerry Lawler: "And if their match against the Cólons is even half of what they did tonight, that match will be one of the better ones we've seen from them."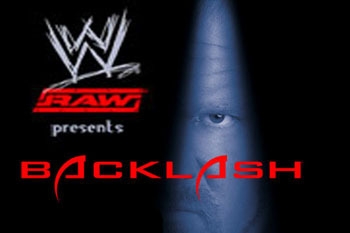 On April 29, Backlash will take over WWE. Witness what will be an amazing list of matches, featuring:
1. Randy Orton vs. Seth Rollins (Or Kassius Ohno) for the World Heavyweight Championship
2. The Hart Dynasty vs. The Cólons for the World Tag Team Championship
3. And many more to come!
The only way to learn more is by continually tuning into Monday Night Raw!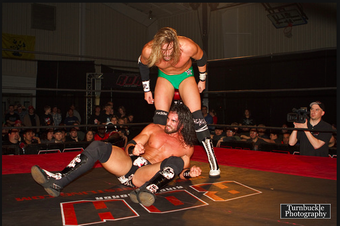 We come back from another commercial and Kassius Ohno is already in the ring. Seth Rollins comes out to the biggest heat of the night. Boos fill the entire Verizon Center as Rollins laughs and shrugs it all off.
JR: "These guys have been everywhere with each other. They started in the same independent wrestling promotion, they both made it to Florida Championship Wrestling and then took their talent to the big leagues. Yet tonight, or for up to three weeks, they will be intense rivals, trying to defeat and demolish the other, as they try to get that leg-up.
"This series is based on one thing: the World Heavyweight Championship. Will we see Vince McMahon's protégé prevail? Or will we see the hottest superstar on Monday Night Raw make it to the next match?"
The two of them start in the ring with a test of strength. Rollins wins and then delivers a kick to the gut, followed by a whip into the turnbuckle. He runs in for the clothesline, but Ohno moves out of the way and Rollins collides with the turnbuckle.
Ohno hits a backbreaker on Rollins. When Rollins gets up, Ohno delivers an Irish whip of his own. Instead of going for the clothesline, he walks over and hits Rollins in the upper torso with a dropkick.
Rollins rolls out of the ring to save a possible pin. He gets up and the ref starts counting: 1…2…3…4…5. Rollins starts to taunt the crowd, which gets vicious heat. He enters the ring at six.
Ohno takes advantage of the situation by getting in a few rights, with a left here and there. Ohno goes for a German suplex, but Rollins turns out of it, bounces off the ropes and hits a running bulldog.
Rollins gets up and looks to be going for a diving leg drop. Instead of going for a leg drop, Rollins lies straight out and lands on Ohno. He covers him up: 1…2...kick out!
Ohno slowly gets up, but he sees Rollins going for the Avada Kedavra and ducks out of the way. He rebounds by hitting a running shoulder block. He lifts Rollins and Irish-whips him into the turnbuckle.
Ohno delivers ten punches and then lifts Rollins to the top turnbuckle. He falls off while holding onto Rollins, which is essentially a top-rope facebuster. He covers Rollins: 1…2…kick out!
Rollins slowly gets up. Kassius Ohno goes for an atomic drop, but Rollins catches himself instead of groggily recovering. Ohno now goes for Hero's Welcome, but Rollins pushes Ohno and lands an enzuigiri on the rebound.
Rollins barely gets up before Kassius Ohno. Rollins delivers a surprise Avada Kedavra, but he doesn't cover him up.
Rollins decides what he's going to do next. He waits for Ohno to get up and hits God's Last Gift. Rollins drags Ohno to the middle of the ring. He covers him up: 1…2…rope break.
Rollins cannot believe it. He drags him closer to the middle of the ring and goes to the top turnbuckle. He goes for a diving elbow drop but Ohno gets his leg up to block it. He covers Rollins: 1…2...kick out!
Rollins gets up slowly but before Ohno. He goes for a German suplex and hits it. Ohno gets up and turns an attempted running shoulder block into an elbow to the face of Rollins. He covers him up: 1…2…kick out!
Ohno decides to go for the Hero's Welcome. He puts Rollins in that pre-Twist of Fate position, but Rollins has enough energy to push him off and hit a dropkick.
Rollins thinks he has enough in the tank to hit another God's Last Gift. He takes Kassius Ohno, gets him rolled up in a ball and hits it. He covers him up: 1…2…3!
"Here is your winner, Seth Rollins!" (Time of Match: 12:01)
JR: "Well, congratulations, Seth. Had he not complained to Vince, he'd definitely have a shot at Randy Orton at Backlash. Now, he has to beat Vince's protégé again."
Vince McMahon's theme goes off and we hear some sarcastic clapping.
Vince: "Well, Seth, you defeated my main man. Keep in mind what I said. And next week, I'll make your challenge just a little more challenging. Next week, it will be Kassius Ohno versus Seth Rollins in a Falls Count Anywhere match."
This gets a good pop as the show ends.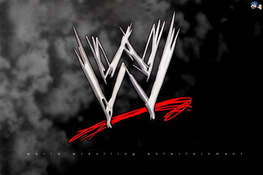 And that's our show! Tell me if you liked it by leaving a comment with a rating of the show (1 to 10). Just as a recap, this was the card:
Mason Ryan w/William Regal def. Rob Van Dam via pinfall
Tiffany def. Layla via pinfall
Wade Barrett and Shelton Benjamin def. Drew McIntyre and Sheamus via pinfall
Beth Phoenix vs. Kaitlyn was no contest
The Hart Dynasty def. The Dudley Boyz via KO
Seth Rollins def. Kassius Ohno via pinfall
We also know that next week there will be a Last Man Standing match between Rollins and Ohno in part two of the best-of-three series. What will happen with Beth Phoenix? Who will get a chance at Randy Orton's World Heavyweight Championship come Backlash?
Tune in tomorrow night for the next episode of Monday Night Raw and on Thursdays at 7:00 p.m for episodes of Smackdown.
Editor's Note: Raw episodes are supposed to be uploaded by 7:00 p.m on Sunday night, but there were A LOT of technical difficulties. Expect them to return to Sunday nights starting next week
Don't forget to comment, and thanks for reading!