Wilson with a good coverage play
Ezra Shaw/Getty Images
April 15, 2012
Safety
University of Illinois

Combine Measurements
Height: 5'11-3/4"  
Weight: 205 pounds 
40-yard dash: 4.52 seconds
20-yard split: 2.56 seconds  
10 yard split: 1.60 seconds

20 yard shuttle: 4.16 seconds
Three-cone drill: 7.04 seconds
Bench press: 17 reps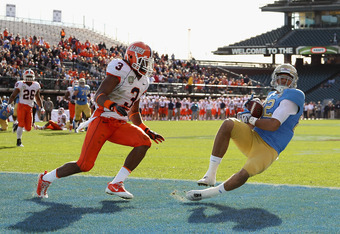 Wilson does get beat though.
Ezra Shaw/Getty Images
Vertical jump: 32.0"
Broad jump: 10'4"
Stats
2008: 11 games, 0 games started, 11 tackles, 0.5 tackles for loss, 1 pass break-up 
2009: 12 games, 12 games started, 74 tackles, 3.5 tackles for loss, 7 pass break-ups, 1 interception 
2010: 13 games, 13 games started, 48 tackles, 2 tackles for loss, 8 pass break-ups, 1 interception 
2011: 13 games, 13 games started, 81 tackles, 6.5 tackles for loss, 6 pass break-ups, 1 interception, 1 forced fumble, 1 sack, 2 fumbles recovered, 1 touchdown
Scouting Report
Strengths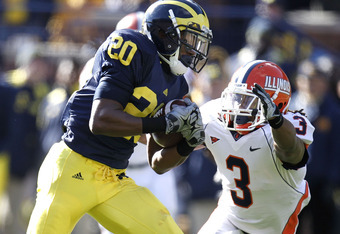 Taking a bad angle.
Gregory Shamus/Getty Images
Wilson has an excellent athletic ability and can fly around the field. He also has an ideal build for a safety at 6'0", 205 pounds and can attack a player and create fumbles with his hits. He's a smart leader as well and is known as a hard-working player.
His best part of his game is his special teams' abilities. He is an instant gunner for whoever drafts him and can still contribute as a depth safety. Also, he has an excellent blitz ability.
Weaknesses
He isn't the most fluid athlete and has issues with coverage. He doesn't have the best hips and isn't the most instinctive player, either. He also has issues wrapping up his tackles and doesn't always take the best angles.
Overview
He's a true project at safety. He is not likely to contribute past special teams early on and is a likely role player.
Like the new article format? Send us feedback!