Mizzou Unleashes the Tiger in New Nike Football Jerseys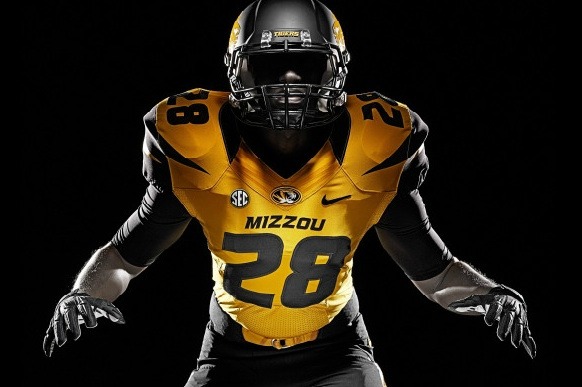 Move over Oregon, you officially have jersey competition in the field of NCAA football.
The University of Missouri, or Mizzou known by fans, has officially unveiled new jerseys for the football team to be used this upcoming season. A project which has been under strict lock and key finally stepped onto the field during the Yellow and Black Mizzou spring scrimmage.
Don Barnes, the university's Director of Equipment Operations, has been heading this top secret project for 18 months without a single peep to escape, according to The Columbia Tribune. The goal for the project has been to introduce a department-wide brand for the university and to make Mizzou a top identified program. The jersey designs have been headed by Nike under an eight-year contract ($2 million per year) for the university.
Working alongside Nike, the football squad is not the only to be welcomed for this program; men's and women's basketball, volleyball and soccer programs will also be a part of the new Mizzou brand. The jersey changes will be implemented starting for the 2012-2013 season.
Time to take a deeper look into the eye of the tiger!
All photos via mutigers.com.
Begin Slideshow

»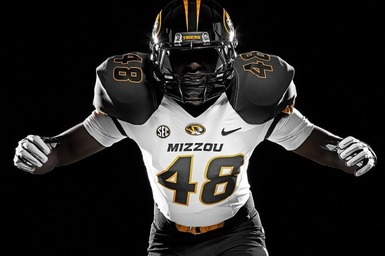 According to Mizzou athletics:
The fully integrated Nike Pro Combat system of dress provides enhanced durability and innovation from the inside out where the baselayer and padding work in concert with the jersey and pant. The uniform system design emphasizes improved thermoregulation and is constructed with fabric selected for its ability to help keep the body cool and wick away sweat – making the uniform, and player, lighter and dryer. The jerseys are made of four-way stretch woven twill that sheds moisture. A Flywire collar eliminates two layers of fabric for improved breathability, providing a more stable anchor to keep the jersey in place.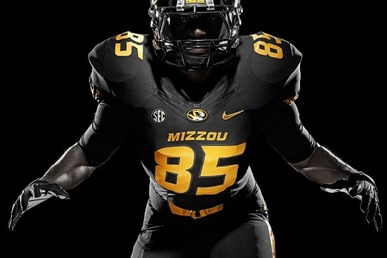 The University of Missouri will certainly have an intense, fear-striking persona as they grind away on the football field. The all-black uniforms create a "black-sea" appearance as the team steps onto the field.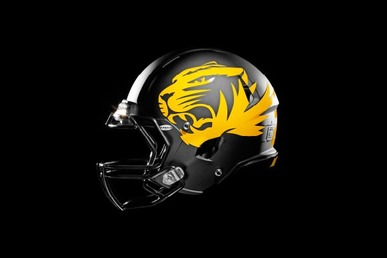 Mizzou leads with an updated version of the logo of their yellow and black tiger. The helmet dawns the dull, hazy helmet appearance as the tiger stretches much larger than past helmets. Easily stated, this is one of the best if not best helmets in all of football!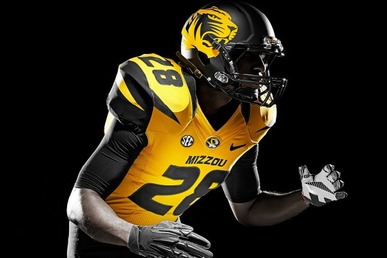 Oregon fans have had the past years to relish in the glory of best jerseys and helmets. Although another big university steps up and follows the Ducks with stylish uniforms. The daunting yellow and black jerseys electrify and the larger tiger logo helps push the new Nike jerseys over the top!
What do you think of the Mizzou jersey change? Will it help establish their brand as a large national university? Better yet, are these jerseys better than Oregon's flashy duck uniforms?