Why Phil Hughes and David Phelps Should Swap Roles for the New York Yankees
April 14, 2012

Phil Hughes recorded his second straight poor outing on Saturday against the Angels en route to a 7-1 loss.
It took Hughes 84 pitches to record just 10 outs, and he allowed six runs on eight hits and two walks. Two of the eight hits were home runs.
Rookie David Phelps—making his Yankee Stadium debut—came on in relief of the struggling Hughes.
Phelps was fantastic through 5.1 innings, allowing just one run on one hit and two walks. The one run was a home run by Vernon Wells. He also struck out four.
The home run by Wells was the first baserunner allowed in Phelps's young career.
On the season, Phelps currently owns a 1.08 ERA over 8.1 innings. Opponents are currently hitting just .038 against him, and his WHIP currently sits at 0.36.
Hughes, on the other hand, has pitched just eight innings in two starts this season. Through those starts, Hughes owns a 9.00 ERA with a 2.13 WHIP and three home runs allowed.
Opponents are hitting a comfortable .351 against him, and his WHIP is an atrocious 2.13.
This comes after a fantastic spring by Hughes that earned him a spot in the rotation.
It may be early in the season, but the Yankees cannot afford more short outings by Hughes. They were lucky today that Phelps was able to give them length in relief, but he may not always be able to do so.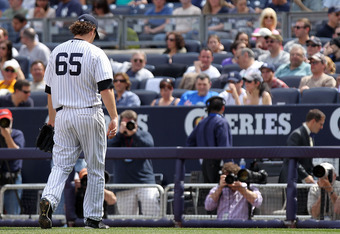 Nick Laham/Getty Images
While help is on the way in the person of Andy Pettitte, the Yankees shouldn't wait until the end of May to make a move.
An immediate fix is available, and he provided the Yankees with a longer outing than the starting pitcher in Saturday's ballgame.
Phelps could provide the Yankees with several quality starts before Pettitte is ready, while Hughes can hurt the team much less in a long relief role.
Although Phelps is a rookie and it's his first time in the majors, he has been a starter for 86 of his 87 minor league appearances.
In his four-year minor league career, Phelps owns a 38-15 record with a 2.61 ERA. He was also effective at limiting baserunners, as he put together a 1.184 WHIP.
The Yankees could easily swap Hughes for Phelps for at least a few starts to see how Phelps pitches. It would be a good move to see if Phelps is ready for a spot in the rotation for future seasons.
Honestly, he probably couldn't pitch much worse than Hughes is right now.