Rios vs Abril and Juan Manuel Marquez vs Sergey Fedchenko Live Blog from Vegas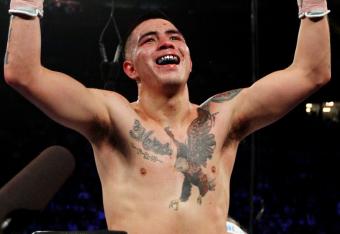 Al Bello/Getty Images
All right, fight fans, it's been a rainy weekend in Las Vegas. To get everyone up to speed, this was supposed to be the "too good to be true" fight of two undefeated, fast-rising stars: Brandon Rios vs. Yuriorkis Gamboa tonight, but unfortunately Gamboa is not fighting Rios tonight.
Richard Abril is stepping in for what was supposed to be a 135-pound title bout.
Rios has been known for his weight issues lately and unfortunately yesterday at the weigh-in it was evident he must move up in weight, for he weighed in at 137 lbs, not qualifying to win the title should he win the fight.
Abril has agreed to continue with the fight making the 135 lbs limit. Word is Abril has been guaranteed a significant amount of money including a portion of Brandon's fine for not making weight and even an added bonus from Brandon's purse to assure the fight is a go.
There is also a $50,000 bonus going to the winner of the Rios vs. Abril fight.
Mexican legend Juan Manuel Marquez and his opponent Sergey Fedchenko both made their 140-lbs weight limit and their fight is taking place in a split location venue in Mexico City where those of us in attendance at the Mandalay Bay will be watching the fight live on the jumbo screen.
Also on the undercard, Mike Alvarado and Mauricio Herrera both made their 140-lbs limit fight for their 10-rounder.
Mercito Gesta and Oscar Cuero make their contracted 138-lbs limit as well.
For those of you fight fans in attendance tonight at the Mandalay Bay there will be an after party here at one of the clubs as I am getting word from my associates at Top Rank. It is a private VIP list, so let me know if you are interested on getting on that list; I can see about getting you the details for that.
For more breaking news and live round-by-round results keep checking back at this live blog from Las Vegas and make sure to follow me on Twitter for even more real-time updates and photos:
Follow on Twitter: @KingJ323
We are off to the post fight conference if theres anything interesting I'll post pics via my Twitter so follow me there if you are not already doing so.
Thanks for tuning in for the fights my fellow fight fans.
Unanimous Decision JMM Dinamita the greatest Mexican warrior of our time!!!!!!!!!
12th and Final round:
JMM goes for the KO making Segey duck down to avoid shots and knees buckle. Crowd gets wild even at the Mandalay Bay it seems JMM just woke up the sleeping crowd here but Mexico crowd is one fire.
JMM throwing big bombs and Sergey holds on to survive the round.
JMM's round.
I have it either a shut out for JMM or 11 to 1 if you want to be generous.
Round 11:
JMM is just going to the body to the right and to left. Sergey has NO ANSWER for those body shots at all????
JMM round
Round 10:
More exchanges in this round. JMM straight right and lands and another right partially blocked.
JMM throws a double left hybrid hook upper cut followed by another left then a right and crowd goes wild in Mexico.
It seems JMM is going for a KO?
JMM round
Round 9:
Sergey lands to the cheek of JMM and JMM throws wildly and misses.
Sergey actually might have done just enough to steal this round.
If you want a round to give to Sergey it be this round.
Round 8:
The two fighters exchange and both land. Sergey lands a 1-2.
Sergey is doing just enough to keep JMM at bay but not enough to win the rounds not nearly throwing as much as JMM.
JMM goes up the middle with a right and left. Seems like the left lands cleaner.
JMM's round
Round 7:
JMM going downstairs , then upstairs.
It seems Sergey really has no answer for when JMM goes to the body for he keeps landing over and over to the body these shots will take away Sergey's legs and soon knock the wind out of him sooner or later.
JMM throws a 3 punch combo and Sergey finally fires back and lands a clean right but JMM fires back and lands 3 more shots and then the bell rings.
JMM's round
Round 6:
When JMM lands an uppercut the Mexico City crowd cheers loud!
JMM lands to the side of the face and them to the side of the body beautifully.
Sergey opens up but shots are partially blocked.
JMM's round
Round 5:
Great combinations by JMM to both side of Sergey's body.
Sergey is not doing much it seems he is either confused or just not confident to open up for JMM will counter him?
Some more combos and upper cuts to Sergeys face as he ducks down trying to avoid.
JMM's round
Round 4:
JMM lands some big shots and the crowd cheers we can even hear it here in the Mandalay Bay off the jumbo tron.
Big right to the body of Sergey followed by a big left.
Brilliant technical beat down by the master JMM!
JMM round
Ok after some technical difficulties we are back in the JMM/Sergey fight round 3.
As most of you assumed JMM is definitely outclassing a still game Sergey.
In round 1: Sergey actually caught JMM clean coming in as he was trying to deliver his own right hand, but JMM pretty much went to the body for the rest of that round and won that round.
In round 2: JMM was working on breaking down Sergey setting it all up with the jab and following up with combos. JMM round
Round 3: JMM round more of the second round. JMM is timing Segey and going to the body as Sergey is just waiting.
JMM's round
Alright folks they pulled down the jumbo trons and they got the JMM vs Sergey fight on now transmitting live from Mexico City.
So we'll have that fight up next if our technical difficulties don't fail us (knock on wood)
117 to 111 Abril
116 to 112 Rios
115 to 113 Rios
Split Decision for Rios
Told You!!!! They want the JMM vs Rios Fight in July TOLD YOU!
12th and final round!
Rios is really trying to go for the KO but Abril is holding on to his left arm.
Crowd is pissed and screaming why isnt the ref taking a point away for holding?
Abril gets some good jabs in straigh up the middle.
Close round but we'll give it to Rios because he really fought and went for it where Abril just played it safe.
Rios round.
I think I gave only 3 or 4 rounds to Rios but I feel the judges will weigh heavily that Rios was pressing the action and to be completely honest the big money fight against JMM is on the line for July.
So don't be shocked if the decision is something far different from my score card.
Round 11:
Rios is tired but still trying to come forward. Abril is tying him up like he's been doing all night. Abril did not counter much in this round just block and back up.
We can give Rios this round for being the aggressor
Rios round
Round 10:
Rios and Abril get tied up in the corner and Brandon is mouthing off to Abril and the referee comes to separate them Rios not paying attention to the ref and throws a punch at Abril.
Vic thinks and decides just to warn Brandon without taking a point away.
Abril is blocking most of Rios shots and counters cleanly.
At the end of the round Brandon cusses Richard out as he walks to his corner
Abril's round
Round 9:
Abril opens the round with a big 1-2 to the face of Rios.
Rios is chasing Abril around the ring, Richard opens up when he sees clean targets and he's landing to the head of Rios.
Rios is trying but the problem is he's not switching it up its the same one dimensional attack.
Abril's round
Round 8:
Rios swing and misses wildly and almost sends himself to the canvas.
Rios is really trying to make something happen in this round but Abrils blocking and turning most of the punches.
Abril seemed to take this round off.
Rios round, he was far busier and although he didn't land much clean punches he outlanded and outworked Abril. But its still sloppy mostly due to Abril holding excessively.
Round 7:
Rios is coming straight forward at Abril and Richard's just waiting patiently to counter and he does.
Whenever Rios gets wild and gets inside Abril still is holding and referee finally warns Abril for holding and crowd cheers.
Abril's round
Round 6:
Abril's round. Abril's staying outside and smartly boxing. Rios appears frustrated and is slowing down already.
Abril lands good combos countering Rios wild punches.
Rios looked like he took the round off?
Abril's round
Round 5:
This is more of the same Abril trying to stay on the outside and when Rios tries to get inside Abril ties him up so he can't punch.
After the round Brandon laughs in Abri's face and starts dancing to the DJ's music.
Abril's round
Round 4:
Abril keeping the distance with the jab and its landing.
Brandon gets inside and Abril holds his right hand so he unloads with his free left hand.
Referee has to split them up everytime Rios gets inside.
Rios throws big left hooks but Abril wisely blocks most of them with his own glove.
Close round again.
If you want the guy pressing the action its Rios, if you like the guy smartly outboxing and landing clean then its Abril.
We'll give it to Abril
Round 3:
Abril is boxing Rios smartly he knows he does not have the power hurt Rios if they trade and quite frankly when Rios lands he hurts Abril and it shows on his face.
Abril lands a good right counter.
Rios comes forward like nothing happened.
Big right hand makes Abrils face twist. Crowd screams.
Abril answers back with his one shot and Brandon seemed to trip over his feet back into the ropes.
Close round.
Rios is opening up more and lander more we'll give it to Rios.
Round 2:
RIos is more aggressive and goes two hooks to the body of Abril.
Abril lands a big right that makes Rios head move down.
Big right counter onto the side of RIos head.
Rios lands a big upper cut inside.
Abril tries to hold whenever Rios gets inside and lands. Draculich warns Abril for holding. Crowd boos.
Close round we'll give it to Abril.
This article is
What is the duplicate article?
Why is this article offensive?
Where is this article plagiarized from?
Why is this article poorly edited?