NHL Mock Draft 2012: Full First-Round Predictions for the NHL Entry Draft
April 12, 2012

Richard Wolowicz/Getty Images
The NHL season is over for the 14 teams that didn't make the Stanley Cup playoffs, and those clubs have already turned their attention to the 2012 NHL draft.
With the order of the top 14 picks already set after Tuesday's draft lottery, which the Edmonton Oilers won the for the third straight year, it's time to do a fresh first-round mock draft.
Note: Draft order from picks No. 15 through 30 based on projected finish.
1. Edmonton Oilers: Nail Yakupov, RW, Sarnia (OHL)
The Oilers cannot pass on a future star in Nail Yakupov, even though their No. 1 concern is one the blueline. Taking Yakupov and moving Taylor Hall to center is the best option for the franchise.
2. Columbus Blue Jackets: Filip Forsberg, LW, Leksand (SWE-2)
If the Blue Jackets trade Rick Nash, they will need a power forward to replace him at left wing, which is exactly what Filip Forsberg is. He's a raw talent, but his potential is sky high.
3. Montreal Canadiens: Mikhail Grigorenko, C, Quebec (QMJHL)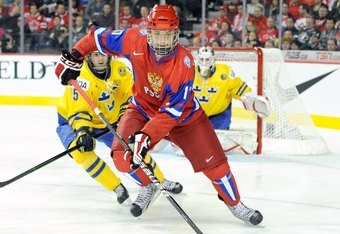 Richard Wolowicz/Getty Images
Mikhail Grigorenko could certainly be the franchise forward that the Montreal Canadiens have lacked for years. He will step right into the NHL and perform at a high level.
4. New York Islanders: Mathew Dumba, D, Red Deer (WHL)
With little quality depth on defense, expect the New York Islanders to select Mathew Dumba of the WHL. He will really add a nice two-way game to the Islanders' blue line.
5. Toronto Maple Leafs: Ryan Murray, D, Everett (WHL)
The Leafs might trade this pick if they can move up or get an established NHLer for it, but if they stay at No. 5, Toronto will take the best defenseman in this draft in Ryan Murray of Everett.
6. Anaheim Ducks: Alex Galchenyuk, C, Sarnia (OHL)
The Ducks need more scoring and center depth, which makes Alex Galchenyuk a perfect fit out of Sarnia. Anaheim has had a lot of success drafting forwards who over the last decade.
7. Minnesota Wild: Jacob Trouba, D, US NTDP (USHL)
Unless the Minnesota Wild upgrade their talent on defense, they won't make the playoffs next season. Jacob Trouba is an offensively talented defenseman who will improve the Wild in several areas.
8. Carolina Hurricanes: Zemgus Girgensons, C, Dubuque (USHL)
Zemgus Girgensons will give the Carolina Hurricanes the physical power forward they desperately need and address another need, which is depth at center.
9. Winnipeg Jets: Radek Faksa, C, Kitchener (OHL)
The Winnipeg Jets will select the best forward available at No. 9 in Radek Faksa, even though defense is probably a bigger need.
10. Tampa Bay Lightning: Griffin Reinhart, D, Edmonton (WHL)
Griffin Reinhart is a typical puck-moving defenseman who skates very well and makes plays offensively. After a horrible season in which they allowed a ton of goals, the Lightning need to add some defensive quality to their team through the draft.
They are better off fixing their goaltending issues through free agency.
11. Washington Capitals (from Colorado): Olli Maata, D, London (OHL)
With the future of upcoming free-agent defensemen John Carlson and Mike Green uncertain, selecting Olli Maata is a tremendous idea for the Capitals.
12. Buffalo Sabres: Morgan Rielly, D, Moose Jaw (WHL)
A torn ACL didn't allow Morgan Rielly to have the season he would have liked, but when healthy, he's one of the best talents in this draft and a great value at No. 12 for Buffalo.
13. Dallas Stars: Teuvo Teravainen, LW, Jokerit (FIN)
Adding a smooth-skating goal scorer such as Teravainen would really help the Dallas Stars' offense get to the next level.
14. Calgary Flames: Cody Ceci, D, Ottawa (OHL)
The Flames need to bolster their defensive depth by selecting Cody Ceci of Ottawa, who could turn out to be one of the best players from this draft.
15. Ottawa Senators: Sebastian Collberg, RW, Frolunda (SWE)
Adding a player with tremendous speed and scoring ability like Sebastian Collberg would really help the Senators make up for Daniel Alfredsson's departure if he retires in the summer.
16. Washington Capitals: Stefan Matteau, C, USNTDP (USHL)
One aspect the Capitals are really missing from their top nine forwards is physicality and grit, which is why power forward prospect Stefan Matteau would be a nice fit in Washington.
17. Florida Panthers: Brendan Gaunce, C, Belleville (OHL)
The Panthers would be quite happy to find Brandon Gaunce at pick No. 17. His playmaking ability would really help Florida continue to build a strong core of talented young forwards.
18. Columbus Blue Jackets (via Los Angeles): Ludvig Bystrom, D, Modo (SWE)
The Blue Jackets have to continue their rebuild of the blueline, and Bystrom is talented enough where he can help them at the NHL level very soon.
19. San Jose Sharks: Pontus Aberg, LW,Djurgarden (SWE)
The Sharks will likely look to get younger at forward in the summer, which means Pontus Aberg is a good fit here considering he's a talented skater with an accurate shot. 
20. Phoenix Coyotes: Tomas Hertl, C, Slavia Praha (CZE)
With the possibility that star forwards Ray Whitney and Shane Doan could leave as free agents in the summer, the Coyotes would be smart to add some offensive depth through the draft.
21. Chicago Blackhawks: Andrei Vasilevski, G, Ufa (KHL)
Goalies are always a risk, but the Blackhawks' goaltending this season has been poor and may prevent them from winning the Stanley Cup.
22. New Jersey Devils: Hampus Lindholm, D, Rogle (SWE)
Lindholm is a tremendous skater and would move the puck well on the Devils' blue line. He would be a great fit alongside fellow Swedish defenseman Adam Larsson in New Jersey.
23. Tampa Bay Lightning: Malcolm Subban, G, Belleville (OHL)
The Lightning are a good goalie away from being a top contender in the Eastern Conference, which makes the selection of top goalie prospect Malcolm Subban an easy decision.
24. Boston Bruins: Derrick Pouliot, D, Portland (WHL)
The Bruins build their teams from the back and certainly wouldn't be opposed to adding Derrick Pouliot to the team's defensive depth.
25. Philadelphia Flyers: Slater Koekkoek, D, Peterborough (OHL)
Considering the Flyers' injuries on defense this season, selecting a talented defensive prospect in the first round makes sense for Philly.
26. Buffalo Sabres (via Nashville): Colton Sissons, RW, Kelowna (WHL)
The Sabres need more goal scorers, and that's what Colton Sissons of the WHL will give them. His good speed would also be a nice addition to Buffalo's lineup.
27. Pittsburgh Penguins: Martin Frk, RW, Halifax (QMJHL)
The Penguins may look at a defensemen here, but many of the top blueliners will be gone by the end of the first round. Settling for an offensive talent like Martin Frk certainly isn't a bad thing, though.
28. St. Louis Blues: Thomas Wilson, RW, Plymouth (OHL)
Adding the grit and physical makeup of Thomas Wilson to their lineup would really help the Blues in the future. The team doesn't have enough power forwards.
29. New York Rangers: Scott Kosmachuk, RW, Guelph (OHL)
The Rangers have done a great job building their team through the draft over the past few seasons, and I expect that success to continue with the selection of Kosmachuk.
30. Vancouver Canucks: Scott Laughton, C, Oshawa (OHL)
With the Sedin twins nearing the end of their prime, the Canucks will need to build their center depth up before their two stars leave the team.