NASCAR: Can Elliott Sadler Keep Up His Fast Start to the Nationwide Season?
April 11, 2012

Jared C. Tilton/Getty Images
If there is a driver with something to prove in the Nationwide Series, that driver is Elliott Sadler.
Sadler moved into the Nationwide Series back last season, driving for Kevin Harvick Inc.  Driving for KHI made Sadler a favorite to win races and the championship.  
Sadler got off to a rocky start last season and built some momentum towards the end.  Unfortunately he was unable to get a win.
Now, this season, Sadler is driving for Richard Childress Racing and he's off to a fast start with two wins and currently leads the Nationwide Series points standings.
Sadler talked about the 2011 season and his fast start this season during a teleconference.
"You know, last year we did have a great season. You know, but it was the first year with this Nationwide car and we all kind of had to learn it together, not only myself but also my crew chief Ernie Cope and also everybody at KHI. We went through some growing pains towards the beginning of the season, I felt like we got okay there at the end of the season and just missed our goal a little bit. We really wanted to win the championship and that didn't happen, but it wasn't from lack of effort. But we felt like we steadily improved as the year went on.           
"Fast forward to this year, I just think being on the same campus as a Cup-affiliated team and being on the same campus with Cup teams that have so much engineering help and so much technical support, and a lot of that trickles down to our shop. Just helps our program a lot."            
There is no doubt that Sadler is reaping the benefits of driving for a team that has Sprint Cup Series teams, but it seems the rest of the Nationwide Series has stepped up their performances against the Sprint Cup drivers.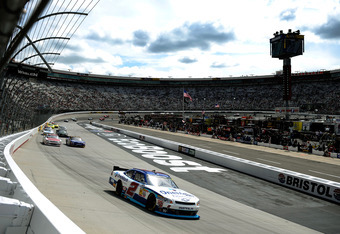 Jared C. Tilton/Getty Images
Nationwide drivers kept the Sprint Cup drivers out of victory lane for the first four races until Joey Logano broke through for a win.
I asked Elliott about the difference in competition in the Nationwide Series and how it has gotten stronger.
"Well, I think everybody is learning more about these cars. I think the Cup guys had a lot of experience in this style of race car for the last five or six years. A lot of Nationwide guys—it was their first year in this style of car with the splitter and now the valance and stuff on the front end. 
"The cars definitely drive a lot different, react a lot different in the race, react a lot different in traffic and aero wise. So I just think everybody has learned more about these cars this winter and we're all kind of, I think, closer on the same playing field, and I think that's why we're seeing some different winners than what we saw in the past.        
"You know, we were able to win two of them. Of course Ricky won one in Vegas, and then of course winning at Daytona was pretty neat with the last-lap pass and wrecks and things like that. But I just think all the Nationwide guys have definitely been faster this year compared to last year. I think everybody is getting more and more used to this race car."
Elliott brought up a great point that I didn't expect to see make a difference in the competition.  The Nationwide teams caught up to the Cup teams in set-ups with this new style of car.
With the competition tougher, it is really impressive that Sadler has two wins already this season.
With RCR behind him, expect Sadler to the be the favorite to win the championship.  He has great equipment that he has more experience with.
I would not be surprised to see Sadler run in the Sprint Cup Series full-time again in the future.
Hugo Olguin is a Featured Columnist for Bleacher Report. Unless otherwise noted, all quotes were obtained first-hand.