New York Yankees: CC Sabathia Looks to Give Yankees Sweep of Baltimore
April 11, 2012
After dropping the first three games of the season to the Tampa Bay Rays, the Yankees have turned things around somewhat with two straight victories against the Baltimore Orioles.
On the same day that the Yankees franchise celebrates its 100th birthday, there is no question they would like to do that with a victory tonight.
The Yankees have come out swinging in Baltimore this week, scoring six runs on Monday and five in last night's comeback victory, bringing their record to 2-3 on the young 2012 season.
Yankees shortstop Derek Jeter is a big part of the Yankees turnaround, going 4-for-4 in Monday Night's victory and homering to lead off last night's contest.
Yankees ace CC Sabathia (0-0, 7.50 ERA) looks to rebound from his six-inning performance on Opening Day against the Rays last Friday, where he yielded five earned runs in a no decision.
Sabathia also gave up two home runs in that game, the biggest being a grand slam off the bat of Carlos Pena.
"(The problem was) fastball command," Sabathia said. "But it got better later, so I can take something from that and work in the bullpen and be ready to go four days from now."
The Orioles are just the right team for Sabathia to rebound against. Last season, Baltimore only hit .220 collectively against the Yankees big man.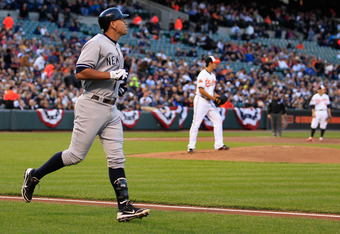 Sabathia will need to cool off this current Baltimore team, who have hit a home run in the first or second inning of every game this season.
CC is a career 16-2 with a 2.74 ERA in 22 starts against the orange birds.
While some of the Yankees bats have come around, a few of the bigger ones have not yet made the trip up north.
The spotlight seems to be on who else, but the Yankees third baseman Alex Rodriguez, who is only hitting .158 with no home runs through the team's first five games.
The Orioles will be sending Jake Arrieta (1-1, 0.00 ERA) to the mound on Wednesday night. Rodriguez hasn't seen much of Arrieta in his career, going 1-for-2 with two runs batted in.
Arrieta pitched on Opening Day against the Minnesota Twins last Friday, giving up only two hits and no runs in seven innings for the win.
After hitting in the No. 2 spot to begin the season, Yankees right fielder Nick Swisher has been dropped to sixth in the batting order for Wednesday night's contest.
Swisher has left men on base in key situations thus far and isn't pleasing anyone with his weak performance to start the year.
Veteran Yankees DH Andruw Jones will receive the night off in favor of last night's hero, Raul Ibanez.
Ibanez knocked in the winning run on a double in the 12th inning to help defeat the Orioles.