Louisville Football Prepares to Be Big East Front-Runner in 2012
April 6, 2012

Al Messerschmidt/Getty Images
University of Louisville Athletic Director Tom Jurich knew he hired a gem almost immediately after hiring head football coach Charlie Strong for the 2010 season. Not only did the quality of recruiting skyrocket, but so did the number of tallies in the win column.
The Cardinals were a 4-8 team without much hope or direction under Steve Kragthorpe after a precipitous fall from the greatness that won them the 2007 Orange Bowl. In Strong's first season, they finished 7-6 and capped it off with the school's first bowl win since 2007 in the Beef O' Brady's Bowl.
Heading into April 14's spring game at Papa Johns Cardinal Stadium, the 2012 Louisville squad has drawn undoubtedly the most hype this program has seen since Bobby Petrino coached them to their first and only BCS win.
Led by cool, calm and collected sophomore Teddy Bridgewater at quarterback, this edition of the Cards is still young, with only seven seniors on the roster that saw extended time in 2011. Despite the lack of experience, they are extremely talented and extremely explosive on both sides of the ball.
Bridgewater has a loaded arsenal on his offense aside from his own abilities to create instant offense, and it starts with the guys right next to him in the backfield.
Dominique Brown exploded onto the scene in 2011 after being a quarterback in his freshman season and part of last season. He punished tacklers en route to a modest 533 yards rushing, notching only one game with more than 20 carries. That has earned him an increase in importance this spring, and should translate into a big season next year.
For a change of pace, speedster Senorice Perry, who has bounced around different positions, will have a chance for a more predominant role after the departure of Victor Anderson.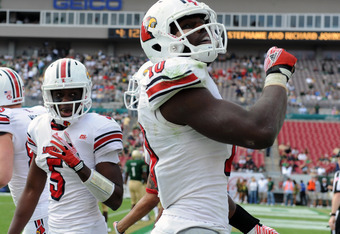 Al Messerschmidt/Getty Images
All of the success in the run game will be predicated on an improved offensive line, which was inconsistent but also quite young in 2011. Redshirt senior Mario Benavides will anchor the line at center, and will hopefully be an agent of continuity to allow the line to gel and produce in 2012.
Still, it is the receiving corps that should be the focus of attention on this offense. It would be an understatement to say this group is loaded with potential. Louisville has exceptional size and acrobatic ability in Michaelee Harris and DeVante Parker, and big-time speed and quickness in Eli Rogers. The worst part for opposing offenses? They're all underclassmen.
On defense, Louisville will be looking to junior safety and former Big East Rookie of the Year Hakeem Smith to take command in the backfield. Helping Smith will be returning safety Calvin Pryor and the highly touted freshman Gerod Holliman, on campus with the Cards this spring.
The highlight of Strong's 2012 recruiting class was undoubtedly the high-profile group of linebackers in Keith Brown, Nick Dawson and James Burgess. Brown and Burgess are also already on campus this spring, and should compete to support veteran 'backer Preston Brown in 2012.
Paving the way for the linebackers will be a defensive line that returns everyone but defensive end William Savoy, who graduated last year.  Road graters Jamaine Brooks, Brandon Dunn, and Roy Philon will return to wreak havoc on Big East offensive lines. The line will still consist of all juniors and sophomores, leaving room for astronomical improvement to an already strong part of the Louisville defense.
Special teams were extra special for Louisville in 2011, and reigning Big East Special Teams Player of the Year Adrian Bushell will try to keep it that way next season, as he returns for his senior season as a proven threat in the return game.
Perhaps most appealing to the Cardinals is the fact that often-favored West Virginia (who they defeated last year in Morgantown anyway) have left the Big East for the Big 12 this coming season, leaving it wide open for Charlie Strong's squad to dominate in 2012. 
This upcoming season holds a lot of promise that the past two seasons of bowl trips will finally culminate in a homecoming of sorts for Strong and many of his Florida-grown players in the FedEx Orange Bowl.
The best is yet to come, and the Cardinal faithful are ready.