MLB Opening Day 2012 Live Blog: Tigers-Red Sox, Mets-Braves & Prospects Chat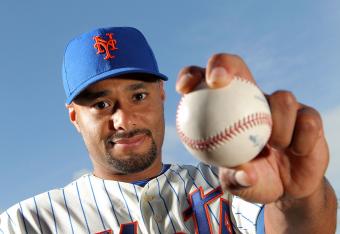 Johan Santana will make his first start since 2010 at 1:10 PM ET
Marc Serota/Getty Images
At long last, Opening Day has finally arrived. Yes, the season technically began last week in Japan, but come on—that didn't count. Last night's Cardinals-Marlins game was a step in the right direction, but still no Opening Day.
So, here is what's on the docket for the first batch of games this afternoon.
Red Sox vs. Tigers, 1:05 PM ET, Comerica Park
Tigers win, 3-2
Verlander: (ND) 8 IP, 2 H, BB, 7 K -- 105 pitches
Lester: (ND) 7 IP, 6 H, ER, 3 BB, 5 K -- 107 pitches
Valverde: (BS,W) IP, 3 H, 2 ER, K
Austin Jackson: 3-for-5, 3B, game-winning single in Bot 9
Braves vs. Mets, 1:10 PM ET, Citi Field
Mets win, 1-0
Santana: (ND) 5 IP, 2 H, 2 BB, 5 K - 84 pitches
Hanson: (L) 5 IP, 4 H, ER, 3 BB, 4 K - 83 pitches
Francisco: Sv
RBI single by David Wright
Phillies vs. Pirates, 1:35 PM ET, PNC Park
Phillies win, 1-0
Bedard: (L) 7 IP, 6 H, ER, BB, 4 K -- 81 pitches
Halladay: (W) 8 IP, 2 H, 5 K -- 92 pitches
Ruiz: 3-for-3, RBI single
Papelbon: (Sv)
Nationals vs. Cubs, 2:20 PM ET, Wrigley Field
Nationals win, 2-1.
Strasburg: (ND) 7 IP, 5 H, ER, BB, 5 K -- 82 pitches
Demptser: (ND) 7.2 IP, 2 H, 3 BB, 10 K -- 108 pitches
Lidge (Sv): IP, H, 2 K
Ian Desmond: 3-for-5, go-ahead RBI single, SB,
I will be posting updates on every game throughout the afternoon and invite everyone to join the discussion. Please share your thoughts on today's action by posting in the comments section or reaching out to me on Twitter—@GoldenSombrero—and I'll be sure to answer as many questions as possible.
Have something witty to offer? Tweet me, and if it makes me laugh, I'll include it in my updates.
As a baseball fan, today is the greatest day of the year. So let's have some fun, folks, and make the most of what will surely be another memorable Opening Day.
And Byrd goes down looking to end the game; Lidge earns the save.
Nationals pick up the Opening Day win over the Cubs, 3-2.
Big day for Ian Desmond: 3-for-5, RBI, SB.
Once again, thanks for joining me today, everyone. It's been a blast!
Enjoy the rest of your Opening Day.
Even with the contact play on, Zimmerman still throws out pinch-runner Joe Mather trying to score. Absolutely rally killer.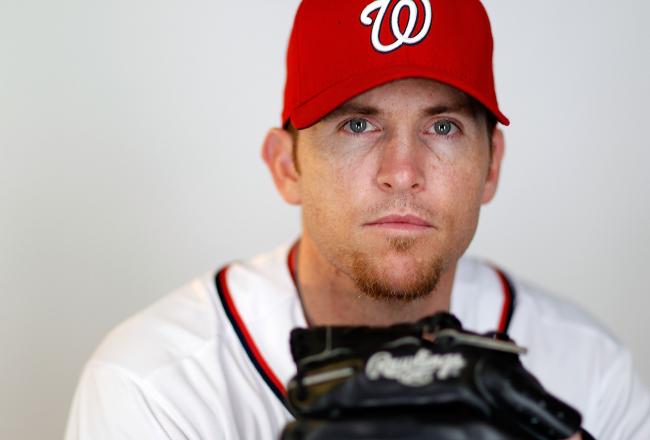 Lidge in for the Nats to try to notch the save. After fanning Reed Johnson, gives up a 3B to Ian Stewart...
Things are getting interesting at Wrigley, folks.
Buehrle was too far away from 1B to flip it between his legs. If I were him, I would have at least tried...
The live blog will conclude with the end of the Cubs-Nationals game.
Thanks for everyone who stopped by and joined the discussion today. It's been a lot of fun and I look forward to doing it again sometime soon.
Desmond's third hit of the game is an RBI single to give the Nats a 2-1 lead.
Two-out double by Chad Tracy, who is replaced by pinch-runner Brett Carrol.
Ian Desmond with a chance to give the Nats the lead.
Remember a few years ago when Buehrle hit that tape-measure shot in Milwaukee?
Carlos Marmol replaces Kerry Wood to pitch the 9th
Awesome play by Scott Rolen. That ball took a tough hop.
Great stretch by Votto to pick him up, as well.
Kerry Wood walks Jayson Werth with the bases loaded to tie the game, 1-1.
Has walked three batters since relieving Dempster.
Jay Bruce gets the Reds on the board in the first with a sac fly, 1-0.
Kerry Wood walks Adam Laroche.
Nationals have the bases loaded with two outs in the eighth, still trailing, 1-0.
Bill Murray is still killing it in the booth.
Laroche really cutting down his swing with two strikes
Adam Laroche going for a golden sombrero.
Currently 0-for-3 with 3 K
Austin Jackson chops a game-winning RBI single down the third base line to win the game.
Final score: 3-2
Santiago HBP, bases loaded with one out.
Austin Jackson up to bat with a chance to be the hero...
Aceves in for Boston.
Ramon Santiago batting with one out and runners on first and second.
Who wants to bring me a ginormous coffee?
I also accept beer.
Jose Bautista homers off Justin Masterson in the fourth inning.
Indians still lead the Blue Jays, 4-1.
I was once at a Cubs game where Billy Murray threw out the first pitch.
However, he decided to blindly throw the ball half way up the stands beyond the third base dugout.
Hey..an error by Ian Desmond. Shocking.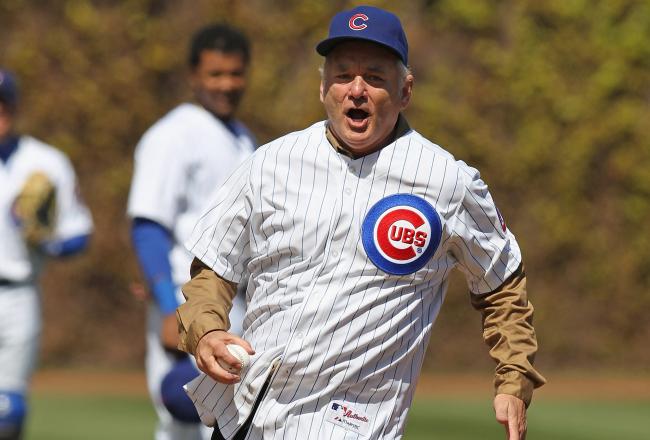 Billy Murray singing the 7th inning stretch at Wrigley. Slams microphone upon finishing.
After saving 49-of-49 games last season, Jose Valverde just blew one. You could feel it coming.
Gives up a two-out, RBI triple to Ryan Sweeney.
Game tied 2-2 headed to the bottom of the 9th.
Frank Francisco strikes out Jason Heyward to pick up the save and give the Mets a big win on Opening Day.
Go crazy, folks.
This article is
What is the duplicate article?
Why is this article offensive?
Where is this article plagiarized from?
Why is this article poorly edited?