LA Dodgers: 10 Bold Predictions for Team's New Ownership Group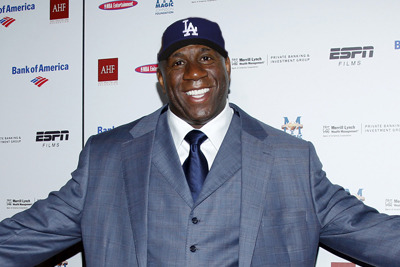 Photo courtesy of clutchmagonline.com
It took three men and $2.15 billion to wrestle the Los Angeles Dodgers from Frank McCourt, but it was money well spent. So, what should fans expect from new ownership? A lot more than last year.
2011 was a year to forget for Dodgers fans as they watched the organization crumble in front of their eyes at the hands of McCourt. However, all the suffering is over now that Magic Johnson, Stan Kasten and Mark Walter have taken control.
All three men offer a special gift to the franchise, and they will combine their powers to make the Dodgers one of LA's most successful franchises once again. Johnson, an LA icon, offers his business savvy as well as his celebrity charm. Kasten, a veteran baseball executive, offers his experience as an established sports franchise guru. Finally, Walter offers the Dodgers a relatively large bank account thanks to Guggenheim Partners.
All that combined makes this group the perfect fit and the long-awaited savior of this franchise. Here are 10 bold predictions for the Dodgers' new ownership group.
Begin Slideshow

»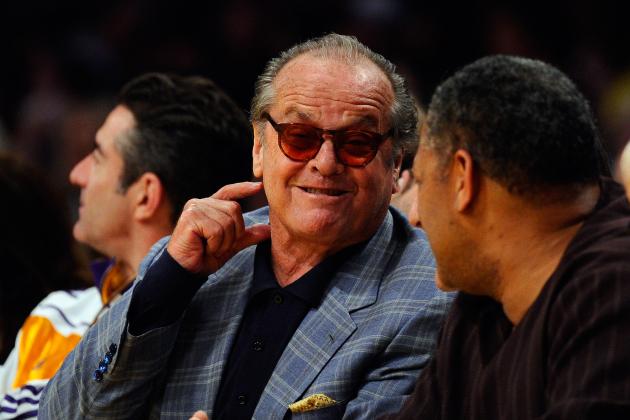 Kevork Djansezian/Getty Images
Jack Nicholson
The Los Angeles Lakers have Jack Nicholson and the New York Knicks have Spike Lee. So which celebrities go to Dodgers games? Well that's not a regular occurrence, but Johnson is a powerful man in LA with very famous friends.
Just like the Lakers have courtside celebs at home games, the Dodgers need their own celebs in the luxury boxes and at field level. Will having more celebrities at home game make the team better? No. But it does get fans excited to see all the famous people and it makes Dodger Stadium look like an LA hot spot on TV. Johnson's charismatic personality should bring the stars out.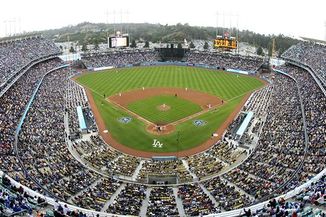 Courtesy of ESPN
Dodger Stadium experienced its fair share of renovations during the Frank McCourt era, but some of the renovations that were scheduled to take place between 2009 and 2010 were postponed due to McCourt's personal issues.
The owners haven't said anything official about possible renovations to the iconic stadium, but Walter didn't shut out the idea of making changes. In an interview with the Los Angeles Times, Walter was asked about renovations to the stadium.
"We don't have anything specific. We are open to and will rigorously consider anything and everything that is going to make the fan experience better."
Don't lose hope yet, Dodgers fans. The owners have money to spend, and if it means generating more revenue for the team then why not?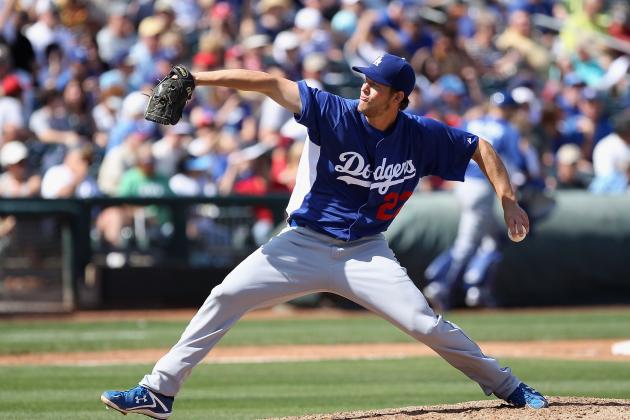 Christian Petersen/Getty Images
Clayton Kershaw
The Dodgers didn't exactly lock Clayton Kershaw up with a two-year contract this offseason but I see a big deal in the making with the new owners in charge. Kershaw is just 24 years old and he's already won a Cy Young. The scary part is that he hasn't reached his full potential yet.
Johnson and Co. have to be thinking about Kershaw's future in LA already, and it should be one of their top priorities going into the season. Kershaw is going to be a very rich man whether he stays or goes once his contract his up, but if the Dodgers are smart they'll try to lock him up for more than two years.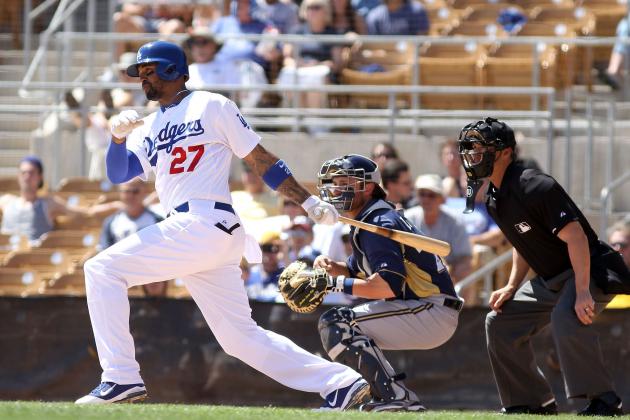 Christian Petersen/Getty Images
Matt Kemp
Six seasons into his MLB career, Matt Kemp has reached the pinnacle of success as a Dodger, and is on the brink of even greater success as a player. After a breakout season in 2011, Kemp earned himself a brand new contract and hype as baseball's best center-fielder heading into the 2012 season.
It's obvious that Kemp is the face of this franchise, and when his contract is finally up the Dodgers' owners will do their best to keep him in blue the rest of his career. Kemp will be 35 years old when his eight-year deal is finally up and should have just a few seasons left, if any, after that. I predict the new ownership will persuade Kemp to stay and retire as a Dodger.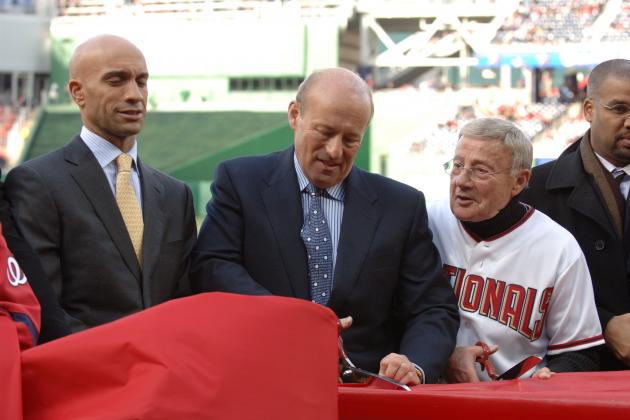 Mitchell Layton/Getty Images
Stan Kasten
From 1987 to 2003, Kasten was president of the Atlanta Braves franchise and witnessed the team dominate in its glory years. Then in 2006, Kasten took over the same role for the Washington Nationals. He was still with the team when they drafted top prospects like Stephen Strasburg and Bryce Harper.
The point I'm trying to make here is that Kasten has a pretty successful track record handling a baseball franchise. One particular area that the Dodgers need help in is strengthening the organization's farm system.
Of the top 20 prospects in the team's minor league system, 11 of those players are pitchers and two prospects have already been called up to the big leagues. The only problem is that the Dodgers aren't in need of pitching help right now. What they do need is depth at everyday positions. Kasten is just the man to start balancing things out with the farm.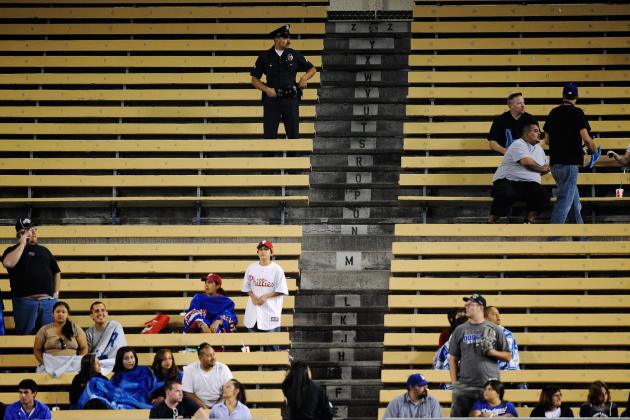 Kevork Djansezian/Getty Images

Despite a heated feud between fans and Frank McCourt, the Dodgers still managed to rank one spot out of the top 10 for average attendance last season. The average attendance rate was 36, 236 in 2011, even though some fans boycotted Dodgers home games.
The change in ownership will bring back old fans as well as new ones in 2012. Empty seats during the weekend will be a thing of the past at Chavez Ravine. Expect Magic's arrival to blow up ticket sales and keep the Dodgers a popular attraction in LA.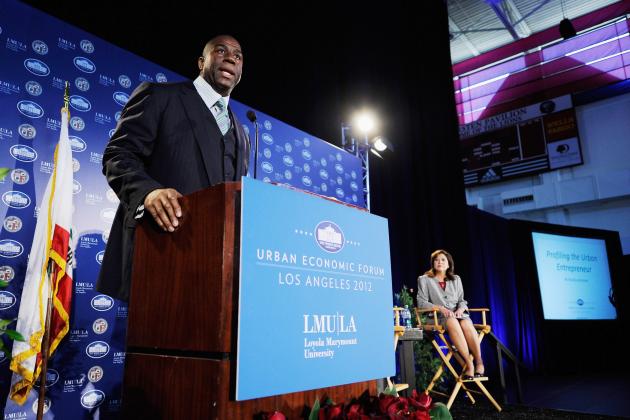 Kevork Djansezian/Getty Images

Don't ever mistake Johnson for your typical dumb jock. The man knows how to make money, and he does it quite well. Magic Johnson Enterprises has been on the rich end of a lot of business deals and Johnson himself has been the reason for that.
Pair that with Walters' experience as chief executive of Guggenheim Partners, and you have quite the duo on the business end of the franchise. The two of them along with Kasten will put their heads together to find a way to boost revenue immediately. The Dodgers may be out of debt, but the new owners want to make sure it stays that way.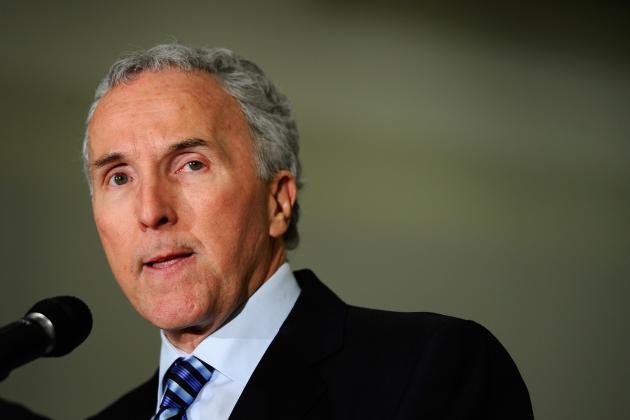 Kevork Djansezian/Getty Images
Frank McCourt
Last season, fans had reached their boiling point with team owner Frank McCourt. The divorce proceedings and bankruptcy scandal really shook fans. They felt lied to.
While McCourt may not be the owner, there's still the issue of him having control over some of the parking lots. So technically he still has a very, very small tie to the team. But other than that, fans won't have to worry about his antics in the front office anymore.
After everything that happened last year, fans can finally come back to Dodger stadium with a smile on their face.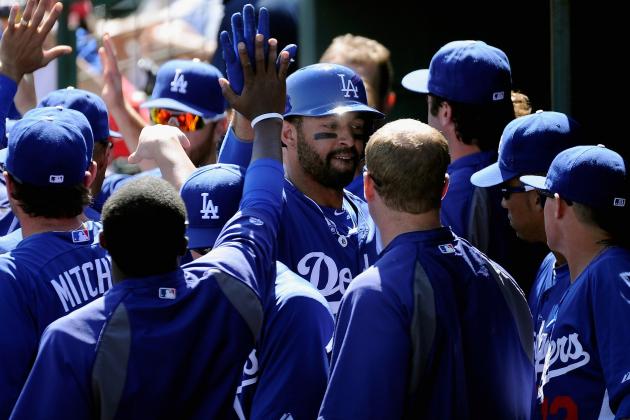 Kevork Djansezian/Getty Images

The Dodgers' chances of making the playoffs this year are slim with so many below average players on the roster, but next season the team will really shake things up in the National League.
Now that the Dodgers have owners who share the same desire to win as the players, the team's outlook is bright in the postseason. Johnson and Co. will make all the necessary moves to make the team better each year and money won't be an issue.
Matt Kemp and Clayton Kershaw form a solid core, but there's still room for improvement. Who knows? Maybe the new owners will make changes right away before the trade deadline this season.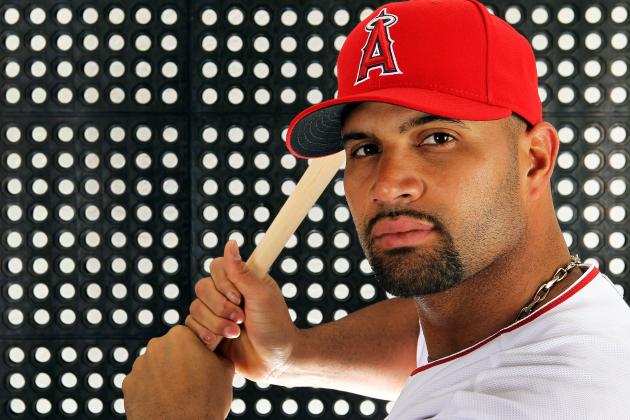 Jamie Squire/Getty Images
Albert Pujols
Dodgers fans were green with envy when cross-town rival Los Angeles Angels signed Albert Pujols and C.J. Wilson to mega contracts this offseason. Ever since those deals went down, the hot debate in LA has been which team reigns supreme in the city of angels.
In terms of talent, the Angels are stacked up and down their roster. The addition of Pujols and Wilson to a solid core of veterans and promising young prospects make the Angels a contender in 2012. But LA has always been a Dodgers city and fans have remained loyal through thick and thin.
Johnson, being an LA guy, knows this as well which is why it will be his top priority to bring top talent to the Dodgers year after year. It's a shame Johnson's group didn't get an opportunity to have control of the team during free agency, but look for the Dodgers to be in the running for some of the top free agents in 2013.