Maryland Football 2012: Predicting the Preseason Depth Chart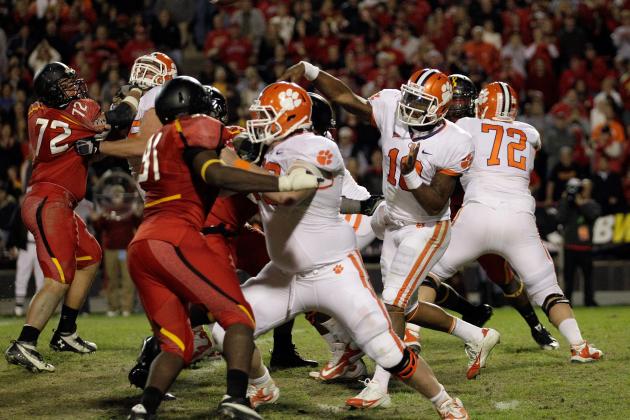 Rob Carr/Getty Images

The Maryland Terrapins are hard at work trying to improve as a football team this spring.
That shouldn't be too hard after the Terrapins' dismal 2-10 finish last season.
But many changes have taken place since that final loss in December, and the Terrapins are hoping for different results in 2012.
Several weeks ago one of the first major signs of change came with the release of the Terrapins spring depth chart. The chart doesn't reveal much, as there are still months before the season officially begins, but it does give a picture of what the Terps might look like in 2012.
Based on the spring depth chart and the general expectations for the incoming freshmen, here's a look at how things might shake out for Maryland in the upcoming season.
Begin Slideshow

»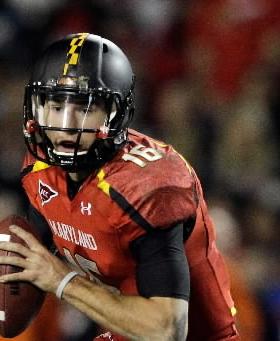 1. C.J. Brown - JR
2. Caleb Rowe - FR
The quarterback position is in a state of transition after last year's primary starter Danny O'Brien transferred to Wisconsin.
Although O'Brien started and appeared in most games last season, he was a disappointment, throwing for 10 interceptions and just seven touchdowns.
C.J. Brown, O'Brien's chief competitor in 2011, played in the final 10 games of the season, and for the most part, he had better statistics than O'Brien. After throwing for 842 yards as well as seven touchdowns and six interceptions, it should be interesting to see if Brown can excel as a full time starter.
Right now the backup quarterback looks to be freshman prospect Caleb Rowe. Of course, Rowe might not see the field during his freshman season and seems to solely be there for depth.
For now, it looks like Coach Randy Edsall is sold on Brown at quarterback, and the junior should hold onto that job unless injuries take him out.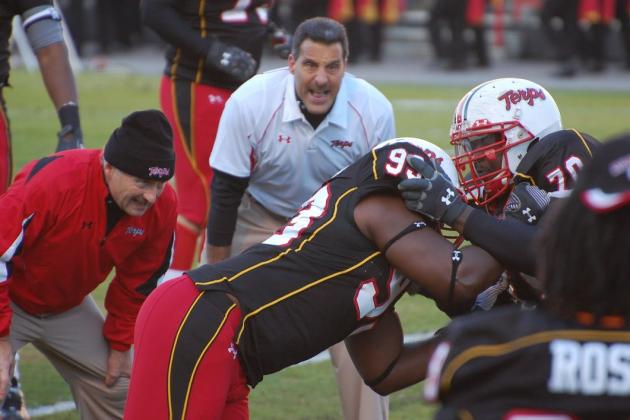 Left Tackle
1. Nick Klemm - JR
2. Justin Gilbert - SR
It looks like junior Nick Klemm will be protecting C.J. Brown's blindside.
In his collegiate career, Klemm has been relegated to backup duty, playing in just 17 games in his two years as a Terp, and he hasn't yet made a start. The simple fact that Klemm is big and healthy could work in his favor.
The same cannot be said for his projected backup.
Justin Gilbert might be more talented, but he is also the more injury prone. He's had serious left knee injuries over the last two seasons, and these injuries could cause him to miss more playing time this season.
Should Gilbert get healthy, he could be a formidable challenge to Klemm. But with the unfortunate history surrounding his left knee, it seems unlikely that will happen.
Right Tackle
1. Mike Madaras - FR
2. Ryan Doyle - FR
The right tackle position looks like a spot where two incoming freshmen can make an immediate impact.
Right now the favorite to start is freshman Mike Madaras, from nearby Good Counsel, Md. The four-star prospect is one of the most highly touted offensive linemen that Maryland has nabbed in the past decade, and he could certainly bring some stability to an unstable Maryland offensive line.
Meanwhile, Ryan Doyle redshirted last year, his first season with Maryland. It may have been an unwise move on his part now that Madaras looks like the favorite to start.
Should Doyle or Madaras fail to capitalize, there's also another freshman third-stringer Jake Wheeler, who could still win the starting job.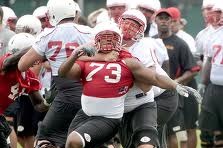 1. Bennett Fulper - JR
2. Sal Conaboy - SO
This might be the only offensive line position with a clear starter.
Bennett Fulper has been one of the most consistent Maryland lineman over the last three seasons, so it seems obvious that he'll start during his senior year. Fulper is one of the more versatile lineman and can also play guard.
Sal Conaboy started the final two games of the season at center, after Fulper suffered an injury. Although Conaboy was impressive while spelling for Fulper, it seems that seniority will win out, and Fulper will get to close his illustrious Maryland career at center.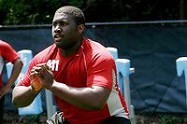 Left Guard
1. Pete White - SO
2. De'Onte Arnett - SO
Pete White has the advantage over the three players vying for the left guard position.
Having played in 12 games last season, White already has the size and the experience. He is also arguably the most skilled of the guards, but recent injuries could potentially sideline him.
De'Onte Arnett will be listed as the backup at left guard, although the senior could get the start at right guard. But during his career, Arnett has only played in six games with the Terrapins, and his inexperience will likely keep him on the bench.
Right Guard
1. Josh Cary - Jr
2. Nate Clarke - FR
Having started at right guard last season, Josh Cary has done nothing to relinquish his starting job.
Yet the way the two left guards have been playing, it's possible the loser could challenge Cary for his starting role.
Freshman Nate Clarke will bring solid depth at guard, and this redshirt freshman could even start if he's able to have a good training camp.
Halfback
1. Justus Pickett - SO
2. Wes Brown - FR
Maryland's running game will likely depend on a heavy dose of these two players in 2012.
Pickett is the only returning running back with any experience, as he ran for 274 yards on 74 carries with two touchdowns last season. Now he'll likely get the start and bring his shifty running style to the Terps offense.
Wes Brown however could threaten to start, as he was a stud at Good Counsel.
The four-star power back complements Pickett well, which should lead to a fairly even split this season. These two running backs could also share some carries with freshman Albert Reid who is another speedy runner.
Fullback
1. Tyler Cierski - SO
2. Jeff Hernandez - SR
Tyler Cierski will likely be doing the dirty blocking work for Pickett and Brown this season.
As one of the top fullbacks in the nation during his high school career, Cierski is a no-brainer in the starting fullback spot.
As the backup fullback, Jeff Hernandez is mostly there to fill in Cierski. He could get some snaps but it's not likely he'll play much, as the fullback continues to disappear from many of today's offensive sets.
1. Stefon Diggs - FR
2. Marcus Leak - SO
3. Devin Burns - SO
4. Nigel King - FR
The Terrapins have a young receiving corp right now.
The group is highlighted by Maryland's recent signing of Stefon Diggs, the No. 8 recruit in the nation this year. Diggs is a wide receiver with unlimited potential, so it seems obvious that he'll be given the chance to start right away.
Marcus Leak is one of the only returning receivers, and judging by his success in a limited role last season, he could be getting the ball more this season. Last year, Leak had 12 catches for 85 yards while a touchdown.
Devin Burns comes in as the Terrapins third-string receiver with a unique skill set. Formerly a quarterback, Burns has converted to receiver, and his past certainly opens things up on the offensive end.
Finally, there's one of last year's hyped wide receiver prospects in Nigel King. Like Leak, King is from North Carolina, but King had to sit out last season due to an NCAA Clearinghouse issue.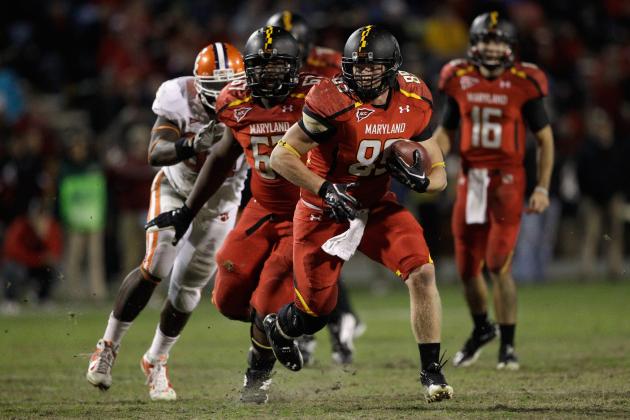 Rob Carr/Getty Images

1. Matt Furstenburg - SR
2. Devonte Campbell - SR
While there's lots of youth at receiver, that's not the case with Maryland's tight ends.
Last year's starting tight end Matt Furstenburg could likely become C.J. Brown's most dependable target. Furstenburg finished with 31 catches for 348 yards and two touchdowns last season—numbers that were impressive given the anemic state of Maryland's offense.
Backup tight end Devonte Campbell could definitely stand for some more involvement in the offense in 2012.
He had four catches for 56 yards yet somehow matched Furstenburg's touchdown total. Having never managed more than five catches in a season, Campbell will likely be called on to use his skills as a blocking tight end.
1. A.J. Francis - SR
2. Darius Kilgo - SO
Amazingly, A.J. Francis has yet to miss a game in his three previous seasons.
Although he's played in all 37 games, Francis has been benched a fair number of times with only 23 starts in his career. It's baffling, but there's definitely potential there for Francis to step in and become a big-play nose tackle for the Terrapins.
Darius Kilgo could start instead if Coach Edsall decides to bench Francis.
At 6'3" and 300 pounds, he's got all the prototypical measurements of a nose tackle. But it seems like the nod will go to Francis based on seniority and durability, although Kilgo could still see substantial playing time.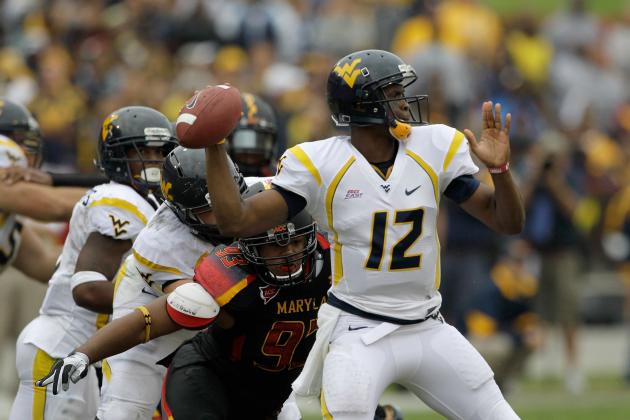 Rob Carr/Getty Images

1. Keith Bowers - SO
2. Joe Vellano - SR
3. Andre Monroe - SO
4. Isaiah Ross - JR
Two sophomores currently highlight the defensive end position.
Keith Bowers was actually able to get a starting role during a good chunk of his freshman season. He should be back in a starting role on the defensive line, but other player could push him for playing time.
The other starting defensive end will likely be senior Joe Vellano. With the recent switch to a 3-4 defense, a smaller, quicker Vellano would be a natural fit. Over the past two years, Vellano was one of the best defensive tackles in the country, and Maryland fans should be excited to see what he can do.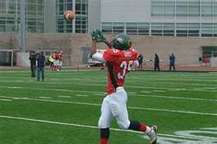 MIKE Linebacker
1. Lorne Goree - SO
2. Cole Farrand - SO
Lorne Goree took advantage of an injured linebacker corp last season to take a starting role. He played in every game, starting seven of them, and finished fifth on the team with 60 tackles.
The starting job is his to lose this season, but if anyone could take it away it would be Cole Farrard.
Last season, Farrard's only real playing time came on special teams. Now he has the chance to step up and potentially win a starting job in what could be one of the Terrapins closest training camp battles.
MO Linebacker
1. Demetrius Hartsfield - SR
2. Bradley Johnson - JR
Arguably the top defensive player on the Terrapins, senior Demetrius Hartsfield will close out his career in his familiar middle linebacker position.
Bradley Johnson has been explosive off the bench and should do fine in a reserve role.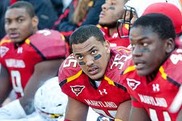 SAM Linebacker
1. Alex Twine - SO
2. Abner Logan - FR
Alex Twine was another freshman that saw significant playing time in 2011.
He started in four games and picked up 44 tackles and a sack. His experience should give him the nod over Abner Logan as the starting strong side linebacker.
Logan could steal the job. The incoming freshman is a four-star recruit out of Massachusetts and is one of the most talented defensive prospects picked up this season.
WILL Linebacker
1. Darin Drakeford - SR
2. Marcus Whitfield - JR
Darin Drakeford has the versatility to play any linebacker position, but it's likely he'll stay outside, freeing him up to rush the passer.
But lingering injuries could trip up Drakeford, including an ankle sprain from last season. Injuries have also derailed his competition, as Marcus Whitfield continues to be held back by a knee injury that caused him to miss 11 games in 2010.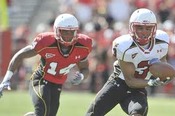 1. Jeremiah Johnson - SO
2. Dexter McDougle - JR
3. Avery Graham - JR
4. Anthony Perry - JR
Unfortunately the cornerback position doesn't look to be a strong part of the Terrapins defense right now.
Both Cameron Chism and Trenton Hughes are gone, leaving the Terps without their two best corners from last season. Jeremiah Johnson now looks to prove he can play at an elite level, while Dexter McDougle will try to give up less yards on the other side.
Avery Graham could come in on nickel packages and obvious passing situations. He doesn't inspire much confidence at cornerback yet, as he is mostly known for his special teams play.
There's also transfer Anthony Perry who will be lucky to get on the field.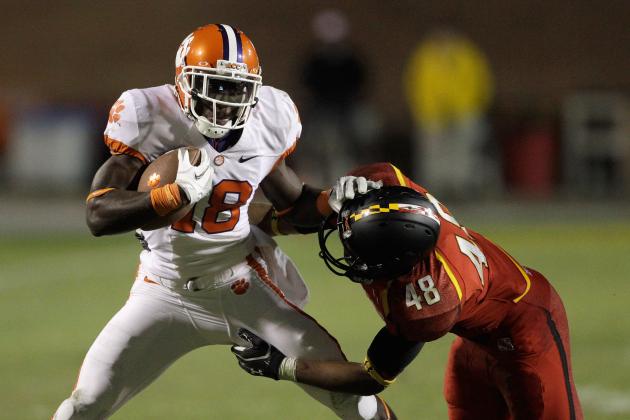 Rob Carr/Getty Images

Free Safety
1. Kenny Tate - SR
2. Eric Franklin - SR
Last year Kenny Tate made an ill-advised switch to linebacker that in retrospect made no sense at all. He was one of the top defensive backs in the country prior to the switch.
Reports have come in that Tate will stay at linebacker. He's obviously better at free safety, where he can play in the box or be a ball-hawk. Hopefully, reason will prevail this season, and Tate will return to safety in his final season.
If not, then Eric Franklin should get the start. Franklin was the only safety that stayed healthy last year, and he ended up second on the team with 106 tackles. Franklin also had a fumble recovery and a blocked kick, adding to his reputation as a playmaker on defense.
Strong Safety
1. Matt Robinson - SO
2. A.J. Hendy - SO
Like Tate, Matt Robinson got hurt last season and had to get a medical redshirt. Still he's a talented strong safety who could be a solid starter.
A.J. Hendy was a three-star cornerback, coming out of high school. Now he's a safety, but he still uses plenty of his cornerback skills. As backup safety, Hendy should also get playing time at cornerback.