New York Jets Nike Uniforms: Grading the 2012 Home Jerseys
April 3, 2012

Earlier Tuesday morning, Nike finally unveiled its new uniform design for all 32 teams as the NFL's new partner in making uniforms and fan apparel. 
There was a lot of buzz around the event, as there were some rumors that Nike would make significant changes to the uniforms, but purists have nothing to worry about. 
With the exception of the Seahawks, the rest of the NFL uniforms look almost exactly the same as their Reebok counterparts, with a few improvements in design and performance of the uniform that only players may notice.
Either way, how did Nike grade in developing the 2012 Jets home uniform?
The biggest difference appears to be around the collar, which has a sleeker look to it and probably has some kind of aerodynamic improvement that no one would ever notice. Nonetheless, it makes the uniform look more modern and less tacky.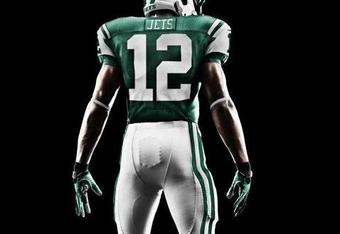 The base green color also appears to be slightly darker from last year, which gives the uniform a more modern and darker tone. If the Jets want to be a tough, defense-first team, toning down the color intensity is suitable.
It also helps that the Nike Swoosh has now replaced the Reebok logo, which gives just about any kind sportswear an upgrade in the "swag" department.
Overall, Nike did a solid job with the Jets uniform, making subtle changes to improve performance and comfort to give the uniform a refreshing look without tampering with the original logo and design. 
Now, if we can just get Nike to make alternate 1980s Kelly Green throwbacks...
Grade: A-